Here is a preview of Essie summer 2013 nail polish collection.
The shades are:
Naughty Nautical, marine blue-green shimmer
Sunday Funday, tangerine coral crush shimmer
The Girls Are Out, fuchsia peony sparkle
Full Steam Ahead, pearlescent punch lilac
The More The Merrier, juicy lime green
Rock The Boat, shimmering french blue
My personal favourite has to be Naughty Nautical.
Read More
Most people usually wear dark nail polishes for Autumn/Winter but Dior suggest we brighten up our days with their new nail polish collection.
These three vibrant nail polishes were released to celebrate the launch of Dior's  2013 Cruise collection.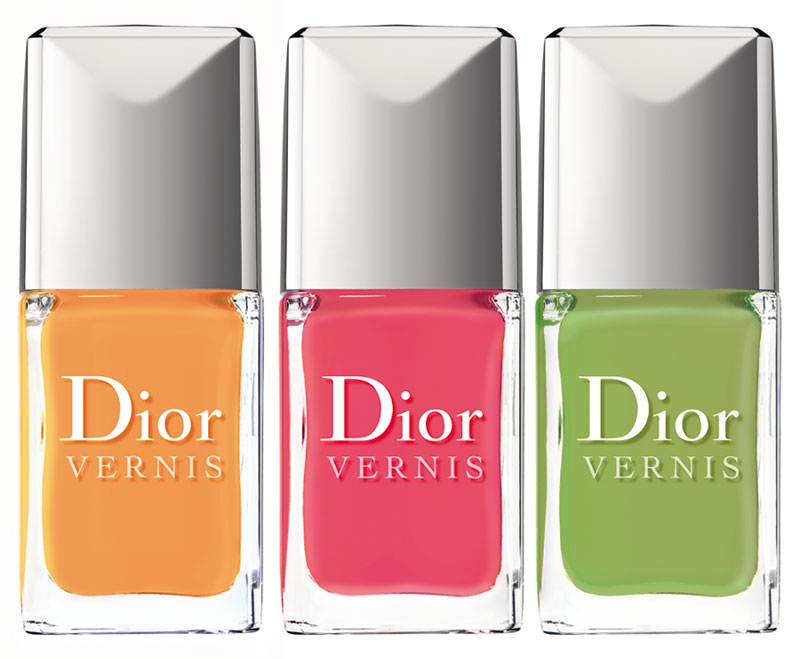 Mango (438): A deliciously fruity and radiant yellow.
Pastèque (658): A rich and sensual pink with an aquatic sheen.
Lime (602): A sparkling acid green for colour block nails.
Each is £18. Which one do you like the best?
There is also a new nail polish collection from Le Metier De Beaute. The inspiration is "Ming [Dynasty] meets Modern".
Here is the brand's
Read More
Last week I wrote a  review about the coral shade that you can see on the photo and now it's time for the lime green in #318.
I already wrote that these nail enamels are a bit different: coral has 15 ml and lime green has 16 ml, the finish is also different. Coral has a cream finish while green has – metallic.  So obviously you get the different effect. You need at least 2 coats of #318 to get the opaque cover and it chips faster than #949.  The conclusion? I am very
Read More
I wrote about one nail polish collection that I wanted to get several months ago.  I am sure that my friend Charlotte knows what I am talking about. And guess what? I could not find it!!! I contacted the brand several times via  e-mail and twitter and got no answer. By the way, I was not the only one who did and we all got the same results. I don't understand what's the problem here.
But well, it's not the only nail polish brand and I can always get what I want from the other one, you know. So this is what I did! I've picked 2 shades  that I wanted from Inglot : lime green 318 and cream coral 949 . The brand has TONES of beautiful shades and I am so getting more of them!
Check out the swatch of the Coral Shade 949
Read More