I love pink lipsticks, I really do. And I have quite a few, so I've decided to pick up five that I am loving at the moment to share with you!
Rimmel Colour Show Off Lipstick in Pink Gossip (full review and swatches)
I adore this lipstick line from Rimmel (and not only this one, I think they make the best affordable lipsticks).  It has a nice texture, beautiful flattering warm toned pink shade and a matte finish, which I personally don't find to be drying. In fact, I've used up half of this lipstick, if not more, and that says a lot. I only wish they had a different packaging but, I guess, most girls love pink…
Illamasqua Lipstick in Immodest (review and lip swatches)
Illamasqua do know how to make a lipstick that catches attention,  this bright, pigmented, matte pink will brighten up any makeup look.  Just make sure
Read More
I did a feature about orange makeup not a long time ago and promised to show how the gorgeous Clarins Rouge Prodige Lipstick in 118 Clementine looks like on the lips.
It is like summer in a tube!
I actually already written a review about this lipstick range, so not to repeat myself I'll just include the links, you can see the details here and here.
As for Clementine, it is a best-selling shade from Clarins (I was told so) and it is very summer appropriate. Bright juicy orange with a satin finish. I really like the fact that it's not very glossy, but at the same time
Read More
I have already shown you the Duo Blusher in Ketie and Ambition from the Illamasqua's  SS 2013 makeup collection I'M Perfection.
So today I want to show you their newest lipstick – Immodest. I personally think this is an awesome name for such a beautiful bright candy pink.
This is my fourth lipstick from the brand so I am already familiar with the quality and the formula, you can see the other shades:  Over (coral), Atomic (fuchsia) and Kontrol (purple).
The brand's lipsticks are perfect for a statement lip, as the pigmentation is amazing, you get a full-on colour with one layer.
As for
Read More
I had to get the new Kate Moss matte lipsticks for Rimmel which are new for Autumn.  I really love the original Kate Moss lipsticks so had high hopes for these.
I have got the berry 107 shade (surprise-surprise). And, oh my goodness, it is awesome!
First of all,  the design is great, you can never go wrong with red and black, in my opinion.
They go on  smoothly, the colour applies evenly and opaque with only one coat. Although this is a matte lipstick, it does not look very flat and chalky on the lips and does not dry them out. The staying power is decent, as well.
Here is how it looks like on the skin.
It is a beautiful berry colour which is not very dark and will be perfect for those who want to embrace such shade but
Read More
I really love the (relatively) new range of Max Factor Colour Elixir Lipsticks which come in 15 shades and retail for £7.99.
I have three shades to show you:  755 Firefly, 825 Pink Brandy, 827 Bewitching Coral.
The main idea about this lipstick is that in contains 60% 'Elixir' treatment, which includes shea, avocado and aloe butters, and anti-oxidant white tea. As the result, it glides smoothly on the lips and, unlike many lipsticks, is not drying at all. In fact, I would even call it moisturizing.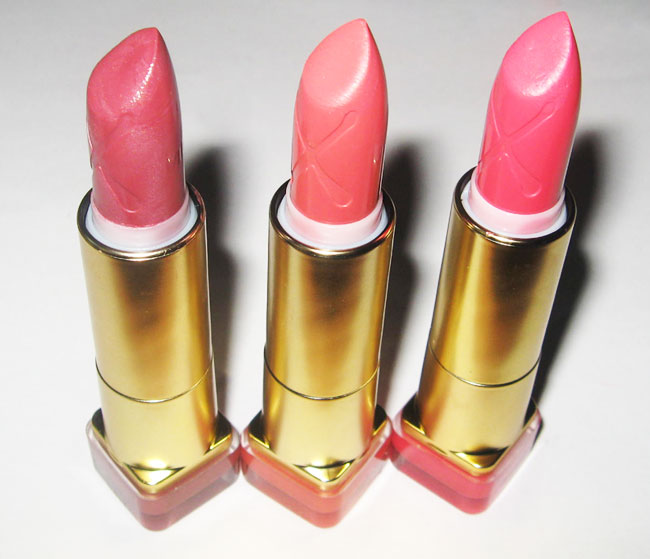 I am sorry that Firefly looks so used, I completely forgot to take a photo before using it.
These lipsticks give a sheer (firefly) and semi-sheer (PB and BC) but vibrant and buildable colour. Firefly is the sheerest shade and it's a pretty natural shade for an every day look.
Pink Brandy and Bewitching Coral are bright and juicy shades. In my opinion, they are
Read More