Since my post about pink blushers got so many views, I've decided to write one about reddish ones, too. Do let me know, if you'd like me to choose 5 corals/peaches and berries/plums…
So here is what I've picked:
Hourglass Aura Cheek Tint in Flush (review and swatches)
I think that Flush is a perfect name for this sheer water-based blusher, it gives the most natural and beautiful effect.  Cheek Tint is easy to blend, plus it has a nice staying power.
Max Factor Miracle Touch Creamy Blush in 18 Soft Cardinal (review and swatches)
This is probably my personal favourite! It is a gorgeous cream blusher with "wet & glossy" texture, it doesn't enhance any dry patches and looks like a second skin, I use it
Read More
I have already mentioned new Armani powder blushers and bronzers  but the brand actually also launched liquid bronzer and blushes, too!
All the products are a part of the Mediterranea collection.
So what you can choose from?
 Maestro Fusion Blush $52/£35 in 300, 400 and 500
Liquid blush which feels weightless on and gives a beautiful colour.
Maestro Liquid Summer Bronzer SPF 15 (LE) $64/£39 in 100
Liquid bronzer
Read More
Here is a preview of the absolutely gorgeous summer 2014 makeup collection from byTerry. It is all about long-lasting formulas, sheer juicy shades for lips and complexion and cream eye shadows for eyes.
So what are the new products?
Cheek To Cheek Cherry Cruise, £36
" Watercolour blush that provides a sheer stain for pink baby soft and plumped-up cheeks with cellophane transparency or with a subtle satin finish."
Tea To Tan Bronze Bay, £36
"Watercolour bronzer, formulated with essence of original active waters and amber prisms to brighten the complexion; the extravagant "iced-tea" colour will make any complexion utterly radiant."
Tint To Lip, £22 in  Pink Palace and
Read More
I don't dedicate a whole preview post to one product only that often, but the new offering from YSL really deserves it.
Babydoll Kiss & Blush  sounds and looks very promising. It is a two-in-one cheek and lip product which, according to the brand, should  have  a "blendable, air-whipped mousse formula" with matte finish.
The applicator looks interesting, and I also love the fact that you can actually see the shade!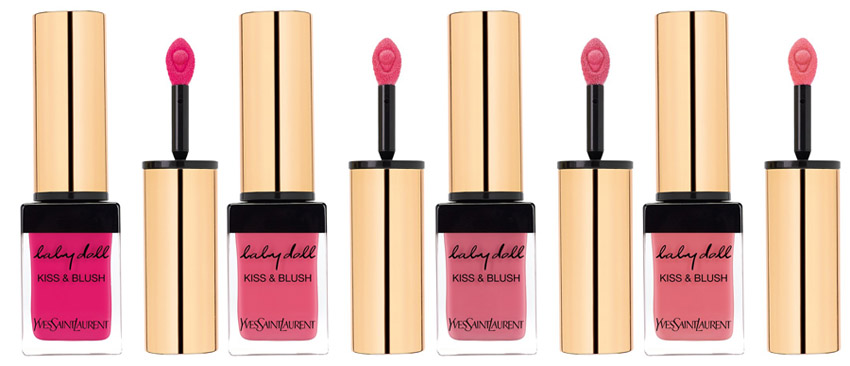 01 FUCHSIA DESINVOLTE, 02 ROSE FRIVOLE, 03 ROSE LIBRE,  08 PINK HEDONISTE
Speaking of the shades, there are twelve to choose from: pinks, reds, oranges, corals, plums, and, of course,
Read More
A girl can never have too many blushers…
That's probably the story of my life. I love a good blusher and, although I am a fan of high-end  blushers, I have to admit that some high street brands offer very decent blushers, as well.
I am personally a big fan of Max Factor cream blushers, they are brilliant!  I also want to try Revlon, plus Bourjois are bringing out cream blushers this year.
Speaking about affordable blushers, meet MeMeMe Cherub's Blush Cheek & Lip Tint.
A cheap, it's only £5.50, tint for lips and cheeks?! Yes, indeed!
It is a beautiful berry-ish red which works amazing for perking up the whole look, it instantly makes you look fresher and healthier,  know what I mean?
Just make sure that you prep the skin! Especially the cheek area, as
Read More