I have picked up some beauty products to celebrate Makeup4all's 5th Blogaversary. By the way, have you entered the GIVEAWAY?
I wanted a holistic silk sleeping eye mask for ages but just couldn't justify the purchase because of the high price (it is £45).
But  Feel Unique had an offer that I just couldn't resist.   They offered a free Aromatherapy Associates Deep Relax Bath & Shower Oil 55ml  which retails for £39 (which is my Holy Grail beauty product) for free with their Aromatherapy Associates Relax Eye Mask  (£46).
I though it was a great deal, so obviously, I had to get it!
I have also ordered a
Read More
It's been forever since I did a post about the products in my shower, and I am always curious to see what products other people use, so thought I'd share about mine, too.
1. Clarins Tonic Bath & Shower Concentrate – review.
This is an instant pick-me-up product. I love using it in the mornings, or after a workout. I am a big fan of Clarins Tonic range in general, by the way.
2. LUSH Glogg Shower – review.
I really love this spicy and warm fragrance, very  comforting, and is a perfect  scent for a colder weather.
3.  LUSH Happy Hippy Shower Gel –review
It is a nice citrus jelly shower product, with a subtle fragrance, so can be used both in the mornings and
Read More
One of the reasons why I love Clarins is because the brand often has amazing gift with purchase offers. This is why occasionally  I end up buying more products than I originally plan to.
Clarins Tonic Bath & Shower Concentrate is actually a great example.  I saw that this was a buy-two-get-it-free the other day and had to indulge.
Since I am a huge fan of the Toning Body Polisher and the scent I knew that I'd like the shower concentrate, as well.
This line is supposed to "Tone, Cleanse & Invigorate" . Although I can't comment on the tone effect (you should follow with the oil and cream to see the toning/firming benefits), it definitely cleanses, refreshes nicely and
Read More
It's the beginning of the new week, so here is what bath and shower products I've been using last week. You can see the previous posts here and here.
Shower Gels and Scrub
I have been showing a lot of love to my Lush shower gels this month. I have a lot of different ones from different brands, as I like to rotate them but these two were used a lot. Happy Hippy is a fresh grapefruit with a not very overpowering scent, so could be used not only in the mornings. Glögg is a spicy and warm fragrance which always cheers me up!
As for the scrub – Clarins Smoothing Body Scrub was my choice recently, as it is a gentle exfoliator which makes the skin smooth and allows creams and oils to absorb better.
Oils
My skin is extremely dry and flaky at the moment so I am using a lot of different oils on it. I love taking a long and relaxing bath with some oils, for example  with this Lavera Organic Wild Rose Bath Oil. It is
Read More
L'Occitane's Almond Shower oil is a cult product and a best seller of the brand, plus I've heard countless raves about it so really wanted to try it myself.
I was very excited to get is as a part of my Christmas gift!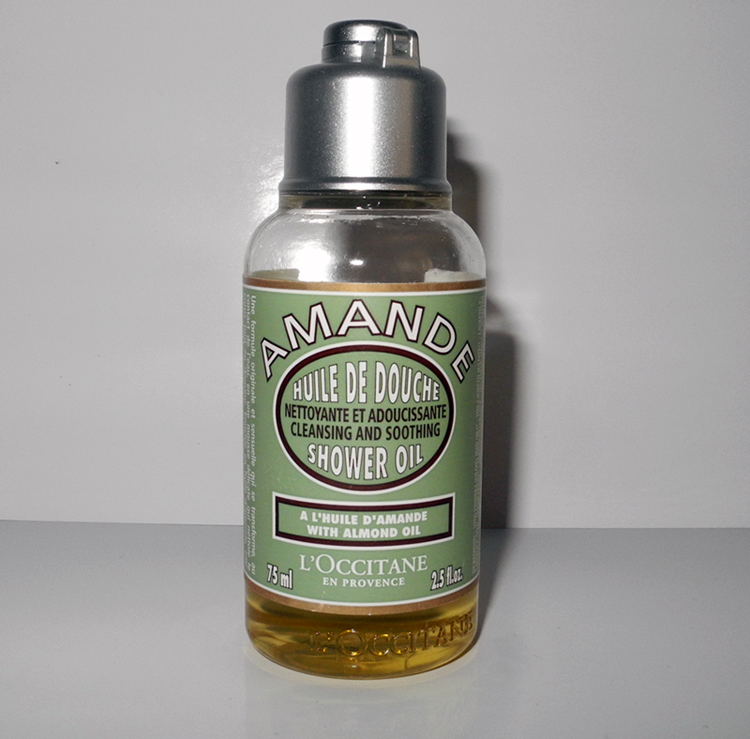 It is basically a gentle oil  which turns into a soft foam when contacts water. It is supposed to leave the skin soft and subtle, and it does. Unfortunately, for my very dry skin this is not enough in the cold months and I have to use moisturizer anyway, but if yours is not as dry, you may get away with just this product.
I am really looking forward to
Read More