I thought I'd show you what beauty products are staples on my desk.  I have two of my current favourite candles which are: Daniel Sandler In Love and Jo Malone Red Rosses and several creams.
As you may already know, I am obsessed with hand creams, so I am actually surprised that I have only two here: Elemis Pro-Radiance (which has to be my all time favourite) and butter LONDON Master hand cream.
I also have a body Lotion from Clarins just in case. I've got it as a gift with purchase and I absolutely adore it, as everything Clarins.
And that picture is from Ellis Faas. Wish I had more post cards with her work! By the way, I still have to share my interview with her with you all…
Candles always make a great gift and I have already written about some – Aqua di Parma, Malin + Goetz, and Jonathan Ward for example. So today I want to tell you about three other options!
In Love Candle by Daniel Sandler, £30 240g. get from urbanretreat.co.uk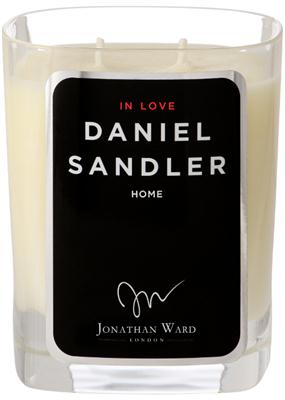 'In Love' Candle by Daniel Sandler was created  in collaboration with Jonathan Ward. And as I like both brands (and men behind them), I am excited about this one!
The candle is made with organic soy wax and is hand-poured by Jonathan himself into hand-blown Italian crystal glass. the notes are some of the Daniel's best loved aromas sandalwood, vanilla, light musk, amber, patchouli, clove, cardamom, violet, black pepper and sheer white floral that he is delighted to share with many.
Judging from the notes, it should be amazing!
There are also these new
I have a lot of candles but they are the from-your-local-supermarket type of candles, non of them are  close to the luxury organic candles. This week I've realized that I want to get some nice candles for my bedroom.
This is why I read about some brands myself and also asked some of my twitter friends for their favourites.  So now I want to get something from Jonathan Ward and Neom  Luxury Organics.
But I will tell you about Jonathan Ward London today because I've heard a lot of good things about this company  some people  recommended it to me!
I really like the website and the fact that you can choose a candle you want based on different categories: collection, room, scent. There are also 2 size of those candles
Large:£30 – 8.5oz (241g), burn time: 45hrs
Medium:£20 – 6.5oz (185g), burn time: 30hrs
And probably the best thing! They have International shipping, so you can get them outside the UK or Europe.
I will get one candle to start with but I am not yet sure which one yet so here are 3 I have to choose from.
Dance in Summer Rain
Inspired by the magic of a childhood camping trip in the New Forest, this unique aroma is characterised by watery jasmine and lilies, and crisp green leaves wrapped around soft blond woods.
An uplifting, clean and sparkling fragrance offering renewed energy. The best selling candle.
Ingredients:
Green leaves, Jasmine, Pink cyclamen, Water-lily
Pietas Lavender
This unique blend of