It's not a secret that I am a huge fan of Rouge Bunny Rouge eye shadows, and I was very excited about their newest palette which I have posted on my Instagram 6 weeks ago already.
The brand's Eye Shadow Palette Raw Garden in Antigo is probably my favourite release, and here is why.
I really love the sleek and chic black compact,  with a good mirror, and a very well edited selection of shades with a wavy pattern.  You  just can tell that it is a luxury product. Moreover, it comes  in a beautiful cardboard packaging with a signature RBR design.
You get four beautiful and really versatile shades ( descriptions are from the brand):
 A very light, yellow-tinged neutral vanilla cream beige; the ideal base to even out your skin tone and add highlights
A medium, cool taupe with a hint of pink
A medium, true "café latte" brown taupe
A dark, rich, powdery chocolate brown
And it is pretty much everything you need: a
Read More
I have already posted about some new lipstick launches  but what about the eye shadows? Here is a selection of the most luxurious ones: Cle de Peau, Chantecaille and Tom Ford.   Cream or powder, single or palette – the choice is yours. Let's take a look.
Cle pe Peau are launching brand new Cream eye color solo – ombre crème solo ($45 / 6g) which are "dewy cream eye shadow that transforms into a silky powder", and they look gorgeous. I wonder what is the shade of that burgundy one from Lucia Pieroni's Insta photo.  Is it 301? Probably, not.
Powder eye color solo limited edition – ombre poudre solo ($45 / 1g) "A silky soft long-lasting eye shadow that comes in three textures: shimmery, semi-matte and matte."
Cle de Peau is available from: Nordstrom, Neiman Marcus, Bergdorf Goodman, Saks 
 Chantecaille Le Magnolia Eye and Cheek Palette ($83/£74)
Each
Read More
I have already posted about some new eye shadows for Spring 2015, and here are more releases.
Burberry Beauty Wet & Dry Eyeshadow ($29 from Nordstrom)
These are promised to be silky-smooth eye shadows that can be used both dry, and wet for a more intense and saturated finish.
The shades shown above are: 103 Almond, 204 Mulberry and 301 Chestnut Brown
Yves Saint Laurent Couture Mono Eyeshadow ($30 from Nordstrom)
YSL also brought out mono eye shadows which are available in different finishes: matte, satin, metallic or shimmer.
The shades shown above are: 01 Paris, 08 Zellige, 10 Khol, 13 Fougue
Besides the monos, YSL released two
Read More
It is time to get excited, as the new Hourglass Modernist Eyeshadow Palettes are already out!
I haven't tried them but the duos from the brand are dreamy, so I am sure theses are fantastic, as well. As usual, we get a chic and modern design  inspired by art, and a cool idea with a colour transition.
There are seven palettes and each contains  five shades (5 x 0.035 oz) , the textures vary  from  matte to shimmer.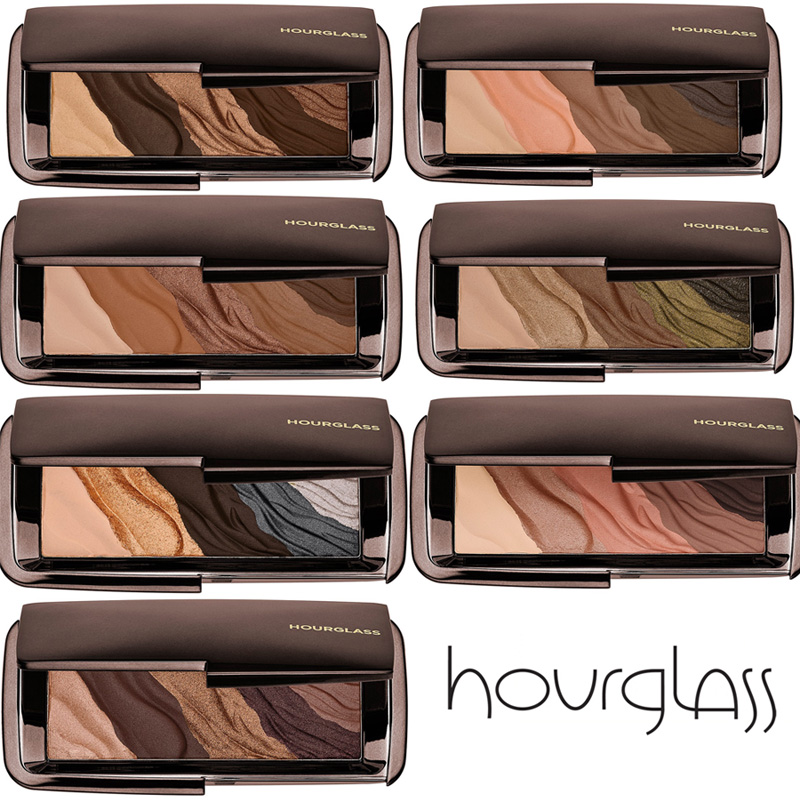 The colours are:
Read More
I have posted about a lot of new lip launches but what about the eyes? Don't worry, there are a lot of exciting new products, as well. Cream, powder, singles, duos, palettes. There is something for everyone.
Let's take a look…
The promo is Charlotte Tilbury's Supermodel Look.
Chantecaille Le Chrome Luxe Eye Duos, $58/ £48
The duos inspired by Venice: Grand Canal Duo in Laguna, a flattering green gray, and Rialto, a radiant gold and Piazza San Marco Duo in Pigeon, a midnight purple, and Marble a soft gray.
Available from Nordstorm already and SpaceNK
Tom Ford Cream Color, $42/£28
Metallic, pigmented and highly reflective molten-toned eye shadows from Tom Ford are pure luxury. The shades are Platinum and Spice.
Available from
Read More