I have to admit that I haven't been wearing blush during the summer at all, but now that it is Autumn, I kind of want some colour! this is why I have been browsing my collection looking for some old favourites, and also browsing the new launches looking for anything beautiful and  exciting to share with you.
Here are three beauties that caught my attention:

CHANTECAILLE Lion Pride Cheek Shade, £35 from SpaceNK and   $40 from Nordstrom.
"A silky smooth powder formula that adds the perfect hint of natural looking colour. "The shade is described as a peachy pink.
5% of Chantecaille's proceeds for the Pride Cheek Shade will be donated to the Lion Guardians.
Dolce & Gabbana Creamy Face Colour, £40 from Harrods and  $55 from Saks.
"The
Read More
I have already posted a preview of the HOURGLASS Vanish Seamless Finish Foundation Stick, and here are new products that are coming from the brand for AW16/17.
First of all, there is a new palette Ambient Lighting Powder – Surreal Light ($80) which will be a LE for Holiday (out if you are Sephora's VIB).

The shades are:
Ambient Lighting Powder – Surreal Light
Ambient Lighting Bronzer – Surreal Bronze Light
 Ambient Lighting Blush – Surreal Glow
 Ambient Lighting Blush – Surreal Effect
Ambient Strobe Lighting Powder – Surreal Strobe Light
And all of them are new and exclusive to this palette.
There are also two new products for the eyes which are already available, unlike the palette. And they are:
Read More
I am sorry that there were no updates for several days, work and life in general just got too busy, but I am back with yet another selection of the new products for lips, eyes and face that caught my attention. This time it is all about Illamasqua,  Marc Jacobs and YSL.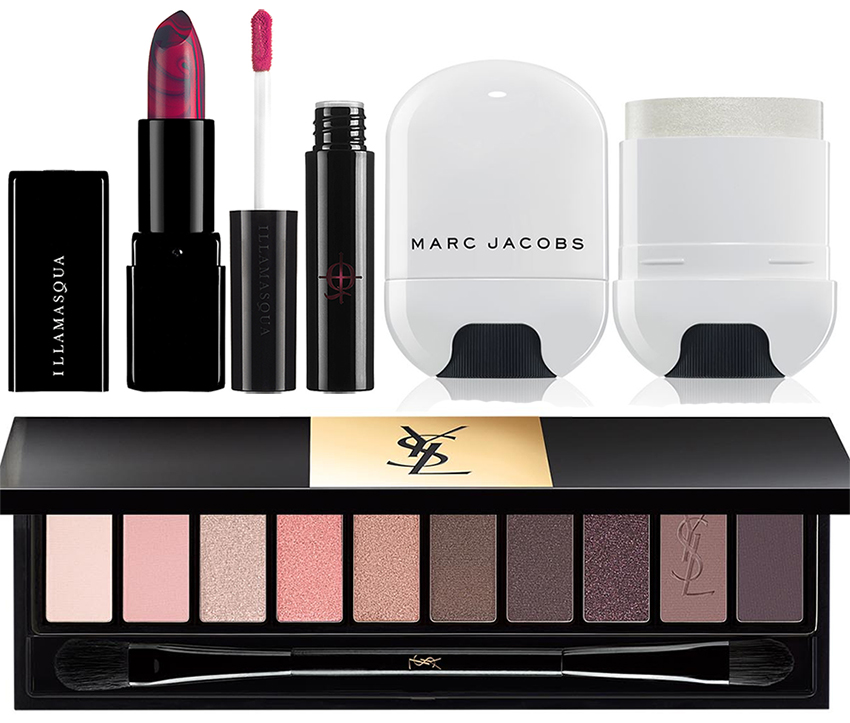 YSL Couture Variation 10-Color Expert Eye Palette, $95 from  Bergdorf Goodman and £49 from Harvey Nichols.
They say you can never have to many nude eye shadows, and this one looks gorgeous. Inspired by  the fabric swatch sheets of Yves Saint Laurent's creative studio, there are 10 neutral shades which come in different finished; housed in an elegant and sleek packaging.
Illamasqua Marbled Lava lips lipstick (£19.50) and Lip Pure Liquid Lipstick (£19.50) from HqHair, Net-a-Porter, ASOS and Selfridges.
It looks like Illamasqua are finally back to their roots with
Read More
As weird, as it sounds I don't really care about dark under eye circles or bags that much. Although I understand the corrector-concealer-powder concept for the under eye area, that is something you'd almost never see me doing.  In fact YSL's Touche Elcat is the only product I have ever used up which I am using under the eyes.
All I care about is a light coverage and some light reflection.  This is obviously, my personal preference, and I do use a lot of products when I am doing someone else's makeup.
This is why I am excited to share about one of my favourite Rouge Bunny Rouge products.  Glide Concealer NAKED DISGUISE which is described as "bare skin but better". And that is exactly that!
This is my favourite under eye product, ever.  It feels really light on the skin and gives that very natural light-to-medium coverage, and you can still see the texture of the skin. It  is enough to make you look fresher and
Read More
Here are the coolest new products for SS2016 for the eyes from the luxury brands, and there is a bit of everything: eye shadows, eye liner and a mascara.
By Terry Line Designer, £28 from Harrods and Feel Unique.
"Highly pigmented and graphic-precision waterproof liquid eyeliner with an ultra-light applicator made of flexible foam to imprint either matte or shimmer, ultra-fine or wide."
The shades are: Blue Fix, Black, Brown Glaze, Ocean Vibes and Purple
D&G Passioneyes Waterproof Duo Mascara Curl And Volume, £28 from from Harrods.
"The waterproof formula delivers lashes with
Read More