Since so many of you enjoyed the post about my "Current top 5 affordable makeup products" I wrote back in Mach, I've decided to write the same feature, but about luxury products.
And, I am pretty sure, regular readers won't be surprised at all.
Especially to see Clarins Instant Light Natural Lip Perfector in 04 Petal Shimmer (review and swatches) and Lancome Le Crayon Khol in Brun Noir (review and swatches) on the list. Are you bored of these yet?  I just can't help myself, I do love both products a lot and refuse to be without them.
Lanocome's  perfect dark brown eye pencil is the one that I use on myself at least several times per week, and I have at least one shade of the Clarins' lip glosses in my bag, or even in my coat pocket.
I also need to have nice-looking brows, that's were Hourglass Arch Brow Sculpting Pencil in Soft Brunette (review and swatches) helps a lot. It is super quick and easy to use, and  you get a fuller, but not
Read More
Today is my Birthday, so I've decided to treat myself and get some nice beauty products from my wish list.
So here is what I've got:
Tom Ford Lipstick in Bruised Plum. It is such a gorgeous colour, absolutely love it. Now I want one from the Spring collection, too.
Marc Jacobs Nail Enamored Hi-Shine Nail Lacquer in Lola. I will be wearing it for my celebration which will most likely be this weekend.
Jo Malone Peony and Blush Suede Cologne and Jo Malone Vanilla and Anise Cologne.  Vanilla and Anise is my signature scent and I adore it. Never tried Peony & Blush Suede, bought it
Read More
I already did a post about my favourite bases and cheek products of 2013, so here is the second part which is all about the eyes, lips and nails.  To compare my list t0 2012 favourites click here.
So here we go…
Eyes
I will start with the eye brows, and my favorite and most-used product, hands down, was Hourglass Arch Brow Sculpting Pencil in Soft Brunette (review). It is a must have for me now, easy to use, long-lasting and great shade.
As for the liners – it was super easy to choose: Rouge Bunny Rouge Raven Glaze Lacquer Liner (review), black and glossy liner is in my personal top favourites ever. When I am in the mood for the cat eye, this is the product I always use. Plus it's so easy to control.
For an every day use, and I'm sure this is no surprise to you, I always use Lancome's Le Crayon Khol in Brun Noir (review). I have so many eye pencils, but 99% of the time I use this one. It's a perfect blackened brown which is very soft and easy to blend, dreamy.
When it comes to mascaras, I have two favourites, as well. One in a classic black shade, which is  Chanel Le Volume de Chanel Mascara in 10 Noir (review), easily one of the best mascaras I have ever tried, ultra black and mega volumizing. I have a small sample but am buying a full size.
I also want to mention a colourful mascara – Rouge Bunny Rouge Dramatic Lash Mascara Megaplumes in Oxblood Panache (review). It is an innovative shade which looks beautiful on the lashes, what you is is what you get.
And, of course, I have to mention Anastasia's Genius Top Coat (review) which changed my beauty life.
There are so many  great eye shadows that I could
Read More
Finally I am writing about my 2013 favouries. You can read about my 2012 makeup favourites here.
But there are quite a few products that I want to mention, so I've decided to divide it into several posts, not to make it too long.
So the first part is about  makeup products for the face. And I did not want to include a product in each category, but wanted to mention the products that stood out to me.
The last thing that I have to mention  –  I have dry sensitive skin, and the age group is 25-30.
Clarins BB Skin Perfecting Cream SPF 25 (review)
This was the BB cream of the year for me. The base that I wore almost all the summer, it was a great match for my tanned skin. It feels light on the skin and gives a medium coverage, plus smells really nice.
Hourglass Illusion Tinted Moisturizer (review)
At first I wasn't a huge fan of this product, but now I use it whenever  my skin needs some glow and luminosity, and there is no need for the highlighter.  It gives a very good coverage for a TM, I personally  don't even need a concealer.
BECCA Luminous Skin Colour Ultra-Sheer Foundation SPF 25+ (review)
This is a discovery of the year. This foundation gives a very light coverage and has an almost fluid texture, so suitable for the days when your skin looks nice but you want to even out the complexion.
Rouge Bunny Rouge Tinted Moisturiser Sketches on Water (review)
If I could keep only one "base" – this would be it. It's my
Read More
Guerlain's Spring 2014 makeup collection is all about the light and radiance, with the renewed meteorites in three variations, cute meteorites blushers, sparkling lips and nails top coats and, finally, a Guerlain eye brow kit!
Here is a fresh and feminine promo with Natalia Vodianova with pink, peach and lavender shades which are very spring appropriate…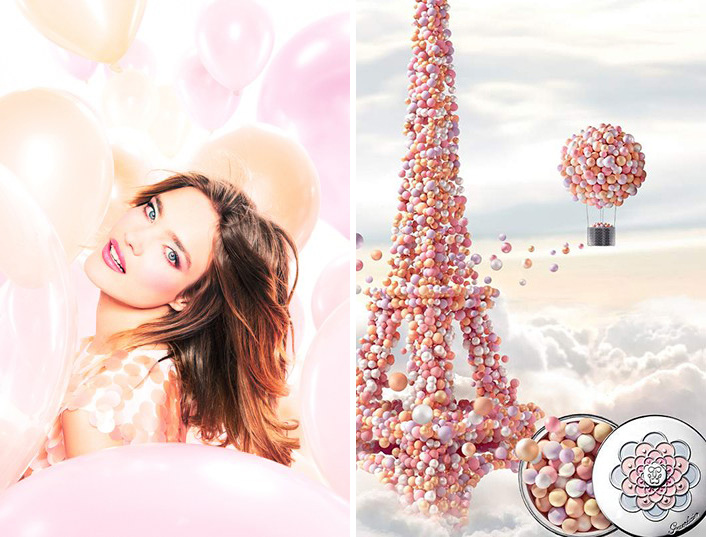 Meteorites Perles, £36 / €49
There are three new variations and here is the official description of each:
"Pure light for fair skin
Within the legendary harmony, green pearls form a halo for skin prone to redness, white pearls reflect the light to make the complexion glow and champagne pearls become one with the skin tone to gently illuminate it.
Tone-on-tone light for medium skin
The most nude harmony, in which beige pearls act as complexion-perfecting agents, champagne pearls naturally reflect the light and peach pearls give a satin sheen and a unique glow to the skin.
Warm light for golden skin
The most smouldering harmony highlights beige pearls that give harmony to the complexion, chocolate pearls with satin shimmers and vivifying fuchsia pearls that revive radiance for skin that looks good enough to eat."
Meteorites Brush, £ 23.50/ €35
Natural Pink Bristles – Sculpt And Highlight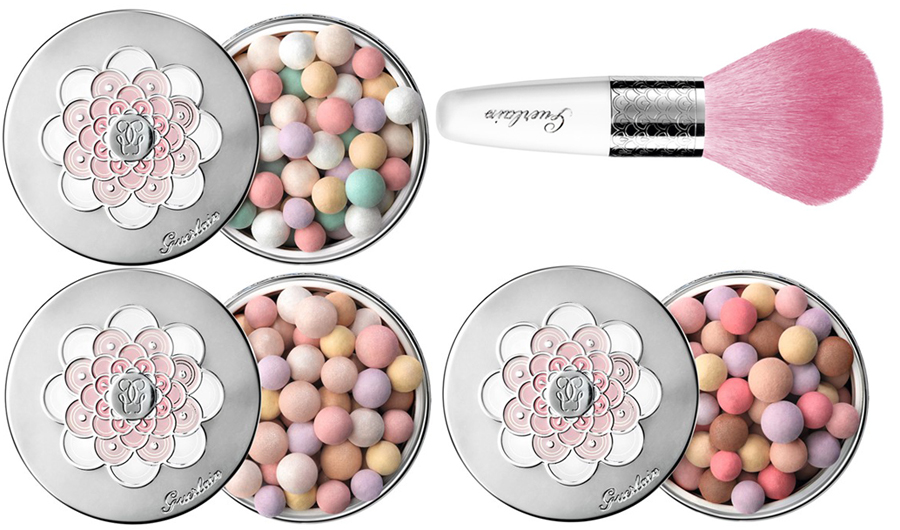 Meteorites Bubble, £26 / €37
Violet Scent- Satin Finish in 01 Pink and 02 Cherry
Star Dust A Dazzling Duo
Read More