I am happy to share about the new nail polish brand called LVX (Latin, means Light) which  is a 5 Free (without Formaldehyde, Formaldehyde Resin, DBP, Toluene, and Camphor), cruelty free, vegan nail polish.
The main idea behind the brand is to compliment the seasonal fashion trends.
So far there are only three collections available – Summer 2012, Fall/Winter 2012 and Winter Resort 2013. And I have a shade which is a part of the Fall/Winter collection and is called Sanguine.
The formula of this nail polish is great, it goes on  smoothly without streaks and looks beautiful even with one coat, but I still prefer two. The brush, which is also a very important thing, is nice,aw well. It's not too thin or too thick (although I personally like thick brushes), just spot on.
This colour is
Read More
Most people usually wear dark nail polishes for Autumn/Winter but Dior suggest we brighten up our days with their new nail polish collection.
These three vibrant nail polishes were released to celebrate the launch of Dior's  2013 Cruise collection.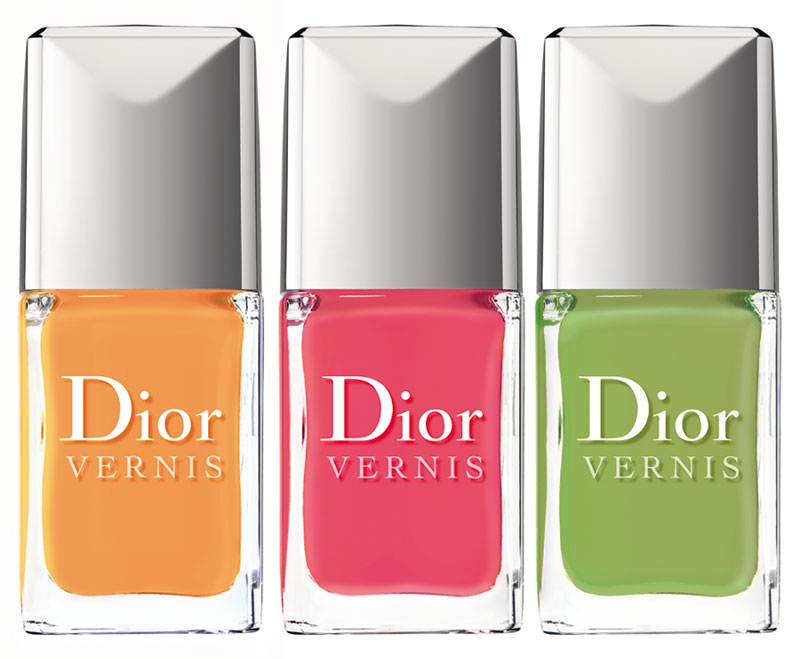 Mango (438): A deliciously fruity and radiant yellow.
Pastèque (658): A rich and sensual pink with an aquatic sheen.
Lime (602): A sparkling acid green for colour block nails.
Each is £18. Which one do you like the best?
There is also a new nail polish collection from Le Metier De Beaute. The inspiration is "Ming [Dynasty] meets Modern".
Here is the brand's
Read More
I am a huge fan of berry and plum nail polishes, especially for Autumn/Winter period, they look very sophisticated and  chic. I have actually never tried Guerlain nail lacquers  (£18 / €23) before, so was excited to start with Lou-Ling from their Christmas collection, as it is a beautiful shade.
It is a gorgeous glossy plum with very subtle micro shimmer which is only visible under the certain light or with a certain flash.
Lou-Ling has a nice formula which goes on smoothly and  looks opaque with only one coat. But I do wear two coats on the picture above.  The brush is thinner than I personally like but since it's  not very not long, it gives you a good control.
This is a wonderful classic nail colour, and I would definitely recommend it to everyone who loves luxury brands. It would make a  great present, too.
Read More