Take a look a this year's  M.Micallef limited edition perfume  ART COLLECTION which refceclts the brand's "ART & PERFUME" concept.
This time the bottles are very Art Deco with  geometrical figures, cubic cap and bottle, adorned with circular shaped Swarovski Crystal Rocks.
ROUGE N°1
Floral-fruity eau de parfum, Rouge n°1 combines delicious yellow fruits and a generous bunch of flowers heart, warmed by the vanilla and white musk base.
Head note: peach, tangerine
Heart
Read More
I was very excited about the opportunity to try Jo Malone's (the lady, not the brand) fragrance creations which are a part of her new brand JO LOVES.
So far there are eight scents to choose from and I have them all. I have been wearing them for some time now, thinking about the associations I have and asking other people about their thoughts… So it's time to share my experinece and I will start with the Mango Collection.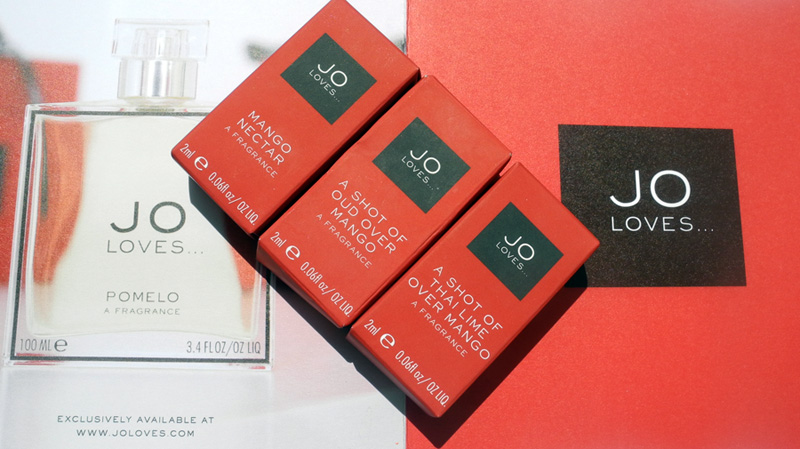 Mango Nectar
It is a sweet fruity and juicy fragrance; it definitely smells like mango and apricots, I almost want to eat it. It makes me think of warm summer days, white dresses, long walks near the river and tasty deserts. I'd say this would be a great fit for young dreamy girls or ladies that like sweet fruity scents.
Top: Bitter Orange, Pink Grapefruit, Mango Leaf
Heart: Mango Nectar, Apricot Blossom
Base: Jasmine, Musk
A Shot Of Oud Over Mango
I really loved this one and got a lot of compliments when I was wearing it. It is warm and feminine fragrance. I did not try that many oud fragrances, but this one is my favourite so far. It is not as sweet, as Mango Nectar but
Read More
Here is the newest offering from Jo Malone – Osmanthus Blossom Cologne. And of course, the white bows and  the flowers on the background are a  nice touch!
You can get a 100ml or 30ml 
The scent is described as:
"Delicately exotic. The white flower captures the duality of apricot counterpoised with supple leather. Luminous petitgrain and luscious peach and orange flower ripple over voluptuous cashmere wood."
Read More
Boadicea the Victorious  brand really caught my attention, mostly because of their fantastic design. I think if I had my own perfumery line, this is how I'd love the bottles to look like. The design is handmade by  some of the oldest and established British manufacturers.
What does the name mean?
Boadicea is known as a warrior queen, she is was was queen of the British Iceni tribe,  who was leading her people against the Roman Empire occupation. The brand, according to themselves, is very proud of their British heritage.
Boadicea the Victorious is a relatively new brand, it was found in 2008 and was available exclusively at Harrods but is now available in several different countries.
The fragrances are actually unisex so you get to choose whatever you want to, without  following the "label". The price is
Read More
Since we are talking about luxury perfumery today, I want to show you  a beautiful   M. Micallef Ylang in Gold perfume.
About the Brand
M.Micallef brand was created in 1996 by Martine Micallef, who is a beauty and wellness specialist and a painter, and Geoffrey Nejman, financial consultant in fragrances in Grasse. The brand was actually created from their love story and the brand's perfumes are now available in 39 countries.
About the Perfume
YLANG IN GOLD is the third fragrance of the JEWEL collection, after M.MICALLEF JEWEL FOR HER and JEW EL FOR HIM.
The bottle is hand decorated with Swarovski crystals designed exclusively for the brand.  YLANG GOLD actually won 2nd prize for an AN ARTISTIC PERFUME for for an extraordinary perfume concept at Global Art of Perfumery exhibition.
One more special thing about this perfume is that it should leave a light and delicate pearly golden dust made of golden powder.
 Notes
Head note: Tangerine orange, geranium, artemisia
Heart note: Ylang-ylang, rose,
Read More