Being a big fan of Elemis' Nourishing range, Shower Cream and Milk Bath are fantastic products, I had high hopes for their Nourishing Body Scrub.
Here is how it looks like, it comes in a chic dark blue tube which could also work for boys (which means that your man can borrow it when you don't know).
As for the product itself – I really love it! The texture is creamy and it sticks to the  skin, without falling all over the bath/shower and making a mess.  I personally use it on the dry skin and I don't need that much [product], so the tube will last me for some time.
The scrub contains natural exfoliators of rice, bamboo and bora bora sand which are exfoliating  enough (just how I love it, I personally don't like when scrubs are too smooth, know what I mean?) but
Read More
I have gathered some empties to show you
! I am kind of excited as now I can get the replacement. Well, actually, I have already got some new products, instead of these.
So here we go:
Elemis Pro-Collagen Advanced Eye Treatment
This is definitely one of the most effective eye treatments I have ever used, absolutely loved it. Here is a full review.
Elemis Pro-Intense Eye and Lip Contour Cream
This was also a nice product but I have used it for the eyes mostly, and loved the eye treatment  (the one above) better. Plus I think it'd be more suitable for more mature ladies.
Clarins Toning Lotion with Camomile for Dry and Normal Skin
I have a thing for Clarins Toners and
Read More
I really love getting  samples of products, as they allow me to decide what products I should invest in, in the future. Recently I received a small sample of Aesop Parsley Seed Cleansing Masque (£27)with one of my on-line orders and I totally fell in love!
Although it was only 2.5 ml, it was enough for two applications actually. I've heard a lot of great things about Aesop Parsley Seed range but this was my first experience with it and I was blown away actually.
I have dry skin but recently had some break outs and this product really helped with those (along with other products that I used) and also made my skin incredibly soft, clean and fresh. And it did not feel dry or tight and did not make me want to apply tonnes of cream as soon, as possible. You know that feeling?
Smooth texture and pleasant herbal lavender scent were a big bonus, as well.
I just
Read More
Elemis are launching two new products this September, a cream and a whole care skincare system. Let's take a look.
Pro-Intense Lift Effect Night Cream (£95),  is designed to target the sagging of jowls, cheeks and chin. This rich cream layers the lipid barrier and works overnight to stimulate the cell's biological energy cycle to deliver a lift effect. Promised results? Facial contours appear shaped and skin texture visibly improved.
Pro-Intense Lift Effect Super System (£155) designed to
Read More
I am a huge fan of Clarins' toners: I have already tried Clarins Extra-Comfort Toning Lotion for Dry and Sensitive, Clarins Toning Lotion with Camomile for Dry and Normal Skin and Clarins Gentle Exfoliator Brightening Toner.
And I really wanted to try the brand's cleansers: Water Comfort One-Step Cleanser with Peach Essential Water and One-Step Facial Cleanser with Orange Extract. 
I plan using them in the mornings when I am often in a rush, so picked up the first one this time and will get the other one next time. I will report back later but have big hopes for this product!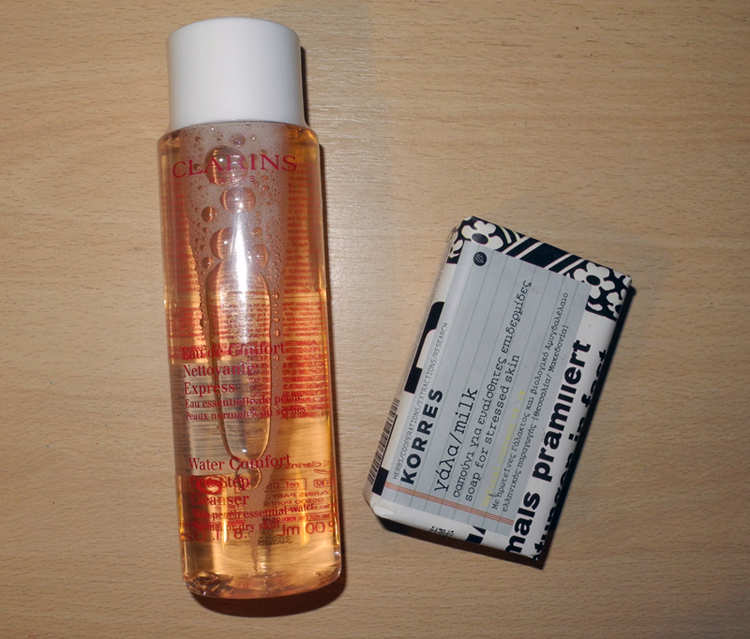 I also wanted to buy a new soap so got the Korres one with milk.  The lady in the shop told me  that it's her personal favourite from the range, so  hopefully it will not disappoint.
By the way, if you are looking for nice soaps, I personally really love Cowshed, those are brilliant.
Read More