I do love a  good cleansing balm, and  always enjoy trying new ones when I finish one of those that I currently use.
This week Ole Henriksen Pure Truth Melting Cleanser caught my attention. It is described as a  "unique, transformative three-in-one cleanser that melts on contact into a luxurious oil to
Read More
I have waited with a review of 111SKIN Daily Orbit Energising Youth Essence NAC Y² for such a long time that the name and the design have been changed.  Is it batter late than never? But the product is still the same, so don't worry…
111Skin is a niche luxury brand, and what is so special about it you may ask? It was created by  Dr. Alexandrides with the help of the space scenarists responsible for the well-being of the astronauts.  The thing is that NAC Y² formula, which is used by the brand, is the one that astronauts use in the outer space, where the conditions are harsh and extreme ( don't forget the no gravity and radiation factor) which causes the skin to age a lot faster.
This all sounds interesting but does it really work for us, common (wo)men, as well?
I have tried several products from the range, and I am very impressed. From my experience, not all the lines with come with a high price tag actually deliver.  Luckily,
Read More
I have very dry skin, so  a good glow-giving product is a must have for me! And in general, I personally am not a big fan of matte, often flat, looking complexion, so am always on a mission to discover new products that could help. Will make a feature about my top picks soon.
And today I want to tell you about one of those. And it's the Elemis' Pro-Radiance Illuminating Flash Balm.
This is a new generation hybrid of a skincare and primer, in my opinion , since it works great as both.
I personally use it as I would use a primer, meaning that I apply my moisturizer, wait for some time, than apply the Flash Balm, and apply the makeup straight away. This is how it works for me personally the best.
So what it does?
From my experience the product gives immediate results, it's a great way to "cheat" a healthy complexion even after a  bad nights sleep or a stressful day. And with the modern busy lifestyle we all experience that from time to time, unfortunately.
Flash Balm smooths
Read More
I am a big fan of cleansing balms and melting cleansers mostly because they work great for my dry and sensitive skin, and  also because I love to massage my face while using a cleanser.
It all started with Elemis Melting Cleansing Gel (review) back in 2011, and I never looked back! Over the years I have now tried quite a few, so decided to make a lill' round-up. Maybe, if you are looking for such kind of cleanser, this will be helpful.
Elemis
Read More
While my latest "Beauty Purchases" post was about  affordable makeup and hair care products, this time it's all about the skincare, and things are more on the luxury side.
I went with my boyfriend because he wanted some products, too. So here is what we've got: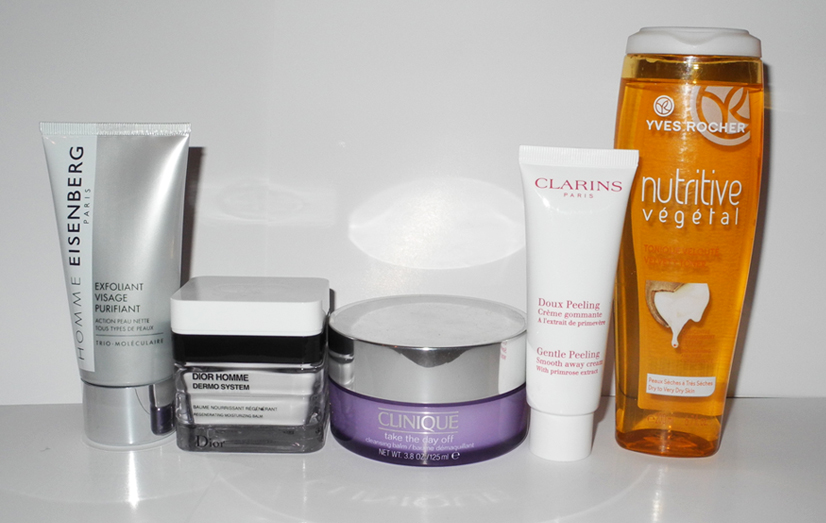 By the way, it is funny how he told me that he could just use Nivea, but now, because of me apparently, he loves all those expensive products.  Welcome to the club.
1. Eisenberg Homme Exfoliant Visage Purifiant
It makes me think of Breaking Bad, just add H ;)  I have never tried anything from this brand and was never really drawn to it, mostly because it has similar prices, as Dior or Chanel, for example. But the boyfriend wanted to try this face scrub. I hope he likes it…
2. DIOR HOMME DERMO SYSTEM Regenerating Moisturizing Balm
This range should be amazing, plus this cream was highly recommended by my favourite sales assistant. All the things she recommends are always amazing, so we just went for it.
3.Clinique
Read More