It's time for  June's favourites, and somehow this time it is all about Clarins. I have bought quite a few products from the brand and have been sent some samples, and most products were incredible. After all it is one of my favourite brands for a reason. There are also two beauty tools, self tanning drops and bath salts.
Here we go.
Makeup
Let's start with makeup, as there are only two products that really stood out to me. Technically three, but two are the same product just different shades. Clarins Blush & Bronzing Compact  (review and swatches) my love for this bronzer is still going strong. Now that I have a tan it looks amazing on, warms up the complexion and adds some definition.
As for the Clarins Waterproof Eyeshadow Shimmering Cream Colour (review and swatches) they are phenomenal, as I've already said. Extremely long-lasting and incredibly beautiful on the eyes. Just make sure you don't apply too much, as they can look a bit dry. I've been wearing  03 Silver Taupe at the end of May and beginning of June when I still had a very pale complexion but now  04 Copper Brown is my favourite. It looks perfect now, am I a bronze goddess already?
Body Products
June was
Read More
I have to say that I am still loving all of my favourites from April but here are some more products that I would like to add.  Four makeup items and three beauty.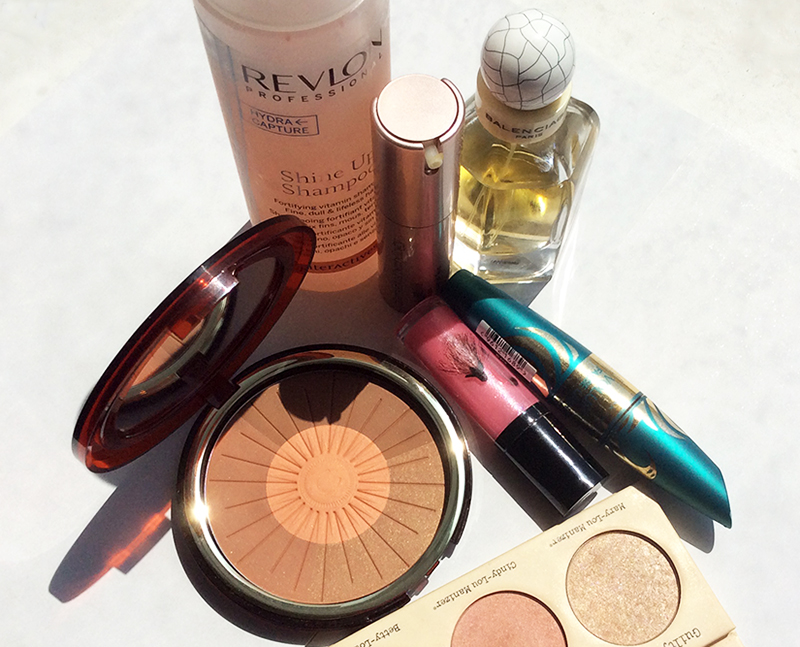 I did not expect this first product to make it to my favourites, as I have been neglecting all my bronzers for some time now, and I have tonnes. But I really like this new Clarins bronzer from their summer collection. It is called Bronzing & Blush Compact (full review coming up soon), as it adds warmth and that subtle sun-kissed effect to the face; you can use each shade separately or mix them all together. The other day when I was wearing it one of my  best male friends told me that whatever I have on my cheeks – it looks amazing, and makes me look beautiful, and it was this bronzer. Yes, some of my poor male friends know things like that.
Speaking of glow, I have started piling on using my Mary Lou Manizer from theBalm again. It gives the most gorgeous sheen to the face, and makes me look decent even when I barely sleep due to all the deadlines. Get it! Seriously, if you love a good highlighter, you need this in your life.
I have been using Max Factor Voluptuous False Lash Effect Mascara all
Read More
Can you actually believe that it is May, the fifth month of the year?! Time flies, it feels as if it was 1st of January only yesterday.  And this month I actually have quite a few products, including some amazing new discoveries.
Makeup
Max Factor Glossfinity Nail Polish in 85 Cerise (review and swatches)
I have already finished a bottle of this, and am going through my second one, and I am wearing this, as I type, too. Such a gorgeous vibrant, juicy and glossy warm-toned red, it brightens up any look, and (almost) any mood. I am a fan.
For complexion I have been using these two products almost daily: Diorskin Nude Skin-Glowing Make-Up in Ivory (review and face swatches) Rouge Bunny Rouge Naked Disguise Concealer in Castalia.
Dior's foundation is simply brilliant, it is a re-discovery for me. I like the coverage it gives and the finish, it is not matte but not too dewy either.  The shade, Ivory is the lightest in the range, and looks great even on my currently greenish pale and tired complexion. As for the concealer, I plan on writing a detailed feature about it soon. Surprisingly, I have already used half of the tube, and the love is going strong.  It gives just  the kind of coverage I like – the formula is not thick but it brightens up the under eye area.
Other products I have been using all the time are Inglot  Sculpting HD Powder in 504 (review) which I talk about non-stop, as it is my favourite product for adding
Read More
It's time for March beauty favourites, so here are the products that really stood out for me.

Clarins Gloss Prodige in 09 Water Lily (review and lip swatches)
Back in the days I was singing praises to  Gloss Prodige, and recently I've re-discovered my love for it. It has a nice scent, brilliant moisturising formula and the most beautiful nudish pink shade. This is probably my favourite lip gloss that I own.
Rouge Bunny Rouge Eye Shadow Palette Raw Garden in Antigo (review and swatches)
I have been using this palette almost every day, and  recently wrote a detailed review about it, you get four eye shadows with a unique sateen matt light texture which feels weightless on but still has a nice pigmentation. The
Read More
It's time for February favourites, and considering that I was sick for 10+ days in the shortest month of the year, there isn't that much to show. But here are the products that really stood out to me.
Beauty
Soap & Glory Whipped Clean Shower Butter (review)
Moisturising shower product that smells of almonds, pistachios and vanilla. Oh, yes! It is an instant cheer-me-up and works great for shaving, too.
Kerastase Mousse Bouffante Luxurious Volumising Mousse
I've been on a hunt for a new product for voluminous hair for some time now, and this is the one I've picked up, as mentioned here. I was a bit worried, as I haven't used a mousse in more than 10 years but this one really delivers. Mousse Bouffante creates beautiful big hair without being sticky or making the hair look or feel greasy.
Uriage Gyn-Phy Intimate Hygiene Protective Cleansing Gel
Probably the best product for intimate hygiene I've ever used, it is gentle but effective, smells really nice and is a great way to start and finish the day with. We talk so much about facial cleansers and shower gels but not enough about the intimate washes. And this is a great one, go get it.
Makeup
Maybelline Master Smoky Shadow Pencil in Smoky Chocolate (Review and Swatches)
I have re-discovered my
Read More