Can you believe that it is MAY already? Where did 2015 go?  Maybe that is because I am crazy busy these days that I don't notice anything around me, who knows…
But back to April Beauty Favourites. I did not have that many makeup favourites, and did not want to mention the same products over, and over again – so here are 3 hero products that I have been using every single day when I did my makeup ( I was sick for a week in April which was horrible), and some new  beauty loves…
Photo is from my Instagram
The three makeup heroes I've mentioned are: Rouge Bunny Rouge Raven Glaze Lacquer Liner (review and swatches), Max Factor Glamour Extensions 3-in-1 Volumising Mascara (review),  Bobbi Brown Natural Brow Shaper & Hair Touch Up in Slate (review). I haven't been experimenting with eye makeup that much this month, and these are the products that just work. Eye brow gel to tint my eye brows and keep them in place, ultra black liner for that feline flick and mascara for thick and long lashes.
There are also three products that I've mentioned in my Spring Beauty Guide: Balance Me Radiance Rose Face Oil and Aromatherapy Associates Hydrating Rose Radiance Skin Serum for that
Read More
It's time for March favourites! Can you believe that 1/3 of Spring is already behind?
Let's start with makeup, this month I have a good mix of products price-wise, from affordable Rimmel and Max Factor, to a high-end Rouge Bunny Rouge and uber luxurious Omorovicza.
Makeup
Bobbi Brown Natural Brow Shaper & Hair Touch Up in Slate (review)
This is still the only brow product that I use on a daily basis. It makes the brows look fuller, tints them and holds them in place. This is love.
Omorovicza Complexion Perfector BB SPF 20 (review and swatches)
This month I have re-discovered my love for this base. It is like a good looking skin in a bottle. The skin is glowing and radiant, and the  tone is evened out and perfected.  I have written a very detailed review in the past, so you are welcome to take a look.
Max Factor Creme Puff Blush in Alluring Rose (review and face swatches)
This is still my favourite blusher, just like last month. Alluring Rose is a gorgeous warm nude with a spot-on radiance effect. It lifts the face instantly, I'd recommend these blushes to everyone.
Max Factor Colour Elixir Gloss Nude Pomade in 10 Pristine Nude (review and lip swatches)
This gloss  has
Read More
It's time for monthly favourites! And this month I've been loving all the products that I've featured in May's favourites, and several more.
Which ones?
Two products from Maybelline: Master Smoky Shadow Pencil in Smoky Chocolate (review and swatches) and  Colorama Nail Polish in 16 Place Vendome.
The eye pencil is the a beautiful dark brown fuss-free crayon, which you apply, smudge with a sponge it comes with, and enjoy a long-lasting eye makeup. As for nail polish, I've been wearing it for two weeks this month, and already featured here.  It is a beautiful bright and glossy fuchsia, I promise to post swatches soon.
I also have two picks from Rouge Bunny Rouge: Raven Glaze Lacquer Liner (review and swatches)  and
Read More
Before I start, I have to say that it was very hard to narrow my list  of favourite makeup products of 2012 but I've tried my best.
Let's take a look at what I've chosen…
Face
Benefit Erase Paste
I don't really use concealer on a daily basis, unless I have a new, really bad spot,  I just use Touche Eclat under my eyes and that's all. But if I had to choose my favourite "concealer" type of product – that would be this one. It is a creamy peach corrector which works great for the  dark under eyes circles. I had a review of it but because of some tech problems, it was deleted, need to re-write it soon.
Omorovicza Complexion Perfector BB SPF 20 
One of my favourite face products you can read the details why here. If you can afford it, I would definitely recommend.
Rouge Bunny Rouge Tinted Moisturiser Sketches on Water
This gives a very natural finish and light coverage and you can't see it on the face, at all! Miracle for dry skin in cold weather, as it doesn't enhance any dry patches.  See all the shade available here.
Daniel Sandler Invisible Radiance Foundation and Concealer
It is a very nice foundation that gives a dewy finish so works great for my dry skin. The shade Porcelain is a great fit for fair skin and works for me in AW, in SS, I use the second lightest shade – Beige. Plus it comes with concealer which is a great deal for the price. Want to know more?
BECCA Shimmering Skin Perfector in Pearl
This product probably doesn't even need an introduction. It's the best highlighter out there, it gives a  very natural and beautiful effect.
Cheeks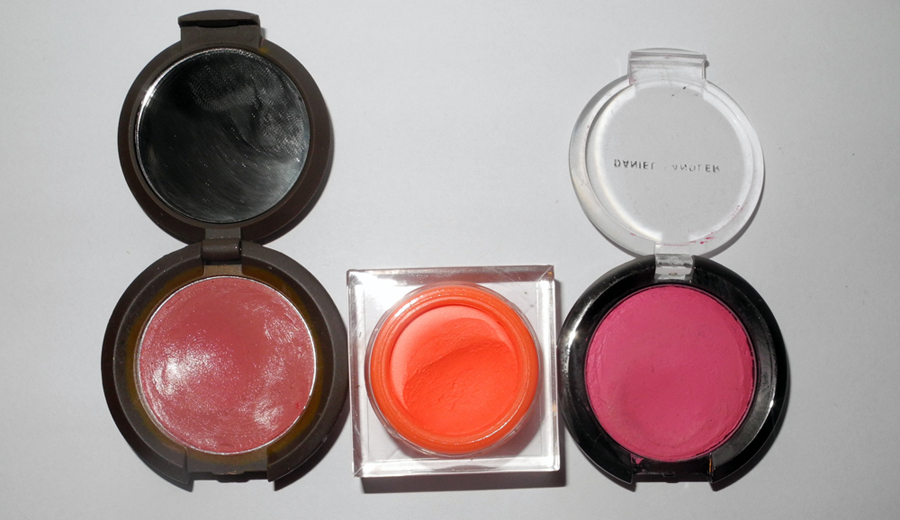 Wow, I was able to choose only three blushers, although I was very tempted to add more of them.
BECCA Cream Blush in Amaryllis 
My favourite blush for AW months, perfect cool toned and natural looking, gives a nice
Read More