The first month of 2016 is already behind us. How does it feel? Was it a good one? Are you ready for the rest of 2016? Do you stick to your resolutions? 😉
It was a pretty good month beauty-wise for me, and here are the products I've been loving:
Beauty
Nivea Nourishing Body Lotion For Very Dry Skin and a shower cream from this line. My Dad (!) actually got these two for me for Christmas, and I am really touched that he actually got the right products for my skin type. I usually take them with me when I go swimming but use them on a daily basis, too.  I love how soft and smooth my skin feels afterwards, and how nice it smells. Considering how quickly I go through body creams and lotions it is nice to have something budget-friendly, as well.
Jo Malone Red Roses Cologne
I honestly don't understand how could I miss the fact that Jo Malone discontinued Vanilla & Anise (and WHY would they do it?) so I am left with a half bottle only.  At least I can still get this scent. Red Roses is definitely not for everyone, some of my friends laugh that I smell like a rose jam whenever I use it, and it may be a bit weird to smell like this when you wear a lot of black, leather, and red… but hey, life is supposed to be fun. I also have a candle which I adore as much as the cologne.
CND Solar Oil
I was getting gel manicure for about 6 months non-stop but once I was too busy to go to my manicurist who is absolutely amazing but works far away from my home (and work, too), and had to rush to the nearest salon as my nails were looking disgusting at that point. I can't believe how
Read More
It is that time of the month when we are talking about favourites, again. Can you believe that it is the last month of the year now? Speaking of December, I will be extremely busy so probably there will be a lack of posts, although there are tonnes of products I want to share about with you, but I will try to keep you updated on Instagram.
And here is the list of products I have been loving in November.
Makeup
theBalm the Manizer Sisters palette
I've had this palette on my wish list ever since I've found out about it and finally got in November, and it is all kinds of dreamy, soft buttery textures that creates glow and luminosity, your "winter's skin" best friend in a pan. I will write a detailed review this week, so stay tuned.
Rouge Bunny Rouge Kiss Elixir Lip Balm (review)
This lip balm is one of my favourites because it just works, nice formula, feels lovely on the lips, and it heals the cracked skin or prevents it from happening. This is my second tube. I squeeze out some on my finger, and also apply what is left on my cuticles.
 Rimmel Exaggerate Lip Liners, one in East End Snob
Yes, I did get this lip liner to see why everyone loves it so much. I love Rimmel lip products anyway so this felt like a nice addition to my makeup bag. East End Snob works great for making your lips look fuller in a non-obnoxious way, there is not need to overdraw them like there is no tomorrow.
Clarins Eyebrow Pencil in  02 Light Brown
Considering that I have been using this eye brow product exclusively on my brows for the last several months I am surprised that I've never mentioned it. I like the texture which is not too soft so you get control over the application but at the same time it is not harsh; the bets formula. The spoolie on the other end is very helpful, too.
Skincare
Vichy Aqualia Thermal Rich  (for dry skin) and Elemental Herbology Vital Glow Overnight Resurfacing Creams.
Read More
It's time for monthly favourites! And this time I've decided to mention only those products that I have been really loving. Somehow I have re-discovered 17 Sheer Moisture Foundation which is now discontinued but which has been my base of choice lately, as it gives that beautiful light and glowing finish.
The other product  which is not shown is Garnier HandRepair Intensive Restoring Hand Cream because I have used it all up. And, just like the body cream, this one is brilliant.Works wonders on my very dry hands and feet, it improved the condition [of my skin] dramatically, moisturized and nourished.
Makeup
Clarins Joli Rouge Lipstick in 738 Royal Plum (review and lip swatches)
I have an old version of the lipstick but I will have a few samples of the new Joli Rouge to review and compare them for you. This is an amazing product! The sheer formula can be built up,  or worn as a barely-there stain.  And this the most beautiful dark plum, looks gorgeous on the lips, have been wearing it non-stop.
The only other makeup product is the new Rouge Bunny Rouge Naked Disguise Glide Concealer. And this, without a doubt, is now one of my favourite concealers ever. The texture is light  but at the same time it transforms the under eye area by brightening and covering the dark circles. It doesn't look or feel heavy and doesn't set into the fine lines. I like the brand's description "your skin but better", and I agree.
Skincare
REN Evercalm Gentle Cleansing Milk
I can't believe that I still
Read More
I can't believe that it's July already! June was a very difficult and busy month, and I am very happy that it's finally over!
I did not really have time or desire, to be honest, to experiment with makeup, but I did wear different lipsticks all the time. Since the drawer with my personal lip products is overflowing – I've made an effort to use them more often.
Makeup
Besides that, makeup-wise this month was all about the red nail polish. And my current favourite one is Max Factor Glossfinity  Nail Polish in 85 Cerise (here). It is  perfect long-lasting glossy orangey red. I promise to post the swatches soon, as I think everyone should pick up a bottle for summer.
Speaking of Max Factor, I am back to using their award-winning Masterpiece Transform High Impact Volumising Mascara (review). It is phenomenal, and I mean it – it gives show-stopping voluminous ultra-black lashes. Some of my girlfriends are now obsessed, too. And I will be buying a second tube soon.
I'm also back to using BECCA's Shimmering Skin Perfector in Pearl (review). The lack of
Read More
This month "Beauty Favourites" will be a little bit different, it will be more about the [makeup] products that I have been using on my face.
May was a very busy month for me, and I was always in a rush, so often I had to do my makeup on the go, so I had a makeup bag with the products always ready. The products have been more or less the same throughout the month, so let's take a look: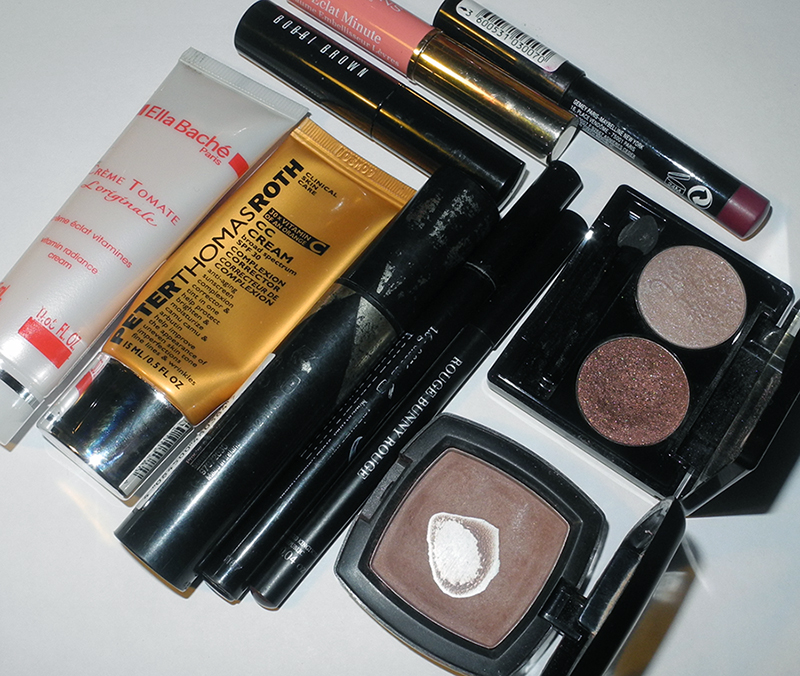 Face
Ella Bache Tomato Vitamin Radiance Cream (as seen on my Instagram)
I've bought it after someone highly recommended it to me, and so far I really love it, it really adds glow and radiance  to your complexion, even if you had less than 5 hours of sleep.
Peter Thomas Roth CC Cream Broad Spectrum SPF 30 Complexion Corrector (review)
This is an excellent product which combines great coverage and SPF factor but still feels light on the skin. One of my favourites for summer, the mini size is also great for carrying around.
NYX Blush in Taupe (review)
The photo speaks for itself. I am
Read More