If you are looking for a last minute gift,  this set from Fresh may be a great option. You get eight mini lip balms for $65. Unfortunately, this set is not that easily available in the EU/UK but you may try your luck on eBay.
I actually do have an original lip balm and love it a lot, so  all the other shades would be nice to have, too.  I could have one in each pocket/bag/room, you know how it is, right?
You could also get this set and give one of these balms to your favourite girlfriends, I bet they'd appreciate it, especially when it's winter outside!
Read More
Make Up For Ever holiday 2012 is very glamorous, shimmery, glittery and sparkly.
Just take a look at the promo! I am usually not a fan of such style but I am totally feeling it for holidays, golden lashes, sequins and the beautiful lights, perfect.
You can get a pair of festive false lashes with gold  for £13.50/$16 or one of (or all of them)  Holodiam powders for £18.95/$25 The powders come in 301 – Copper With Yellow Orange Pink Highlights, 302 – Plum With Pink Purple Turquoise Highlights, 303 – White With Blue Green Gold Highlights and 304 – Brown Gold With Blue Green Yellow Highlights.
Besides the Holodiam collection there are quite a few value sets. I have spotted them at Sephora
Ultimate Eye Liner Collection $160 ($277 value)
Includes 14 full-size eyeliners and a double pencil sharpener. Aqua Eyes in 0L, 2L, 3L, 5L, 11L, 12L, 23L,  Khol Pencil in
Read More
I really like the huge selection of gifts MeMeMe Cosmetics offers this Christmas!
Last year I have actually picked up one for myself and this year I may pick some for my girlfriends as these gifts are not expensive but have a nice quality.
MeMeMe The Kristina Rihanoff Essentials Collection (£26.50)
Goddess Eyes Quad Eyeshadow, Bronze Shimmer Stack, Amorous Long Lasting Nail Gloss, Beat the Blues Highlighter, Light Me Up Lipgloss
MeMeMe  has so many sets that I had to pick  my favourite ones. I really love the lipstick trios (£19.99) and lipstick and nail polish duos (£10.50).
Lip Trio Sets, £19.99
Nudes: China Rose', 'Cherub Blush' and 'Persian Pink'.
Brights: 'Hot Magenta', 'Coral Cloak' and 'Pashmina Pink'.
Deeps: 'Ruby Rich', 'Morello Silk' and 'Persian Pink'.
I have a lot of MeMeMe nail polishes and did review some of them, so you can take a look. I haven't tried the lipsticks but they look nice…
There are  also five sets for the
Read More
This season Smashbox offers five value sets: eye shadows, lip glosses, brushes, eye pencils and a set which has pretty much everything  you need.
Studio Pop Ultimate Palette ($59)

6 cheek colors: Sunkissed Matte Bronzer, Petunia Blush, Passion Blush, Warm Apricot Blush, Lens Soft Lights, Prism Soft Lights
9 cream eye liners: Ivy, Caviar, Fortune, Picasso, Midnight Brown, Taupe, Deep Purple, Gilt, Smoke
6 lip glosses: Gumdrop, Bella, Lily, Tea Rose, Pomegranate, Freeze
45 Photo Op Eye Shadows: Champagne, Naked, Birch, Platinum, Cream, Peacock, Crisp, Suede, Fig, Ambient, Sumatra, Doe, Obsidian, Rapture, Sienna, Sand, Frost, Nectar, Breeze, Snow, Fawn, Frambois, Cinnamon, Toast, Lavender, Cement, Spruce, Aubergine, Roast, Orchid, Harbor, Pastel, Opal, Fizz, Bliss, Oyster, Anchor, Drizzle, Take Two, Camel, Carnation, Ultramarine, Velvet, Blacktop, Pacific
Studio Pop Eye Set (£19.50/$24)
Full Exposure Mascara in Jet Black, Eyeliner shades in Graphite, Bronze Citrine, Antique Gold and Imperial
Studio Pop  Lip Gloss Set (£21/$26)
Lip Enhancing Glosses in Illume, Razzle and
Read More
Bobbi Brown has a lot of great sets to choose from this Christmas! Sets for eye, lips, face products, makeup brushes and even a chic makeup tote.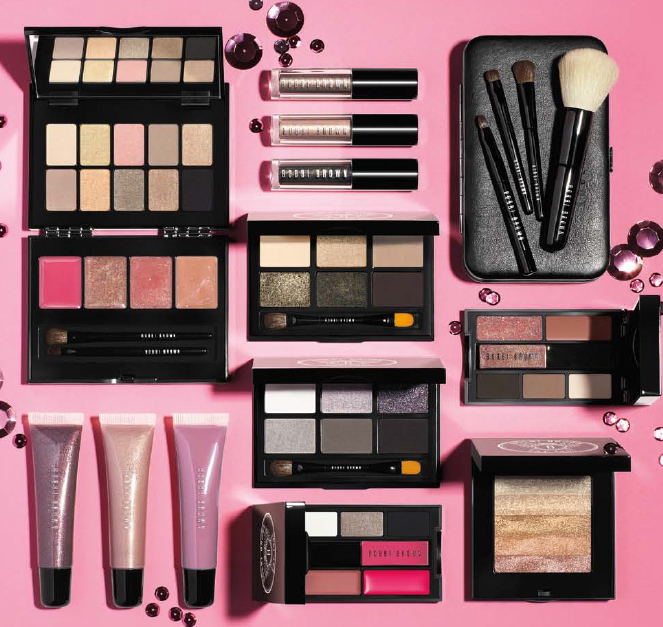 Bellini Lip and Eye Palette, £59/€65
Ten eye shadows with different finish, four lip glosses, mini lip and eye shadow brushes.
Tube tint trio, three mint scented lip glosses in Grape Glitter Lip Gloss, Pink Violet Lip Gloss and Pink Mist Shimmer Lip Gloss, £28/€36
 Powder pearl eye trio,  three shimmering loose pigments in Black Pearl, Moonlight and Pink Pearl £33/€44
Lip & Eye Palettes, £36/€42
Lipsticks, lip gloss and eye shadows.
Eye Shadow Palettes, £42/€46
Two variations of
Read More