If you are a fan of beauty value sets – the new On The Rocks  Holiday 2014 makeup collection by Smashbox is worth the attention. The brand brought out beautiful items for eyes, lips and face.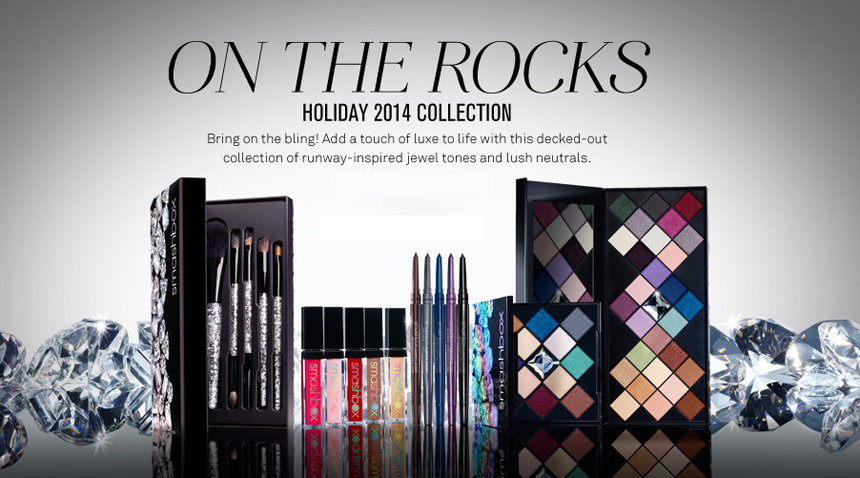 On the Rocks Always Sharp Liner Set, $ $39
Raven, Sumatra, 3D Orchid, Midnight, 3D Night Gem
On the Rocks Be Legendary Lip Gloss Set, $28
Azalea: bright pink fuchsia; Legendary: true red; Pout: pale blue pink; Jewel: soft golden berry and Gilt: champagne golden shimmer.
On the Rocks Brush Set, $62
Read More
I said it already, and I will say it again, Benefit always have the most amazing Christmas gift sets, and I get myself one every year! This time I'd love to get the one with blushers, but all the other options are pretty awesome, as well!
Take a look…
Sweet tintations limited edition lip & cheek set, $26/£19.50
full size benebalm full size lollibalm, benetint medium, lollitint medium (4ml)
Fun-size flirts limited edition set of beauty bestsellers $38/£29.50
the POREfessional deluxe sample 7.5mL, they're real! mascara deluxe sample 3.0 g , BADgal lash, deluxe sample 4.0 g , instant comeback facial serum deluxe sample 5.0 mL ,"that gal" deluxe sample  7.5 mL , dandelion deluxe sample 3.0 g , sun beam deluxe sample 2.5mL , posietint deluxe sample  2.5mL , ooh la lift deluxe sample  2.5 g , stay don't stray deluxe sample in light/medium 2.5mL
 Pretty parfait limited edition makeup set $39/£29.60
full size they're real! mascara, full size stay don't stray in light/medium, full size gimme brow in light/medium, the POREfessional deluxe sample  7.5 mL
Complexion confections Best of Benefit skincare set $48/£39.50
full size triple performing facial emulsion, full size it's potent! eye cream, instant comeback facial serum deluxe sample 5.0 mL, and the POREfessional deluxe sample 7.5 mL
Candy-coated countdown limited edition beauty advent calendar $99/£60
Read More
Too Faced always bring out some of the most amazing releases for  the holidays. Their new collection is cute and girly, as usual.
Not to mention great quality and prices. Everything is already available from Sephora and will be available from Beauty Bay later.
You can choose from the following products:
La Belle Carousel, $49.   A unique looking, carousel inspired set includes the following products:
 12  eye shadows in Angel Hair (muted copper shimmer), Frost (intense white glitter), Tin Soldier (silver shimmer), Christmas Tree (forest green glitter), Santa's Boots (matte black), Tufted Suede (taupe), Haute Chocolate (chocolate shimmer), Yule Log (black sparkle), Nut Cracker (pale pink ivory), Nude Beach (glittery pale peach), Boxes and Bows (icy peach pink), Sugar Plum Fairy (deep purple glitter)
 2  Bronzers in Chocolate Soleil (matte chocolate), Sun Bunny (white shimmer)
2  Blushes in Who's Your Poppy (warm peach/gold shimmer), Luminous Peach (coral)
 Better Than Sex mascara
Everything Nice Set, $56
Read More
Here is a preview of one of the most covetable makeup collections for the holidays, the one from Marc Jacobs. And it is gorgeous. With new Limited Edition products are beautiful value sets. The best gift. I personally so wouldn't mind that lipstick set
LOVEMARC COLLECTION 13-PIECE LIP GEL SET ($350)
Lovemarc Lipstick Collection, comes in a lacquered jewelry box, 12 shiny-black Lovemarc lipsticks and the perfect red, according to MJ—Showstopper.
ENAMORED HI-SHINE NAIL LACQUER ($24)
STYLE EYE-CON NO. 7 PLUSH EYESHADOW ($59)
BLACQUER AND BLEU 4-PIECE EYE ESSENTIALS COLLECTION ($79)
4-Piece
Read More
Yet another beautiful holiday collection is already available from Sephora. Laura Mercier brought out various kits for lips, eyes and cheeks. There is also a travel brush kit. Oh, and a lot of value sets with the brand's best-selling body care products.
Lips
Mini Lip Glacé Set, $50
Pink Pop, Wildflower, Tulip, Bare Pink and Angelic
Pink Spark Lip Transformer Trio, $32
Mini Lip Pencil in Potpourri
Mini Crème Smooth Lip Color in Creme Coral
Full-Size Lip Glacé in Pink Spark
Ruby Spark Lip Transformer Trio, $32
Mini Lip Pencil in Ruby
Mini Crème Smooth Lip Color in Red Amour
Full-Size Lip Glacé in Ruby Spark
Eyes and Cheeks
Mini Caviar Stick Eye Color Set , $55
Rose gold, Amethyst, Moonlight, Copper, Khaki and Cocoa
Luxe Travel  Brush Collection, $125.00
Read More