I am a huge fan of Max Factor's Miracle Touch Creamy Blush, so I was very excited about the launch of their new blushers – Creme Puff. There are six shades and I was sent three of them (and a new mascara).
Let's take a look.
These are multi-tonal blushes which, when the shades are mixed together, give you a gorgeous shade.
The colours that I have are:
 Lovely Pink, Use this shade for a hint of pink on fair skin
Alluring Rose, A shade with hints of gold colour; beautiful on warmer or tanned skin
Gorgeous Berries,  Provides a good pop of colour so works really well on darker skin tones
Here is a close up:
And the swatches:
Read More
Last week I was sorting out my nail polish collection, and realized that I never posted about the nail polish (and several other) which I've bought over a year ago, and which was a huge  back then.
And I am talking about Max Factor's Max Effect in 45 Fantasy Fire.
It is a sheer and very complex blueish purple with reddish shimmer. A total beauty! I even did not paint my nails red this week, just to wear this…
Above you can see me wearing four shades of it. Yes, that is a lot of effort, but luckily those layers are thin and dry very quickly so you don't have to wait for hours. I have also used
Read More
Being a fan of Max Factor I was excited at the opportunity to try their new  Excess Intensity Longwear Liners. After using them for over a month now, I am happy to share my opinion, and show you the swatches of all six shades.
They all come in a nice black tube packaging, and a lid is actually matching the shade of the pencil, which is very handy.  I also like the fact that you don't need to sharpen these, you just need to twist to get more product out.
As you can see from the photo, the liner are relatively slim, so you can get a precise line, if you wish.
I personally really loved the formula, the pencils are soft and smooth, they don't drag the skin and glide on easily. The lasting power is also pretty impressive, but I  don't have oily lids, and the the products usually do stay on me rather well in general.
Besides the staying power, I love the colours, the products live up to their name – Excess Intensity, the shades are very pigmented and look
Read More
I really love the (relatively) new range of Max Factor Colour Elixir Lipsticks which come in 15 shades and retail for £7.99.
I have three shades to show you:  755 Firefly, 825 Pink Brandy, 827 Bewitching Coral.
The main idea about this lipstick is that in contains 60% 'Elixir' treatment, which includes shea, avocado and aloe butters, and anti-oxidant white tea. As the result, it glides smoothly on the lips and, unlike many lipsticks, is not drying at all. In fact, I would even call it moisturizing.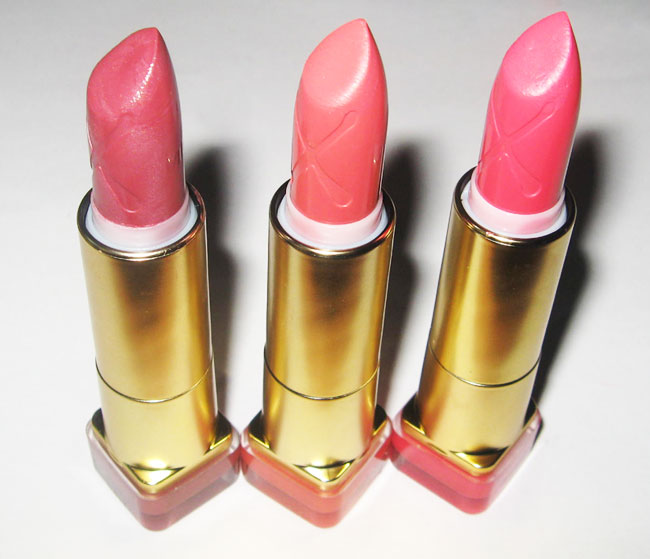 I am sorry that Firefly looks so used, I completely forgot to take a photo before using it.
These lipsticks give a sheer (firefly) and semi-sheer (PB and BC) but vibrant and buildable colour. Firefly is the sheerest shade and it's a pretty natural shade for an every day look.
Pink Brandy and Bewitching Coral are bright and juicy shades. In my opinion, they are
Read More
If you read Makeup4all for some time now, you've probably noticed that I love cream/liquid/gel blushes and most of the time they are quite expensive. Well, luxurious blushes is something that I really like.
But is there a chance to get a great product for an affordable price? YES, there is! Today I want to tell you about the Max Factor Miracle Touch Creamy Blushes.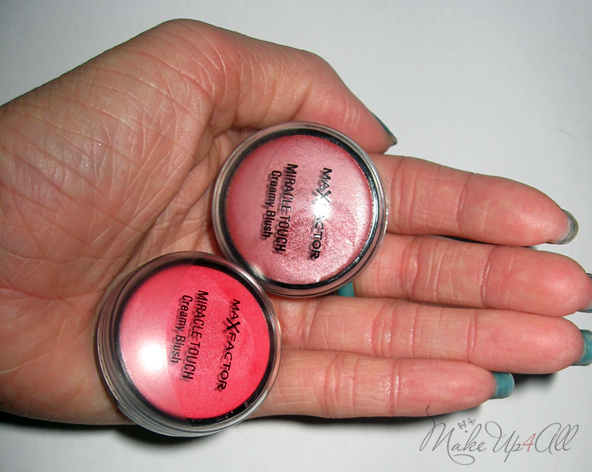 These are tiny and you can see how they look like when placed in my hand. I actually really love the size because it's so easy to take the blush with you. But despite the size, it will take you forever to finish this product. You will need the smallest amount of these, especially when you have fair or light skin. I use just one or two dabs for both cheeks and that's enough!
The shades that I have are called 18 Soft Cardinal and 09 Soft Murano  and here they are: natural light and flash.
Read More