I am a big fan of black nail polishes and I do have several different variants but I wanted even more. That's when Illamasqua's Scron, a black with a matte finish caught my attention. So did purchase it recently.
Maybe it makes more sense to get a matte top coat instead of matte nail polish but I think matte top coat gives a more flat finish while the "original" matte  nail polish looks much better.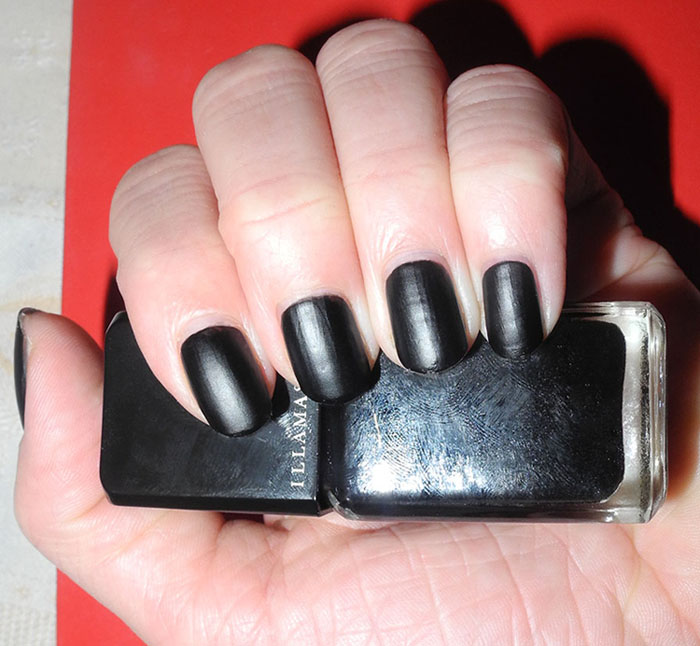 Please excuse all the fingerprints…
It looks opaque with two coats, as you can see from the photo above.
The brand actually offers some shades with rubber finish if you want something different. But I love my nail polish to be glossy so I will stick to a black version. The price is £13.50.
Read More
Here is the promised swatch of the 922 Inglot nail enamel which I have got as a present from my friend.
Although I love purple, I am not a huge fan of this particular shade, as it is too metallic (frosty?!) for my taste and it's  too lilac. I don't know, maybe it's not really my style.
I personally love  opaque creme nail polishes, this is probably why I am not very fond of this one. And what do you think about this shade?
Colour aside, I like the quality of this nail enamel, in fact this is not my first one and I have already featured several other shades:  here, here and here.
Read More
I have never tried nail wraps before so was kind of excited to get ncLA ones from Zuneta as a Christmas gift. Thank you!
Although  I love simple nails, this design, called I am Your Muse, is right up my street, as it is red base with black lace. And this could not be more me…
Here is how the set looks like, you get get a nail file, besides the wraps.
How to apply?
Use base coat, wait until it is dry, apply a wrap (make sure it's all smooth), remove the excess with the nail file, add a top coat.
As I have never used nail wraps before, I have nothing to compare ncLA to. But I really
Read More
I am happy to share about the new nail polish brand called LVX (Latin, means Light) which  is a 5 Free (without Formaldehyde, Formaldehyde Resin, DBP, Toluene, and Camphor), cruelty free, vegan nail polish.
The main idea behind the brand is to compliment the seasonal fashion trends.
So far there are only three collections available – Summer 2012, Fall/Winter 2012 and Winter Resort 2013. And I have a shade which is a part of the Fall/Winter collection and is called Sanguine.
The formula of this nail polish is great, it goes on  smoothly without streaks and looks beautiful even with one coat, but I still prefer two. The brush, which is also a very important thing, is nice,aw well. It's not too thin or too thick (although I personally like thick brushes), just spot on.
This colour is
Read More
I really like this Metallic Grey nail polish from Couture Colour. It is a beautiful shade, very dark grey with subtle shimmer. Although it may not be as complex as some high end nail polishes, I still like how it reflects in the sun.
It goes on smoothly and looks opaque with two coats, as shown below on the photo.
It has a long and thin brush which is not my personal favourite but it allows a more precise application, I guess.
Read More