Here is a preview of Dior's Milky Dots Makeup collection for Summer 2016 with a gorgeous nude palette, new colourful quints, metallic cream eye shadows, Nude bronzers, lots of new lip shades and three kits for nail art.
Dior Addict  Fluid Shadow, £25.50
"Lightweight hybrid texture that illuminates the eyes with sensational mirror shine and long-wearing colour. "
Eccentric and Ecstatic
Illuminating Neutrals Eyeshadow Palette, £42.50
Couture Colours & Effects Eyeshadow Palettes, £43. 50
Escapade and Bain de Mer
Vernis Polka Dots nail polish set, £23.50
There are three different shades variations.

Dior Addict Milky Tint Fluidstick, £26.50
Read More
It's not a secret that I am a huge fan of Rouge Bunny Rouge eye shadows, and I was very excited about their newest palette which I have posted on my Instagram 6 weeks ago already.
The brand's Eye Shadow Palette Raw Garden in Antigo is probably my favourite release, and here is why.
I really love the sleek and chic black compact,  with a good mirror, and a very well edited selection of shades with a wavy pattern.  You  just can tell that it is a luxury product. Moreover, it comes  in a beautiful cardboard packaging with a signature RBR design.
You get four beautiful and really versatile shades ( descriptions are from the brand):
 A very light, yellow-tinged neutral vanilla cream beige; the ideal base to even out your skin tone and add highlights
A medium, cool taupe with a hint of pink
A medium, true "café latte" brown taupe
A dark, rich, powdery chocolate brown
And it is pretty much everything you need: a
Read More
I have already posted  a preview of the Rouge Bunny Rouge new foundation on Facebook but I actually have samples of all shades now. And something else which looks absolutely incredible. It is the most exciting launch from the brand in the last several years, in my opinion.  And it will definitely be a best-seller.
And I am talking about the Eye Shadow Palette in 086 Antigo which is a gorgeous palette with four nude wearable shades.  The compact, pattern, shades – it is all perfection. I will definitely post all the details and swatches soon.
As for the foundation which is called Skin Soul Drops – it is available in three shades. It comes in a chic small (15 ml) glass bottle with a dropper. I have already used it several times and the first impression is that it gives a matte finish and a good coverage (which can be built up or sheered down, depending on your preference).
You just need a
Read More
Clarins are bringing out  a  Festive Eye Make-Up Palette for Chrismas 2015 which includes ten eye shadows in matte, satin and iridescent textures. The shades are mostly nude and others are the smoky eyes best friend.
You should also know that the packaging is reusable and it was  created as part of
Read More
Regular readers know that BECCA is one of my favourite beauty brands ever, their releases are always spot on! Here is a preview of the brands newest offerings.
Ombre Rouge Eye Palette, $40
Five matte eye shadows with warm and cool undertones, infused with green coffee oil, can be used wet or dry.
Ultimate Full Lash Perfecting Mascara, $25
"A mascara with double the brush for twice the lash volume." The dual-bristle brush and the formula of the mascara give your lashes length and volume.
Luminous Body Perfecting Mousse, $34
Now, this is a genius product. According to BECCA, it is a skin perfector that "conceals imperfections and seamlessly evens skintone with subtle radiance and true bronze color."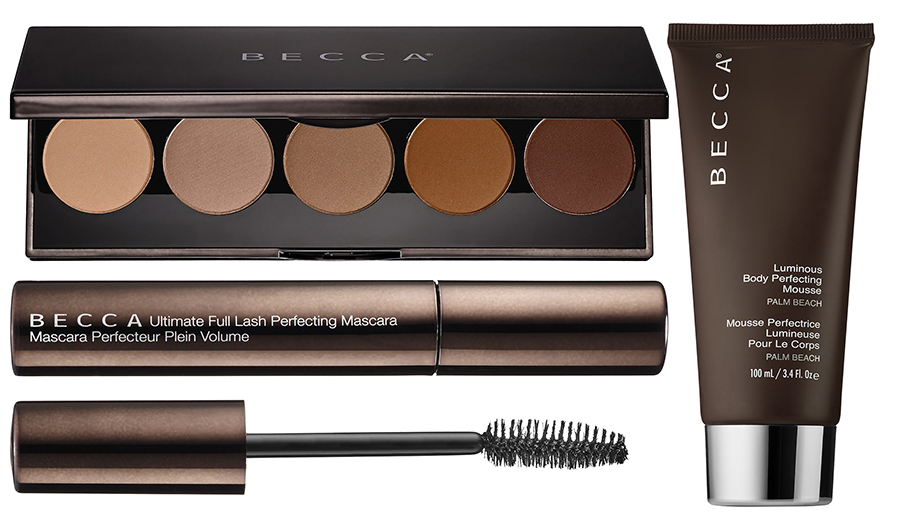 Shadow & Light Brow Contour Mousse, $25
Read More