First of all, I am sorry about the lack of posts, I have been very ill, again. And, although I have been at home all this week, I was in bed most of the time, feeling horrible. But now I can finally do some reading and also write some posts, I have actually missed those things. I've even missed work, hopefully will be back to normal life soon…
It is the time of the year when you'd expect red and glitter in terms of nail polish, and you'd be correct. But, I have noticed an interesting trend. Quite a few new nude nail varnish collections. I guess, you could never go wrong with a chic, sophisticated, and polished  manicure!  That is timeless, I'd say.
Image of the model: butter LONDON for La Perla
Lets's take a look!
First of all, Burberry finally launched their
Read More
For someone who is not exactly into "nude" nail polishes, I have quite a few. I have chosen seven which could fit the nude/taupe/brown-ish category.
So what shades do I have? And which is my favourite?
Dior Vernis in Grege
I love the wide and thin brush which makes the application super easy and fast.  It is a beautiful warm shade which suits me when I get some tan. But if you have a light-to-medium warm skin tone – this may be a perfect nude for you.  See it applied on the nails.
MeMeMe Long Lasting Gloss in Alluring
This is one of the darkest nail polishes from the selection, and should be a nice nude for people with darker skin. Or if you want a brown nail polish against the light skin.  The quality is nice for the price, too.  Swatches.
Yves Rocher Nail Polish in Taupe
This is definitely not a nude, but a taupe.  Such shade was super popular several years ago and I can totally see why: it goes well with pretty much everything and doesn't compete with your outfit or accessories. Manicure with it.
MeMeMe Long Lasting Gloss in Ambitious
It looks like that
Read More
I like Rimmel's 60 Seconds nail polishes a lot and have quite a few shades, my favourites are blue Sky High and fuchsia Funtime Fuchsia.
I have picked up their Alaska nail polish last month, as I though it may look nice with my skin tone. And I do love how it looks like on.
Unfortunately, this particular shade goes on a bit streaky and I have  to apply two-three coats to make it look decent. Luckily, Seche Vite smooths it out perfectly and it looks great. Other than that I have nothing to dislike.
Thin and wide brush, nice staying power, affordable price and a beautiful shade.
As you may know, I love my berry and
Read More
I have already written about the foundation and the lipstick from the newest Dior Nude launch so today I want to tell you about the nail polish from the range.
I have a shade which is called Grège (£18) and which is described as ' the flagship colour of the New Look imagined by Christian Dior in 1947, the association of nude beige and luminous grey that is oh so very Dior.'
I really love the wide brush this nail polish comes with as it make the application easy and fast. The formula is smooth and non-streaky and you get a nice shade with one coat but I usually use two.
I like this
Read More
This is a post for the nail polish fans
Just some  nail polish collections that caught my attention that are already out or will be available for AW.
MeMeMe have four new gorgeous nail polishes inspired by the Runway: 'Seductive' metallic rouge, 'Dignified' metallic purple  'Rebellious' metallic khaki and 'Inspiring' metallic teal. Each is £4.50 and will be available from 26th September.
If you are a fan of metallic nail polish – Essie's Mirror Metallics collection is the one for you! There are five nail polishes which are already available:
Blue Rhapsody, a jazzy blue metallic
Penny Talk, an authentic copper metallic
Nothing Else Metals, a carefree lavender metallic
No Place Like Chrome, a memorable silver metallic
Good as Gold, a guaranteed  gold metallic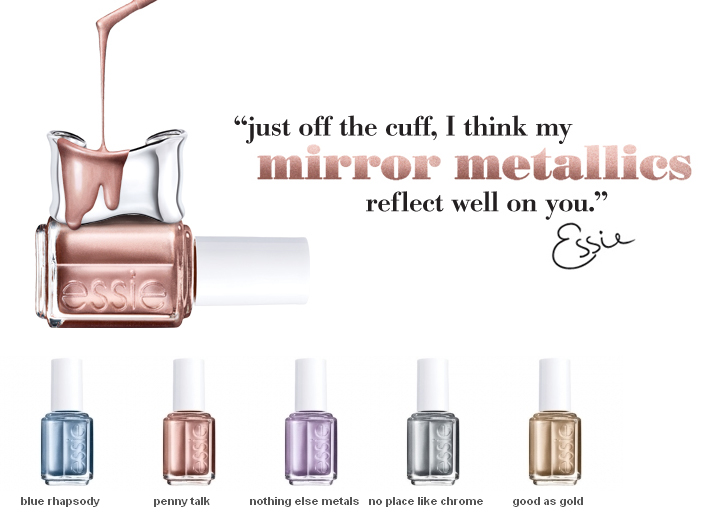 There are a lot of new offerings from Ciate!
First of all there is a
Read More