When it comes to more affordable brands Italian Collistar and German ArtDeco are the ones that I love. And I like how this season both teamed up a fashion and a design brand for their collections.
Here is what to expect from them for SS15:
Collistar and Kartell
There is a shimmering body oil, beautiful trio blush,  nail polishes, lip glosses, eye and lip liners and trio eye shadows. I will be checking out the blush and the lightest pink gloss.
And how gorgeous is Margareth Made?
ArtDeco and  Emilio de la Morena
Read More
Besides the contouring palette, Laura Mercier brought out a pretty Spring  collection – Watercolour Clouds with a beautiful seasonal pastel selection of eye shadows and  a well-thought small selection of other products.
Let's take a look:
Watercolour Mist Eye & Cheek Palette, $58/ £45
Eye shadows in: Mist, Fog, Storm, Wind, Purple Rain and Clod

Cheek Colours in:  Sunset and Earth
Crème Smooth Lip Colour, $27/ £19.50
Paint Wash Liquid Lip Colour, $28/  £22
Crème Eye Liner, $24/£19
Read More
Dior's 2014 makeup collection was  inspired by Marie-Antoinette and her private domain, the Petit Trianon. The promo image is stunning and the collection is beautiful with all the pastel shades and roses, girly and feminine.
The star of the collection is The Trianon Palette, which is available in two variations: 001 Favorite and 002 Coquette.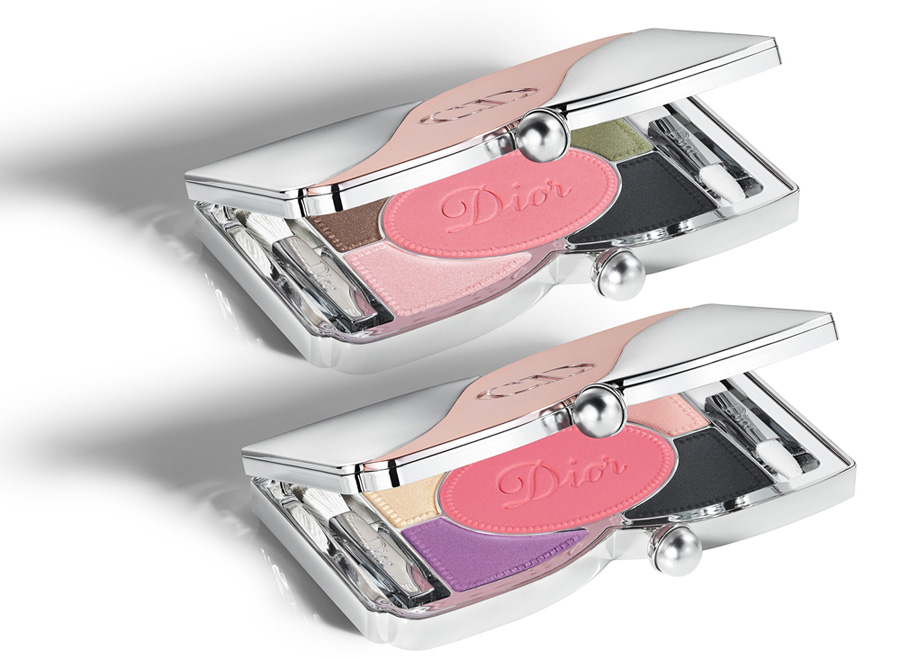 Face
Diorblush Trianon
763 Corail Bagatelle and 946 Pink Rêverie
Pore Minimizer – Skin refining matte primer
"A skin-refining primer that mattifies and refines the skin, minimizes pores and smooths fine lines immediately upon application. Its formula evens out the complexion and erases blemishes with a sheer and weightless finish."
 Glow Maximizer – Light boosting primer
"This radiance-boosting primer instantly brightens the complexion, sculpts facial contours and amplifies the skin's natural light to create a spectacular glow."
Eyes
Diorshow Fusion Mono Matte: 091 Nocturne, 121 Céleste, 641
Read More
Although I am not a fan of pink and girly style, I am totally loving this promo for Laura Mercier's Arabesque Spring 2013 makeup collection.
It is very soft and feminine and, according to the brand, was inspired by by the spirit of light and movement. "From the sweet nuance of a ballerina to the fluid moves of yoga and dance."
Soft pinks, lilacs, blues and neutrals look very refreshing and flattering, especially after the winter season.
Let's take a look at the collection!
This Collection includes:
 Free Spirit Baked Eye Colour Palette £30/€45/$48
Blue Zen, Soft Cloud, Satin Ribbon, Bare Yoga, Pink Tutu
Crème Smooth Lip Colour £20.00/30/$26 (LE) in Arabesque
Lip Glacé £18.50/ €27/$24 (repromote) Bare
Read More
I am absolutely loving this new Laura Mercier Belle Nouveau makeup collection for summer 2012. It includes some very gorgeous pastel shades.
Although I don't really wear pastel shades myself, I'd love to play with these eye shadows, they look amazing.
Sheer Crème Eye Color, $22
Aqua Pastel
Grey Pastel
Mauve Pastel
The baby pink and bright pink glosses –  something I'd like to have, too.
Lip Glacé, $24
Camellia
Orange Tulip
Lotus Blossom
Crème Lip Color, $20
Read More