Dior's 2014 makeup collection was  inspired by Marie-Antoinette and her private domain, the Petit Trianon. The promo image is stunning and the collection is beautiful with all the pastel shades and roses, girly and feminine.
The star of the collection is The Trianon Palette, which is available in two variations: 001 Favorite and 002 Coquette.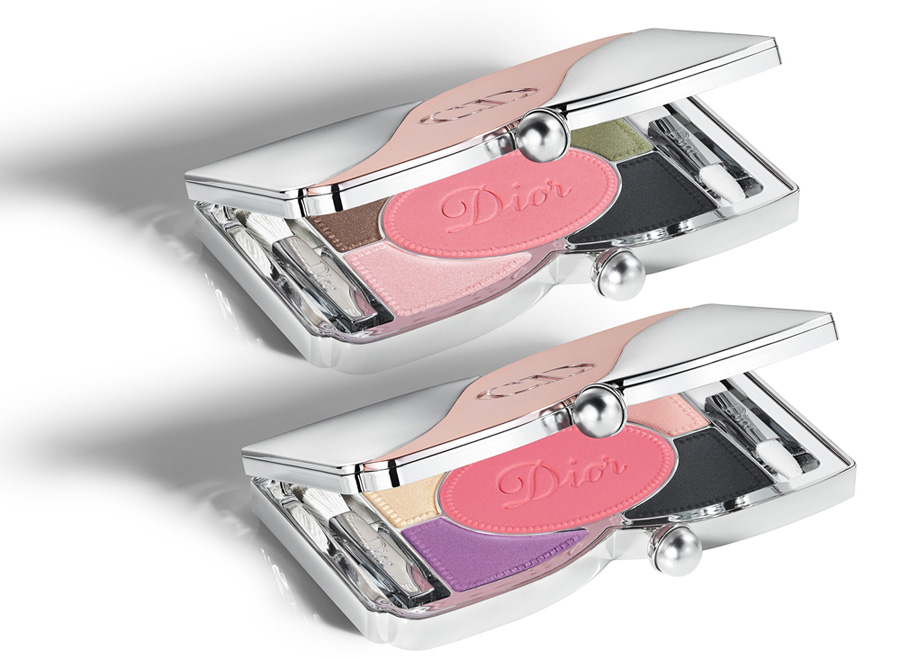 Face
Diorblush Trianon
763 Corail Bagatelle and 946 Pink Rêverie
Pore Minimizer – Skin refining matte primer
"A skin-refining primer that mattifies and refines the skin, minimizes pores and smooths fine lines immediately upon application. Its formula evens out the complexion and erases blemishes with a sheer and weightless finish."
 Glow Maximizer – Light boosting primer
"This radiance-boosting primer instantly brightens the complexion, sculpts facial contours and amplifies the skin's natural light to create a spectacular glow."
Eyes
Diorshow Fusion Mono Matte: 091 Nocturne, 121 Céleste, 641
Read More
Although I am not a fan of pink and girly style, I am totally loving this promo for Laura Mercier's Arabesque Spring 2013 makeup collection.
It is very soft and feminine and, according to the brand, was inspired by by the spirit of light and movement. "From the sweet nuance of a ballerina to the fluid moves of yoga and dance."
Soft pinks, lilacs, blues and neutrals look very refreshing and flattering, especially after the winter season.
Let's take a look at the collection!
This Collection includes:
 Free Spirit Baked Eye Colour Palette £30/€45/$48
Blue Zen, Soft Cloud, Satin Ribbon, Bare Yoga, Pink Tutu
Crème Smooth Lip Colour £20.00/30/$26 (LE) in Arabesque
Lip Glacé £18.50/ €27/$24 (repromote) Bare
Read More
I am absolutely loving this new Laura Mercier Belle Nouveau makeup collection for summer 2012. It includes some very gorgeous pastel shades.
Although I don't really wear pastel shades myself, I'd love to play with these eye shadows, they look amazing.
Sheer Crème Eye Color, $22
Aqua Pastel
Grey Pastel
Mauve Pastel
The baby pink and bright pink glosses –  something I'd like to have, too.
Lip Glacé, $24
Camellia
Orange Tulip
Lotus Blossom
Crème Lip Color, $20
Read More
This new Boujois Spring 2012 makeup collection is really cute. I guess a lot of girls will like this yellow and pink promo with cupcakes on the background.
The model is wearing eye shadows No. 05,  and No. 01,  3D effect gloss in 52 Idyllic coral, blush No. 54 Rose Frisson and nail polish 10 Days No25.
The products from the collection are:
Three eye shadows in N°15 Rose macaron, N°54 Rose Frisson and
Read More
So here are the details about the gorgeous Dolce & Gabbana The Bouquet Makeup Collection for Spring 2012.
Although I am not sure these are the best colours for me, I really love all the promos and the products. And how lovely is Felicity Jones here?
Ultra-Shine Lipgloss (£20)
10 Acqua, 55 Shimmer, 78 Innocence, 65  Raspberry, 138 Pink Diamond.
Intense Nail Lacquer (£17)
60 Lemon, 80 Anise, 75 Acqua,  70 Mint, 107 Lilac, 201 Rose
Read More