It's time to take a look at the new Spring offerings it terms of nail polish. Are you ready?
First of all, here is the new collection from LVX, I was very impressed with their nail polish in Sanguine so will be checking out their new creations, for sure.

Viridian, emerald green opaque crème; Indigo Bleu, new bleu opaque crème; Citrine, golden citrus opaque crème; Fantom, timeless white opaque crème; Cerulean, audacious blue opaque crème; Azalea, daring lilac opaque crème.
And this is how they represent each shade,  I love how well thought through and beautiful everything is! Well done.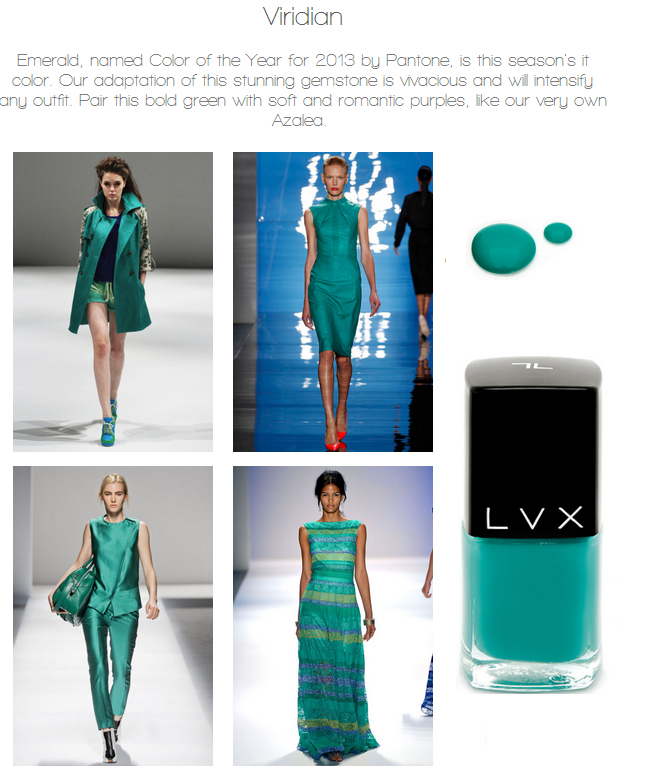 Essie Spring 2013
There are six shades to choose from: Madison Ave-Hue: Chic, Upper East Side pink. Go Ginza: Soft cherry-blossom pink. Avenue Maintain: Lovely Parisian blue. Bond with Whomever: Posh London lilac. Maximillian Strasse Her: Cool grey-green and
Read More
I have already posted about some new seasonal  nail polish collections, see the preview of OPI's Spring 2013 nail polish collection and Deborah Lippmann, Essie, Illamasqua and Nails Inc and now it's time to see more!
And, can you guess what dominates Spring 2013 nail polish collections? Pastel candy shades, shocker, right?
But take a look yourself!
butter LONDON Sweetie Shop
Cuppa, toasted opaque tan crème
Fever, opaque icy mint crème
Fruit Machine, opaque punchy carnation crème
Jasper, opaque bright pastel yellow crème
Kerfuffle, opaque pink coral crème
Molly Coddled, opaque lavender orchid crème
Zoya Lovely 
 Piaf (ZP652) – Fresh Forsythia Yellow Metallic  (Originally designed for Fashion Designer Zang Toi)
GeiGei (ZP651) – Blushing Cherry Blossom Pink Metallic (Originally designed for
Read More
I am pretty late to this but I have to share anyway. I really like the Ciate Caviar manicure idea. There are three variants and you can see  Rainbow and Black Pearls below. There is also  a Mother Pearl, which includes a set of  'white caviar'. Each set retails for £18 but they are sold out right now unfortunately.
Spring 2012 nail polish collection from the brand includes
Read More
What better way to celebrate Spring beauty-wise than with pastel  a nail polish? I've chosen  pastel yellow which is called Lyrical from a MeMeMe set I've been sent recently to show you.
You can actually see all the details about the set here.
I love dark and red nail varnishes so pastel yellow is not exactly 'my' shade for nails but I like trying new things. I remember how several years ago it was pretty hard (at least for me) to find yellow nail polish but now you won't surprise anyone with it… Even I have three different yellow nail polishes and I don't really have a big collection.
Pastel nail polishes can be
Read More
I've already shown you most of the Winter/Holiday 2011 nail polish collections here and here.
And today we have  a preview of two gorgeous collections for Spring 2012. If I am not a huge fan of pastel makeup on myself (which is a huge trend for Spring 2012), I do like some pastel nail polishes.
And I really like this Essie nail polish collection. The pastel lime green is really pretty, I'll have to get it.
navigate her, a light, bright green
a crewed interest, a luminous peach shade
to buy or not to buy, a lavender with shimmer
tour de finance, a fuschia with shimmer
olé caliente, a red-orange with pink undertone
orange, it's obvious, orange, a bright orange
And here is also a Holland inspired collection from OPI.
Thanks to Michelle from Beauty Editor (a must-read blog, by the way) for the promo photos. The lovely Mercedez has swatches of the whole OPI collection, so you can check them out here.
Although I love dark nail polishes I am kind of excited for Spring shades, I think I should get some nude and pastel shades for my collection.
Read More