Matte liquid lipsticks are here to stay! More and more brands are releasing their versions with formulas becoming less drying and the shades becoming more sophisticated.
And here are two latest launches from such brands as Chanel and Burberry.
Speaking of Burberry, I think their new strategy is simply genius! As you know, it is a Fashion Weeks month, and besides the clothes (obviously) a lot of us are obsessing over the beauty looks at the Runway: hair, makeup and nails.  We often get a sneak preview of the products which will be available for the purchase only in months. But not anymore when it comes to Burberry! All the products Wendy Rowe and her team used on the girls are already available, both new shades and new products.
Such as Burberry Liquid Lip Velvet  in Fawn Rose available from Burberry's website for $34
"Developed with a new, innovative formula, which combines rich pigment, smooth application and a whipped, creamy texture to create a bold, velvet finish that lasts for up to eight hours. Light-as-air  Liquid
Read More
Here is a preview of  several nail polish collections for Spring 2014, lots of pastels, and not only!
Gorgeous promo photo from Deborah Lippmann, it really is very spring inspired with all the flowers and soft shades.
Blue Orchid – blossoming baby blue, Build Me Up Buttercup – blooming buttery bouquet, Flowers In Her Hair – magnificent mint medley, La Vie En Rose – pastel petal pink, Spring Buds – pretty playful pistachio, Tip Toe through the tulips – perennial pale peach.
As for OPI, their collection  was inspired by Brazil this season:
Next Stop… – The Bikini Zone
This amethyst-toned pewter suits me just fine.
 Don't Bossa Nova Me Around
 – Nobody can stop me from wearing this creamy nude!
Taupe-less Beach – There's nothing optional about wearing this enticing taupe.
 I São Paulo Over – There
He was sipping coffee with this mocha-toned beauty.
 OPI Scores a Goal!
 – Make your point in this winning shade of rich chocolate.
AmazON…AmazOFF
 – I'm making the switch to this deep jungle green.
 I Just Can't Cope-acabana – Nothing lifts your spirits like this sunshine yellow.
 Where Did Suzi's Man-go? – He went to fetch her this delicious mango
Read More
Here is one more Spring 2014 makeup collection with pink and rose shades, it is even called English Rose. Burberry's new release is just beautiful.
One of my favourite eye shadow palettes is actually Burberry's Pink Taupe (and I use the pink and brown mostly, not a fan of other two shades), so I am actually pretty excited for their pink eye palette. Unlike some pinks, this one should look flattering on.
There are two Complete Eye Palettes (£40)  Rose Pink, which I love, and Sage Green.
Two lip glows, which look amazing. I am a big fan of cool toned glass like glosses. Those Lip Glows (£18.50) are: Lavender and
Read More
It's time to take a look at the new Spring offerings it terms of nail polish. Are you ready?
First of all, here is the new collection from LVX, I was very impressed with their nail polish in Sanguine so will be checking out their new creations, for sure.

Viridian, emerald green opaque crème; Indigo Bleu, new bleu opaque crème; Citrine, golden citrus opaque crème; Fantom, timeless white opaque crème; Cerulean, audacious blue opaque crème; Azalea, daring lilac opaque crème.
And this is how they represent each shade,  I love how well thought through and beautiful everything is! Well done.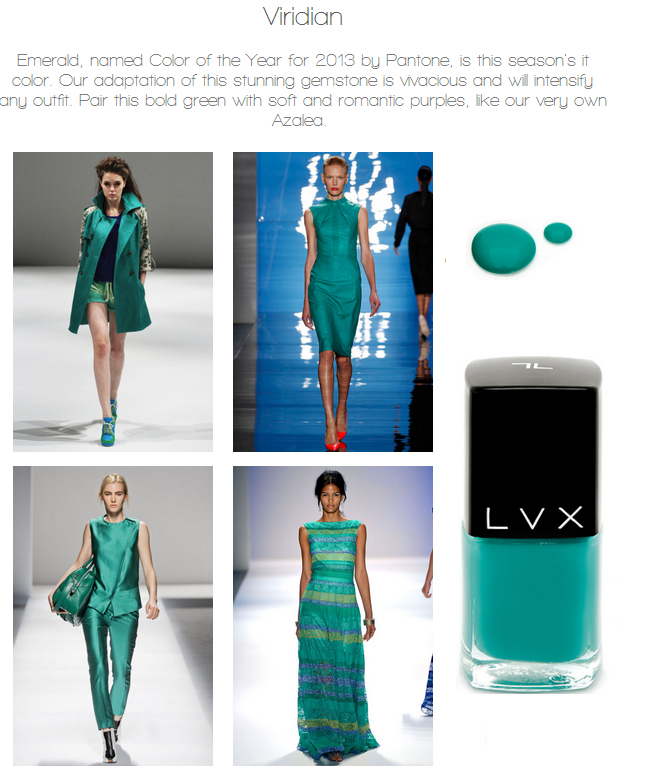 Essie Spring 2013
There are six shades to choose from: Madison Ave-Hue: Chic, Upper East Side pink. Go Ginza: Soft cherry-blossom pink. Avenue Maintain: Lovely Parisian blue. Bond with Whomever: Posh London lilac. Maximillian Strasse Her: Cool grey-green and
Read More
I have already posted about some new seasonal  nail polish collections, see the preview of OPI's Spring 2013 nail polish collection and Deborah Lippmann, Essie, Illamasqua and Nails Inc and now it's time to see more!
And, can you guess what dominates Spring 2013 nail polish collections? Pastel candy shades, shocker, right? 😉
But take a look yourself!
butter LONDON Sweetie Shop
Cuppa, toasted opaque tan crème
Fever, opaque icy mint crème
Fruit Machine, opaque punchy carnation crème
Jasper, opaque bright pastel yellow crème
Kerfuffle, opaque pink coral crème
Molly Coddled, opaque lavender orchid crème
Zoya Lovely 
 Piaf (ZP652) – Fresh Forsythia Yellow Metallic  (Originally designed for Fashion Designer Zang Toi)
GeiGei (ZP651) – Blushing Cherry Blossom Pink Metallic (Originally designed for
Read More