So here are the beauty-related things that I loved this week.
First of all – the look from Paris Fashion Week created by Pat McGrath for Louis Vuitton SS 2012 show.
It is a completely opposite look to Gucci which I showed you recently. It is very feminine and chic. The highlighter on the photo below looks stunning, I would totally wear it like this! I think BECCA's Shimmering Skin Perfector would be perfect for creating such an effect.
Not sure I would make the highlighter on my nose so obvious (see the right photo below) , but I love it above the upper lip and in the inner corners of the eyes.  I also like the darker eye shadows in the crease which create a natural-looking shadow and the false lashes. Such makeup would look great for a special occasion.
You can make it even sexier by adding a lip colour of your choice instead of this natural looking gloss.
I was  happy to see this fun video by
Read More
I should have written this post yesterday but, to tell the truth, I was too lazy busy reading my book and catching up on different series I watch. So it is better late than never, right?
Here are just some things that inspired me this week, both beauty related and not.
But first of all here is a snap of the products that I've been loving lately.
I   like this makeup by Pat McGrath for Viktor & Rofl at Paris Fashion Week. This  is actually a bit strange as it is definitely not my type of look but for some reason I really like the pink and white feminine shades and the fairy-like lashes.
I was also very happy about the new  seasons of some of the shows that I am watching, especially
Read More
I am really excited about the new Max Factor Colour Elixir Lipsticks and Ageless Elixir 2 in 1 Foundation + Serum.
Here is what is said about the lipstick.
"The secret is in its 60% 'Elixir' treatment, which includes ingredients such as shea, avocado and aloe butters, as well as anti-oxidant white tea. This lipstick's Elixir formula actively improves lip moisture to achieve a smoother surface in just one week. The result is high pigment lip colour that glides on effortlessly for an even finish and and improved vibrancy, for true lip glamour perfection."
There will be 15 shades and each will retail for £7.99. All the shades will be devided into four groups: pinks, mauves, reds and browns. Out in September.
Besides the lipstick there are also
Read More
I absolutely love this look Pat McGrath created for Gucci runway at Milan Fashion Week. It is so simple and yet amazing. I even like the clumpy lashes in some way. But the lips… oh the lips, they are gorgeous.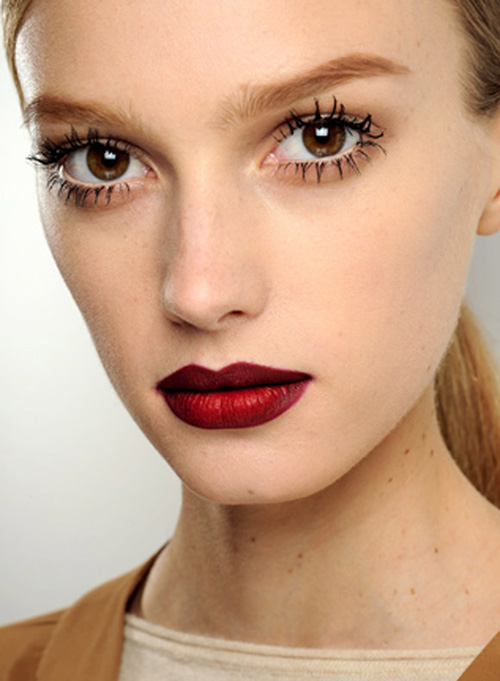 Last week I got myself a very dark matte lipstick and was wearing it to my parent's. They both had different opinion about it. My Mama said that I looked like a vampire and my Dad though that I looked like an actress. Interesting ideas. As for myself, I love it and I think it looks nice as long as you know how to wear it. Because dark lipstick can really make you look bad if you are not careful with the application.
Here is one more look
Read More
Dior always has amazing makeup at their shows and I already wrote about Fall 2010. This time lets take a look at S/S 2010 at Paris Fashion Week. I absolutely love this look! Bright  and vibrant creamy eye shadow with cat eye liner paired with matte lips.  It was created  by the genius Pat McGrath. Besides blue, lime and pink eye shadows there were other shades as well.
I can't wait to try such look in summer myself  but I will probably use a neutral lip shade!
Don't be afraid to use bright shades, it's only makeup after all, and you can always remove it! Besides if that is too bright for you  – try more subtle shades!
Read More