Too Faced released some cool new products as a part of their summer 2016 collection. Let's take a look.
The coolest thing is definitely the Sweet Peach Eye Shadow Collection ($49) with 18 shades of peachy pinks, corals, bronzes, and pops of purples. There is also a new shade of their heart shaped baked Sweetheart  Blush ($30)  – Perfect Flush.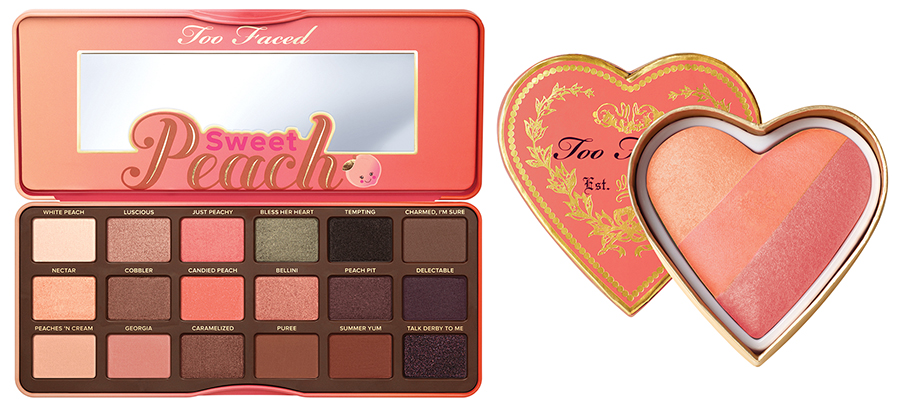 I am personally loving the look of the Royal Oil ($35) obviously. It is a coconut body bronzer with mangosteen extract. It tints and conditions the skin.
As for face products, there is a Cocoa Contour Deep ($40) which is a contouring and highlighting kit  with the following shades: Cocoa Butter Matte Banana Yellow, Medium Mocha Matte Warm Neutral Brown, Deep Mocha Matte Deep Brown, Cocoa Glow Soft Peach Shimmer and
Read More
You probably know that I am huge fan of Daniel Sandler's Watercolour Blushes and have  already reviewed them several times. In this post you can actually read tips from Daniel himself on how to use these blushes.
I love that Daniel supports Cancer Research charities and brings out products to help raising money for this great cause. Last year it was POP blusher.
And this year Mr Sandler brought out Charm Watercolour to support the Moon and Stars charity which raises funds for the Cancer Research.
Charm is a peachy pink shade with  silver shimmering particles.  Although I do like blushes without shimmer better, this blush looks nice on the face.  I guess Daniel'd intention was to "add some life" to our "late Autumn faces" and it does work without being too shimmery or glittery.
I have already written a very detailed review about the Watercolours the which you can find here.
Watercolour Blush retails for £14.50 but you will also get a  Waterbrush (£15.50), which is
Read More
I have already written about  Jouer Luminizing Moisture Tint and today we will take a look at Jouer's Concealer,  Cheek & Lip Tint and Highlighter.
Here is how the packaging looks like. And, as you all probably know, you can  lock together Jouer compacts the way that works the best for you.
I like mine this way.
Some details about the products.
Cheek & Lip Tint in Petal, £ 16
This may be my favourite product out of three as it is really amazing. I am a huge fan of cream blushes and I can tell you that this one is really nice! It gives a sheer and natural shade, not greasy at all. It's easy to blend the Tint and it looks like your real blush,  plus stays on pretty well.
The shade is described as soft rose pink and it's a great one for girls with fair and light complexion  as the shade is so subtle. Petal is also a great shade for those who are  new to the blushes as you can't really go wrong here.
Not only you can use it on the cheeks, but also on the lips!
Highlighter in Champagne, £ 16
My
Read More
You probably already all know that I have a thing for blushes, mostly luxury blushes. But there are some affordable blushes that are amazing.
I've already reviewed Max Factor Miracle Touch blushes and NYX Cream Blush and today I want to tell you about Maybelline Creamy  Mousse blush.
I have a shade #7 which is a Peach Satin.
As you can see from the photo below, I've been using mine quite a lot.
This blush has a lovely light texture which is a pleasure to use and which blends nicely into the skin. The shade that I have gives a natural peachy colour to the cheeks. This is a great choice for those who are afraid to get too much colour.
One more great thing is
Read More
I have already reviewed several shades of the amazing Daniel Sandler Watercolour blushes but I have one more shade to show and the news about the brand new one.
The colour that I want to show you today is called Truth and  is described as: "a barely there nude peach shade with flattering highlights of peach and silver to brighten very fair skins. Perfect for fair to medium skin toned ladies that get high colour; this shade won't make you look hot and bothered. In fact, it will help disguise hot flushes. "
This such a pretty shade for those that have fair skin. But it also looks amazing on a little darker skin tones. Right now I am a bit tanned but this shade still looks perfect. It really brightens up the complexion without being too obvious, it just gives this pretty peach tint to the cheeks.
Keep in mind that it has some
Read More