Some time ago I've written about a very cool perfume concept,  a solid perfume in a stick that does last on the skin, Le Soft Perfume. You can read about Rock, which I adore,  here.
The things is that recently they launched two new scents, and the brand did send me one to try, but it got lost. So, and it was incredibly nice of them,  they sent me another one.  This time it came. But it looked like this.
I've never seen  anything like this before. What kind of person would do it anyway?  I wish there was a
Read More
I was actually very curious about YSL's Manifesto when it first came out since I really loved the promo photo with Jessica Chastain (I like her  in general and her makeup looked just spot-on), and the perfume itself sounded promising.
Although  the composition is not complicated or unexpected, I still like it.
You can definitely smell fresh bergamot, as an opening note but then it settles down, and it is a soft, sweet warm and sensual vanilla and tonka bean based fragrance.   I could definitely smell lily-of-the-valley and I was correct, as it is listen as one of the notes.
Other than than, I'd say that
Read More
As you may know, Rouge Bunny Rouge recently launched their first fragrance collection which includes three eau de parfums.
I am lucky to have samples of all three and I like that you get generous 2.5 ml which is enough to decide whether or not you like the scent.
So here is my impression about them and please keep in mind that I am not a perfume expert, by any means.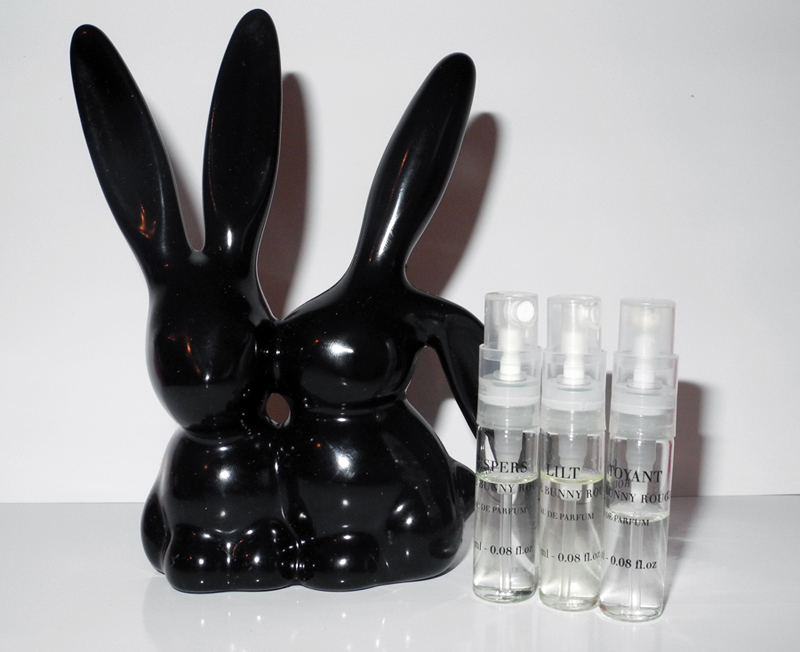 I was originally drawn to  Chatoyant (Top: Bergamot, Lemon,  Heart: Orchid, Jasmine, Rose, Lily of the Valley, Base: Sandalwood, Cedarwood, Musk, Vanilla).
I think that it's the combination of flowers and citrus notes that I like so much. I can definitely pick  lily of the valley and rose notes, but at the same time, I can definitely smell lemon and bergamot, it is perfectly balanced.  It smells even better when it dries down, vanilla, which is not overpowering in this case, sandalwood and musk make it even I can definitely see myself wearing this fragrance a  lot.
The next one is Lilt (Top: Green Leaf Accord, Fig Leaf, Heart: Peach, Coco, Violet, Base: Vetiver, Musk).
At first I did not like this one that much but now I love it!  It opens with fresh, dry and green fig notes.  After a while I can definitely smell peach mixed with vetiver. I was
Read More
Since we are talking about luxury perfumery today, I want to show you  a beautiful   M. Micallef Ylang in Gold perfume.
About the Brand
M.Micallef brand was created in 1996 by Martine Micallef, who is a beauty and wellness specialist and a painter, and Geoffrey Nejman, financial consultant in fragrances in Grasse. The brand was actually created from their love story and the brand's perfumes are now available in 39 countries.
About the Perfume
YLANG IN GOLD is the third fragrance of the JEWEL collection, after M.MICALLEF JEWEL FOR HER and JEW EL FOR HIM.
The bottle is hand decorated with Swarovski crystals designed exclusively for the brand.  YLANG GOLD actually won 2nd prize for an AN ARTISTIC PERFUME for for an extraordinary perfume concept at Global Art of Perfumery exhibition.
One more special thing about this perfume is that it should leave a light and delicate pearly golden dust made of golden powder.
 Notes
Head note: Tangerine orange, geranium, artemisia
Heart note: Ylang-ylang, rose,
Read More
The newest Jo Malone cologne Blackberry and Bay was inspired by the childhood memories of blackberry picking, stained lips, sticky palms…
It is described as a burst of deep, tart blackberry juice and sparkling grapefruit, blending with the freshness of just-gathered bay, softened by  with delicate flowers , resting on  a brambly base of vetiver and cedarwood.
I have really enjoyed using this cologne in July and August as it is fresh, sparkling and not very complicated which makes it a perfect choice for warmer weather.  It is quite simple and not overwhelming which is exactly the thing that makes me love Jo Malone fragrances.
I find it appropriate for day and
Read More