Today I opted for a very simple and minimal makeup, both in terms of colours and the quantity of products.  Today it's all about work and I am not going out anywhere afterwards, so  I was not in the mood for any experiments, and , quite frankly, did not have time.
Face
I've used Rouge Bunny Rouge Home Time Defying Foundation Skin Sanctuary which I promise to review soon. I totally forgot that I had the samples of it, the post is already in the process. I then added some Benefit's Dandelion  to brighten up the complexion  and BECCA's Beach Tint in Raspberry as a pop of colour on the cheeks and on top of the lip balm.
 Eyes
I have used Benefit's powder eye shadows in Leggy and Dandy Brandy which are very soft and smooth, and blend beautifully. Lighter shade all over the lead and darker shade for definition. I have also lined the eyes with a black (and not brown, shocker!)  Clarins Crayon Khol, smudged it
Read More
Here is round-up of the gorgeous Benefit Cosmetics' tints.  I am a huge fan and I really enjoy using them on myself and others.
All three provide a long-lasting staying power and natural looking effect, which I love, of course. I don't really use these on the lips but do love them as blushes, a lot.
Posietint and ChaCha Tint have a gel-like formula and finish and Benetint has a watery finish. The trick with all three is to work quickly until it is set, as you won't be able to blend it otherwise.
My personal favourite
Read More
If you are a regular reader, you probably know my love for Benefit's sets, so today I want to show you their Feelin' Dandy set (£24.50/$28).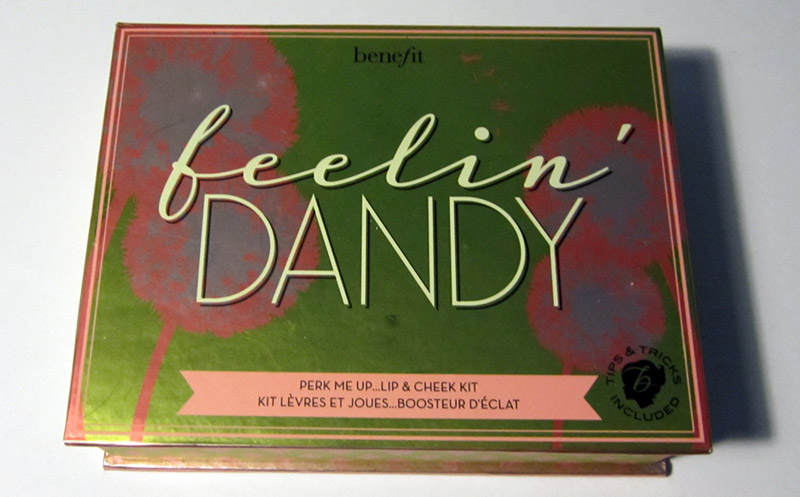 It comes in a cute packaging, as usual, and contains the following products:
0.13 oz Posetint, 0.1 oz Dandelion,0.13 oz High Beam, 0.22 oz Ultra Plush Dandelion and  Mini powder brush. You also get a mirror and a step-by-step  tutorial.
Posetint
I am already a huge fan of ChaCha tint and Benetint and I really do hope that Benefit bring out a berry tint in the future. It is a stain that can be used both on lips and cheeks but I personally love using it on cheeks much better.  It gives a gorgeous pinky tint and stays on really well. Just make sure you blend it quickly, as it does set.
Dandelion
I love this pale pink blusher for winter time, it gives a beautiful flush on my light skin, which looks very natural, as if I just had a walk. I also like how it blends into the skin, although I like the staying power of Posietint better, of course.
High Beam – full review here.
I really
Read More
Remember my post about MeMeMe cosmetics?
I've actually got one set for myself to try and let you know my opinion.
I've got a Bestseller Gift Box in Pink which includes:
Blush Box in Pink
Light Me Up lipgloss in Illuminate
Long lasting nail gloss in Graceful
All products separately would cost me  £20 but they retail for £15.50 in a set which also comes with a beautiful gift box. But http://www.cocktailcosmetics.co.uk/ (they ship Worldwide) actually had the set for £10 so I've decided to try it.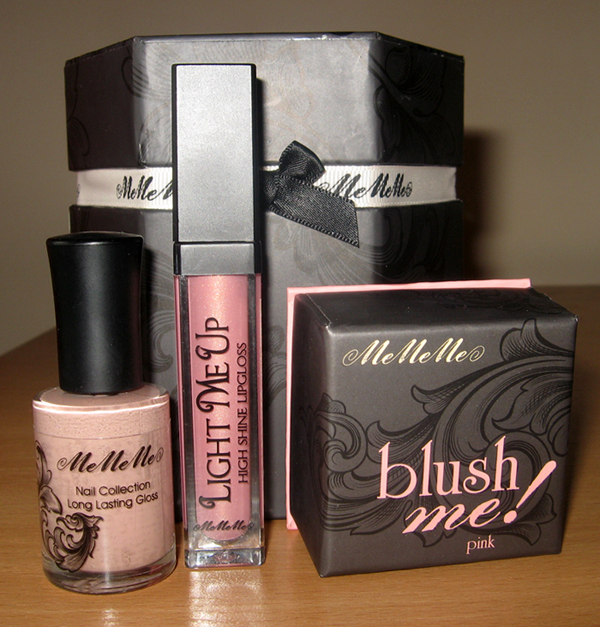 To tell the truth, I think this is a brilliant set for the price! It would make an amazing gift and also would recommend this set to anyone who is just starting their makeup collection. I obviously did not need this set but was curious to try the brand.
Blush Box in Pink
It comes in a cardboard packaging with a mirror and a brush.  It is a beautiful cool-toned candy pink with shimmer. This is a prefect blush for winter in my opinion as it gives just this beautiful 'cheeks after a walk on a frosty day' look.  The shimmer is delicate and looks great in this blush. I really like that the colour is buildable. You can get a very subtle effect but can also 'pack it on'
.
Light Me Up lipgloss in Illuminate
I was actually expecting a different shade based on the promo photo (pale blue based baby pink) but it turned out to be a pinkish nude with tiny silver shimmer instead.
Light Me Up Gloss really
Read More
I  already featured the famous Daniel Sandler  Watercolours here but I think it's time to write a full review and swatch all the shades that I have.
Some people commented that they've never heard of this brand and of Daniel himself.  Daniel Sandler is a British celebrity Make-Up artist and a co-fonder of the Daniel Sandler  Cosmetics. To find out more  check out the official website. I also recommend  you watching  some videos with Daniel  as he is very talented and charming, a pleasure to watch.
The shades that I have and the DS brushes – Waterbrush and Blusher brush, love them  both
But what about the blushes?
These are probably the most famous Daniel's products, they even brought him his first beauty award from the Grazia magazine.
First of all I have to say that I've wanted to try them for a long time so I was really happy to get three shades to try out. And here are some of my thoughts and, what is  really exciting, tips from Daniel himself that he  shared with us!
Here are my thoughts:
This is how the blushes look like until you shake them
I perfectly understand why these are so popular, as they are a pleasure to use, the package is cute and you can see the colour itself. The formula is really nice.
There is a great variety of shades for everyone, they all are really beautiful.
The pigmentation is insane! You only need a tiny amount of  the product so the bottle will last you forever.
But my favourite thing about the Watercolours is actually how long-lasting they are.  I would even say that these may be the most long-lasting blushes I've ever used. These are definitely there by the end of the day.
Although they stay on so well, it's not hard to remove them, you won't have to scrub your face to get them off.
The price is really reasonable for the quality (£14.50 which is less than $25).
The shades that I have are:
Read More