Today I wanted to keep it very simple in terms of makeup, it's almost like the recent tag –  5 product makeup face.
I have used a very light base – BECCA's Luminous Skin Colour which looks very natural on, as if you are not wearing anything, so it won't cover any major imperfections. But it does even out the skin tone and  makes it [the skin] show through.
Then I added Daniel Sandler's Watercolour Blush in Flush, which is one my my favourites, beautiful perky pink with light, non-greasy texture and long-lasting formula.  It's perfect !
High Beam is one
Read More
I have no idea how it happened,  but somehow I've missed the fact that ArtDeco released cream 2-in-1 blushers and lip products.
The brand describes them as cream-to-powder compacts with a silky, wax and oil based, texture with great pigmentation. Free of fragrances, parabens, talc and silicon.
I personally rate ArtDeco products highly and have to
Read More
Today I opted for a very simple and minimal makeup, both in terms of colours and the quantity of products.  Today it's all about work and I am not going out anywhere afterwards, so  I was not in the mood for any experiments, and , quite frankly, did not have time.
Face
I've used Rouge Bunny Rouge Home Time Defying Foundation Skin Sanctuary which I promise to review soon. I totally forgot that I had the samples of it, the post is already in the process. I then added some Benefit's Dandelion  to brighten up the complexion  and BECCA's Beach Tint in Raspberry as a pop of colour on the cheeks and on top of the lip balm.
 Eyes
I have used Benefit's powder eye shadows in Leggy and Dandy Brandy which are very soft and smooth, and blend beautifully. Lighter shade all over the lead and darker shade for definition. I have also lined the eyes with a black (and not brown, shocker!)  Clarins Crayon Khol, smudged it
Read More
Here is round-up of the gorgeous Benefit Cosmetics' tints.  I am a huge fan and I really enjoy using them on myself and others.
All three provide a long-lasting staying power and natural looking effect, which I love, of course. I don't really use these on the lips but do love them as blushes, a lot.
Posietint and ChaCha Tint have a gel-like formula and finish and Benetint has a watery finish. The trick with all three is to work quickly until it is set, as you won't be able to blend it otherwise.
My personal favourite
Read More
If you are a regular reader, you probably know my love for Benefit's sets, so today I want to show you their Feelin' Dandy set (£24.50/$28).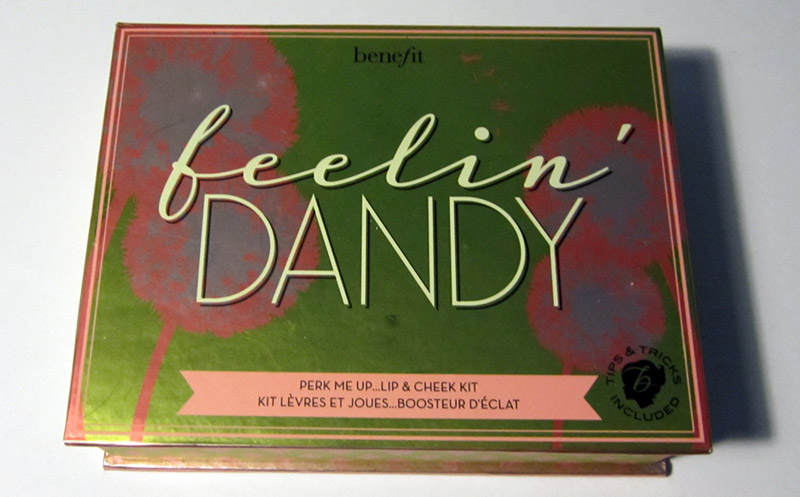 It comes in a cute packaging, as usual, and contains the following products:
0.13 oz Posetint, 0.1 oz Dandelion,0.13 oz High Beam, 0.22 oz Ultra Plush Dandelion and  Mini powder brush. You also get a mirror and a step-by-step  tutorial.
Posetint
I am already a huge fan of ChaCha tint and Benetint and I really do hope that Benefit bring out a berry tint in the future. It is a stain that can be used both on lips and cheeks but I personally love using it on cheeks much better.  It gives a gorgeous pinky tint and stays on really well. Just make sure you blend it quickly, as it does set.
Dandelion
I love this pale pink blusher for winter time, it gives a beautiful flush on my light skin, which looks very natural, as if I just had a walk. I also like how it blends into the skin, although I like the staying power of Posietint better, of course.
High Beam – full review here.
I really
Read More