Pink is the colour which you can find in most Spring 2016 makeup collections, including Clarins Spring. And here are my two favourite pink products from the release.
Ombre Iridescent eye shadows  in Silver Pink and Instant Light Natural Lip Perfector in 07  Toffee Pink Shimmer.
I think we all got pretty excited for two new shades of the cult lip balms. Seriously, I am still to meet a person who won't like these. I have almost every shade and got some of my girlfriends addicted to them, too.
Don't be confused by the toffee and shimmer in the name, it is not really that shimmery and it is more like a mauve-ish pink than a toffee pink. 07 and 08 are more cool (tone-wise) than all the previous shades. But they have the
Read More
I am having a major pink & mauve eye shadows moment right now. If you are a new reader, here is what kind of shades  I used to wear all the time.
I have been wearing Rouge Bunny Rouge's Solstice Halcyon  at least several times per week during the last two months. And recently I've added some other eye shadows to my rotation. Which ones?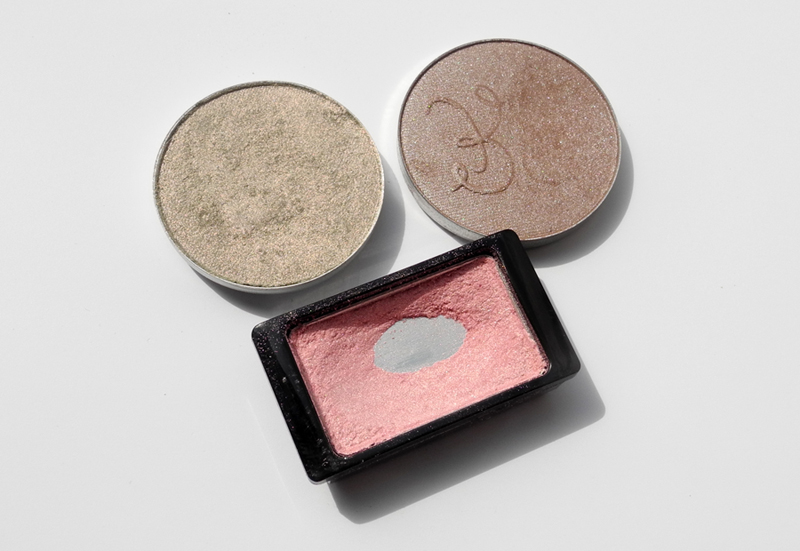 Rouge Bunny Rouge's Solstice Halcyon: "semi-matte mauve beige". It is such a perfect shade, I have already mentioned it so many times that you probably already know my love for it at this point :).
ArtDeco eye shadow 93: described as "pearly antique pink". You can see that it is well-loved.  It adds just a hint of warm rose colour to the lid. It is not too metallic, just a
Read More
Here is a preview of NARS' Spring 2013 makeup collection with an edgy promo image with Stella Tennant on the pink background.
There are eight products in this collection and two really caught my attention.
Eyes
Duo Eye Shadows
Mad Mad World, cyan and parakeet green
Bouthan, soft pink tulle and bright pink with gold shimmer
Single Eye Shadow
Soft Touch Shadow Pencil
Corcovado (LE), 24-karat gold sparkle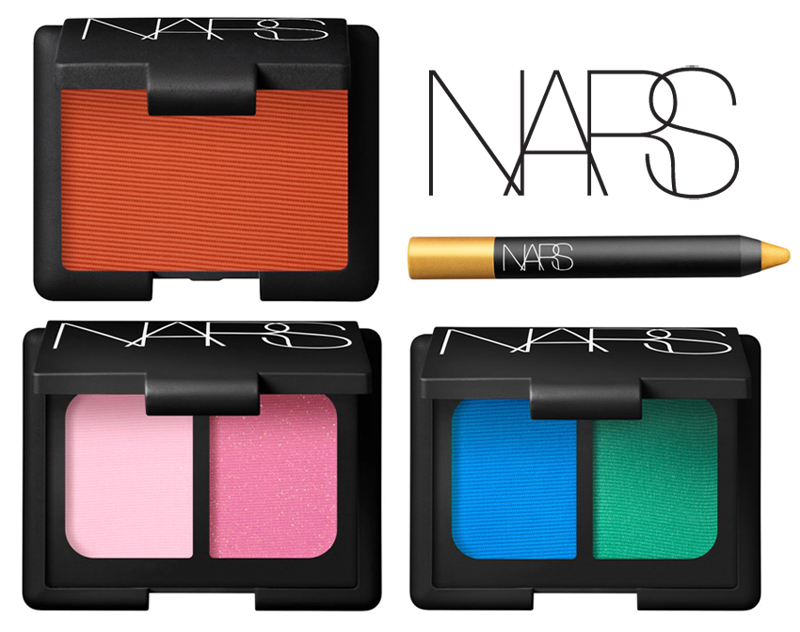 Lips
Lipstick
Dressed to Kill Lipstick, fuchsia rose shade with gold shimme
 Velvet
Read More
Here it is, as promised, the review of Burberry's Complete Eye Palette.
As you may know, there are  six colour combinations to choose from and each retails for £40/$59.
Here is how the palette looks like, I  love the signature Burberry print.
It  comes in a velvet pouch with three mini tools: sponge, blending brush and liner brush. I haven't really used them but they may be very handy for when you are travelling or touching up your makeup.
My palette is called Pink Taupe and, in my opinion, these are the most original and unique colours out of all. I actually don't think I have a dupe for some of the shades.
And you get:
Warm peachy shade,  satin finish
 khaki shade,  satin finish
Cool toned dusty pink, matte
Read More
Clarins recently launched a new range of eye shadows ( £16/$20) in 16 shades which are divided into four groups.
I actually did get three eye shadows to show you, so here they are. I have: 01 White Sparkle Illuminator, 03 Petal and 16 Vibrant Violet.
Although these are not the shades that I would choose for myself, I do like all three a lot.
01 White Sparkle is a silver glittery eye shadow which I personally use all over the lid with an eye liner and lots of mascara. It can be also used on top of other  eye shadows. This is a great shade for Christmas actually.
 03 Petal is a very beautiful  satin baby pink that is a great all-over-the-lid shade, looks great paired with a dark shade in the outer corner. I think such shade would also look great on mature ladies.
16 Vibrant Violet  is an iridescent violet with blue micro shimmer. It reminds me of the violet from this Clarins palette, so if you have missed it, you may want to pick up this eye shadow.
Clarins  Ombre
Read More