Here is a preview of NARS' Spring 2013 makeup collection with an edgy promo image with Stella Tennant on the pink background.
There are eight products in this collection and two really caught my attention.
Eyes
Duo Eye Shadows
Mad Mad World, cyan and parakeet green
Bouthan, soft pink tulle and bright pink with gold shimmer
Single Eye Shadow
Soft Touch Shadow Pencil
Corcovado (LE), 24-karat gold sparkle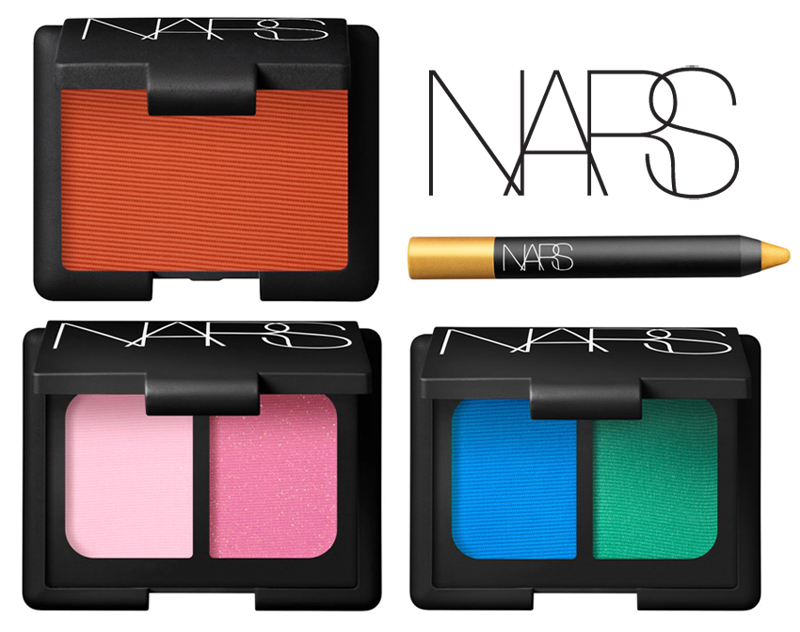 Lips
Lipstick
Dressed to Kill Lipstick, fuchsia rose shade with gold shimme
 Velvet
Read More
Clarins recently launched a new range of eye shadows ( £16/$20) in 16 shades which are divided into four groups.
I actually did get three eye shadows to show you, so here they are. I have: 01 White Sparkle Illuminator, 03 Petal and 16 Vibrant Violet.
Although these are not the shades that I would choose for myself, I do like all three a lot.
01 White Sparkle is a silver glittery eye shadow which I personally use all over the lid with an eye liner and lots of mascara. It can be also used on top of other  eye shadows. This is a great shade for Christmas actually.
 03 Petal is a very beautiful  satin baby pink that is a great all-over-the-lid shade, looks great paired with a dark shade in the outer corner. I think such shade would also look great on mature ladies.
16 Vibrant Violet  is an iridescent violet with blue micro shimmer. It reminds me of the violet from this Clarins palette, so if you have missed it, you may want to pick up this eye shadow.
Clarins  Ombre
Read More
French & Fabulous palette ($28.5) was a part of  a  holiday collection by Too Faced but it is still available at their website.  Since I didn't find anything interesting for myself in their Spring 2010 collection I got this palette and I am very happy  that I did!
Here is what is written about it:
"Become beauty royalty and claim your throne with this majestic Collection of six eye shadows, highlighter and bronzer! This queen's treasure of Too Faced's most legendary shades will secure your crown and your place amongst the glamour monarchy!"
Tips and Tricks
1. Intensify your eye color by applying the deeper shades as liner, then smudge color under the eye.
2. Apply the paler shadow shades all over from lash to brow for use as a soft, eye-opening base.
3. Use Shadow Insurance Eye Primer before shadow application to lock in your lid look!
4. Use Pink Leopard Bronzer for a skin-perfecting, illuminated finish.
And this is how the palette looks like inside:
As you can see that there are 2 bronzers and 6 eye shadows. So here is my opinion about them all + swatches.
Bronzers
"Best-Selling Bronzers: Our two most coveted bronzers work with a variety of skin tones to illuminate and bronze."
Pink Leopard Highlighting Bronzer
Sun Bunny Bronzer
I really love both bronzers, they are amazing! Although Too Faced has a set with 3 bronzers and a brush I wanted to get some of their shadows so this is why I got this set.  Now I understand why these 2 bronzers are bestsellers – they are perfect. The colours are amazing and look they great on the face.  Plus it's easy to work with them. (sun bunny is darker and pink leopard is lighter)
Single Eyeshadows
Totally Toasted Brown & Totally Toasted Beige
These two are great colours for everyday use and will look nice on everyone.
Poodle Puff Raisin, Poodle Puff Pink, Ooh & Aah
All 3 shades contain
Read More