I rarely post beauty empties, as I don't like gathering empty bottles and I do finish a lot of them, but it is different with makeup, I barely ever finish anything, so having three empties is a big deal. Plus I  really love all of them, so it was worth mentioning…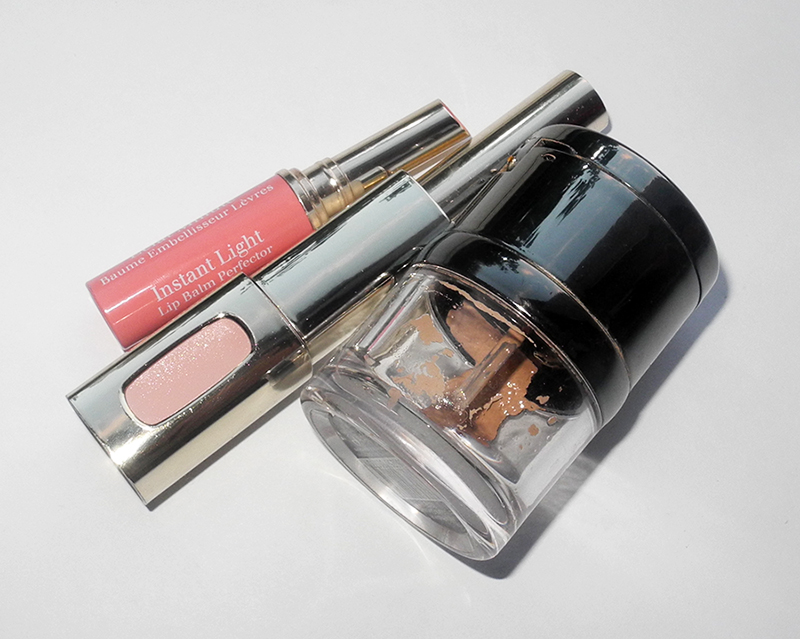 Daniel Sandler Invisible Radiance Foundation and Concealer (review)
This is the second foundation I have ever finished in my life. The first one was Max Factor's Second Skin which was the best affordable foundation on the market, in my opinion (it is sadly discontinued). Invisible Radiance Foundation and Concealer is a great choice if you want  a medium, natural looking coverage and a beautiful glowing finish.
Clarins Instant Light Lip Balm Perfector (review and swatches)
Read More
I already did a post about my favourite bases and cheek products of 2013, so here is the second part which is all about the eyes, lips and nails.  To compare my list t0 2012 favourites click here.
So here we go…
Eyes
I will start with the eye brows, and my favorite and most-used product, hands down, was Hourglass Arch Brow Sculpting Pencil in Soft Brunette (review). It is a must have for me now, easy to use, long-lasting and great shade.
As for the liners – it was super easy to choose: Rouge Bunny Rouge Raven Glaze Lacquer Liner (review), black and glossy liner is in my personal top favourites ever. When I am in the mood for the cat eye, this is the product I always use. Plus it's so easy to control.
For an every day use, and I'm sure this is no surprise to you, I always use Lancome's Le Crayon Khol in Brun Noir (review). I have so many eye pencils, but 99% of the time I use this one. It's a perfect blackened brown which is very soft and easy to blend, dreamy.
When it comes to mascaras, I have two favourites, as well. One in a classic black shade, which is  Chanel Le Volume de Chanel Mascara in 10 Noir (review), easily one of the best mascaras I have ever tried, ultra black and mega volumizing. I have a small sample but am buying a full size.
I also want to mention a colourful mascara – Rouge Bunny Rouge Dramatic Lash Mascara Megaplumes in Oxblood Panache (review). It is an innovative shade which looks beautiful on the lashes, what you is is what you get.
And, of course, I have to mention Anastasia's Genius Top Coat (review) which changed my beauty life.
There are so many  great eye shadows that I could
Read More
I have confessed my love for Clarins Instant Light Natural Lip Perfectors (£17) numerous times already. So one more time one hurt, right?
Recently the brand added three new shades to the range and  I was actually sent all three to show you.
So the new shades are: 04 Petal Shimmer, 05 Candy Shimmer and 06 Rosewood Shimmer.
As you  already know, I love everything about Instant Light Natural Lip Perfectors. They have a beautiful balmy,  non-sticky formula which nourishes and moisturizes the lips and makes them smoother and softer. These "glosses" have  light caramel-y/vanilla-ry  scent and taste nicely, not that I am supposed to know
Below you can see the close up of the applicators.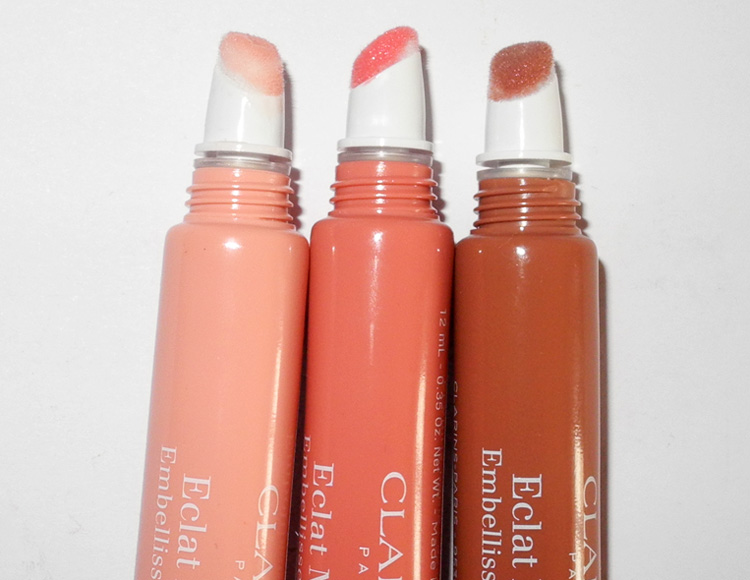 As for the
Read More
I've stayed most of the Saturday at home as I had guests so wanted to keep it very simple. Here are the products I wore.
Face
Rouge Bunny Rouge's Tinted Moisturiser Sketches on Water is my latest obsession. It is perfect for winter, it doesn't enhance any dryness and looks great even on the weather beaten, dehydrated skin! Gives a very natural coverage and people won't be able to tell that it's not just your skin.  The coverage is enough for me but you may want to use concealer locally. I use shade Adansonia but you can see my swatches of all shades here.
The brand's Blush Wand in Rubens is a relatively new product for me but so far I am loving it.
Eyes
I've used
Read More
Here is a preview of Burberry Beauty makeup collection for Spring 2013 which is all about vibrant shades for lips and cheeks and simple eye makeup, as seen on Burberry's SS 2013 catwalk.
You can get a wash of colour on the eyes with the new shade of Sheer Eyeshadow (£23/$29)  – 26 Gold Pearl.
There are two new  Light Glow Natural Blushes ( £29/$42): warm toned 09 Coral Pink and a gorgeous cool toned 10 Hydrangea Pink.
Four Lip Glow Natural Lip Glosses (£19/$27): 19 Mallow Pink, 20 Pink Sweet Tea, 21 Fondant Pink and
Read More