Pink is the colour which you can find in most Spring 2016 makeup collections, including Clarins Spring. And here are my two favourite pink products from the release.
Ombre Iridescent eye shadows  in Silver Pink and Instant Light Natural Lip Perfector in 07  Toffee Pink Shimmer.
I think we all got pretty excited for two new shades of the cult lip balms. Seriously, I am still to meet a person who won't like these. I have almost every shade and got some of my girlfriends addicted to them, too.
Don't be confused by the toffee and shimmer in the name, it is not really that shimmery and it is more like a mauve-ish pink than a toffee pink. 07 and 08 are more cool (tone-wise) than all the previous shades. But they have the
Read More
If you follow me on Instagram, you could already see a preview of some Rouge Bunny Rouge products that I was sent for  a review, so here is a long time promised feature about their Glassy Gloss Sweet Excess  gorgeous glosses.
There are six shades in the range, and I actually have five of them. The missing shades is CHERRY CLAFOUTIS which is described as a "gloss version of the 'Scrumptiously Devious' lipstick, sheer blue based cool pink with a warm golden opalescence". And I actually have a review of the lipstick here.
The shades I have are (descriptions from Rouge Bunny Rouge):
FLEUR PARFAIT, Cushiony-soft semi-opaque mauve pink, with subtle silver highlights
MOUSSE FANDANGO, Dark tone of milky pink with barest whispers of grayish mauve and touch of silver micro pearls
RAHAT LOKUM, Pale milky pink with medium-heavy mother of pearl effect micro-shimmer
RASPBERRY MERINGUE, Pale pink with very soft mother of pearl micro-shimmer – this shade doesn't yield a strong colour, but it makes lips naturally pretty
RHUBARB CUSTARD, Semi sheet coverage milky nude rosewood – irreplaceable my-lips-but-better colour
My personal favourite is  Raspberry Meringue which is actually always in my handbag. It is a gorgeous cool-toned pink with micro-shimmer. Love me some sparkles!
The other shade that I use a lot is  Rahat Lokum which is heavier on the shimmer and warmer in tone. I am actually wearing it as I type.
Rhubarb Custard is a great option for those who like "nude" lip glosses. It is a creamy and balmy every day kind of shade. No shimmer.
As for Mousse Fandango – RBR have a really
Read More
I rarely post beauty empties, as I don't like gathering empty bottles and I do finish a lot of them, but it is different with makeup, I barely ever finish anything, so having three empties is a big deal. Plus I  really love all of them, so it was worth mentioning…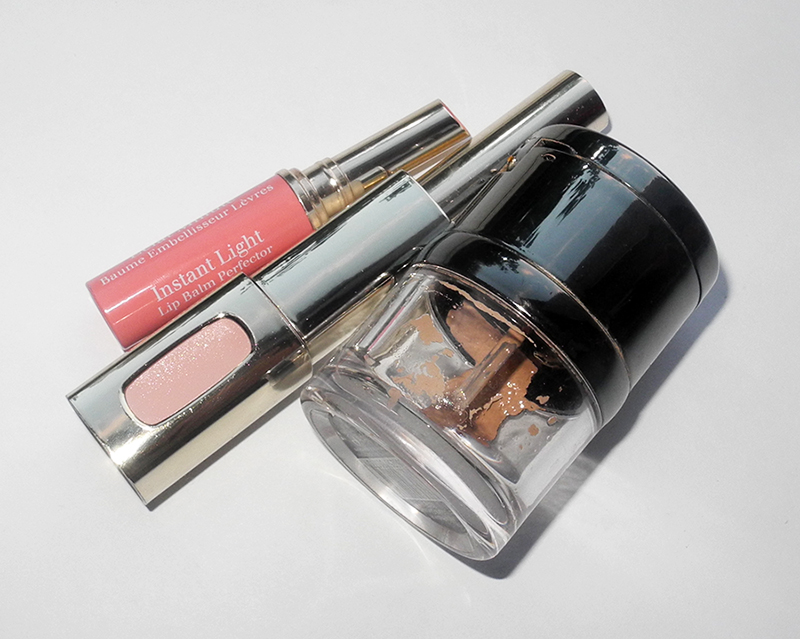 Daniel Sandler Invisible Radiance Foundation and Concealer (review)
This is the second foundation I have ever finished in my life. The first one was Max Factor's Second Skin which was the best affordable foundation on the market, in my opinion (it is sadly discontinued). Invisible Radiance Foundation and Concealer is a great choice if you want  a medium, natural looking coverage and a beautiful glowing finish.
Clarins Instant Light Lip Balm Perfector (review and swatches)
Read More
I already did a post about my favourite bases and cheek products of 2013, so here is the second part which is all about the eyes, lips and nails.  To compare my list t0 2012 favourites click here.
So here we go…
Eyes
I will start with the eye brows, and my favorite and most-used product, hands down, was Hourglass Arch Brow Sculpting Pencil in Soft Brunette (review). It is a must have for me now, easy to use, long-lasting and great shade.
As for the liners – it was super easy to choose: Rouge Bunny Rouge Raven Glaze Lacquer Liner (review), black and glossy liner is in my personal top favourites ever. When I am in the mood for the cat eye, this is the product I always use. Plus it's so easy to control.
For an every day use, and I'm sure this is no surprise to you, I always use Lancome's Le Crayon Khol in Brun Noir (review). I have so many eye pencils, but 99% of the time I use this one. It's a perfect blackened brown which is very soft and easy to blend, dreamy.
When it comes to mascaras, I have two favourites, as well. One in a classic black shade, which is  Chanel Le Volume de Chanel Mascara in 10 Noir (review), easily one of the best mascaras I have ever tried, ultra black and mega volumizing. I have a small sample but am buying a full size.
I also want to mention a colourful mascara – Rouge Bunny Rouge Dramatic Lash Mascara Megaplumes in Oxblood Panache (review). It is an innovative shade which looks beautiful on the lashes, what you is is what you get.
And, of course, I have to mention Anastasia's Genius Top Coat (review) which changed my beauty life.
There are so many  great eye shadows that I could
Read More
I have confessed my love for Clarins Instant Light Natural Lip Perfectors (£17) numerous times already. So one more time one hurt, right?
Recently the brand added three new shades to the range and  I was actually sent all three to show you.
So the new shades are: 04 Petal Shimmer, 05 Candy Shimmer and 06 Rosewood Shimmer.
As you  already know, I love everything about Instant Light Natural Lip Perfectors. They have a beautiful balmy,  non-sticky formula which nourishes and moisturizes the lips and makes them smoother and softer. These "glosses" have  light caramel-y/vanilla-ry  scent and taste nicely, not that I am supposed to know 😉
Below you can see the close up of the applicators.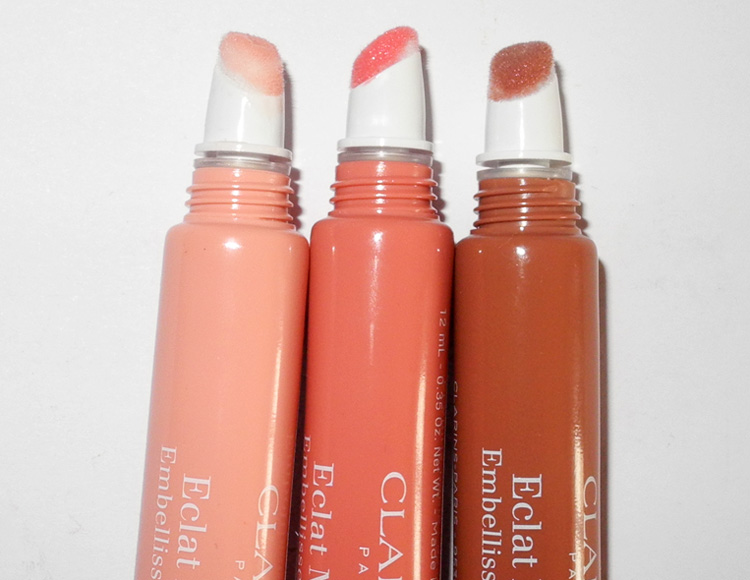 As for the
Read More