Unlike my latest beauty purchases, this time it's a bit more fun. Unfortunately, I don't remember any prices since I've been getting a lot of products on that day,  but at least, you can see what I've got.
1. Toni & Guy Cleanse dry shampoo. I've finished my Klorane shampoo which was amazing, by the way, so thought I'd pick this one up to try.
2. Aussie Aussome Volume Shampoo. Believe it or not, but I have never tried Aussie products,  so decided to give it a go.
3. Rimmel Salon Pro Kate nail polish in 703 Rock 'n Roll. I wanted to get this for a long time for so many reasons. In fact, I am wearing it,
Read More
Although I do love my luxury products, this week I've been obsessed with two of my latest purchases from high street. The thing is that I did not even plan to get those, but saw them, liked the shades and had to pick them up.
My newest lip love is Bourjois Color Boost Glossy Finish Lipstick in 06 Plum Russian.
Such a gorgeous shade and finish, it looks very glossy and beautiful on; feels light and moisturizing. On the photo below  I am wearing it very lightly, you can get a  much more intense shade, which I love for evenings.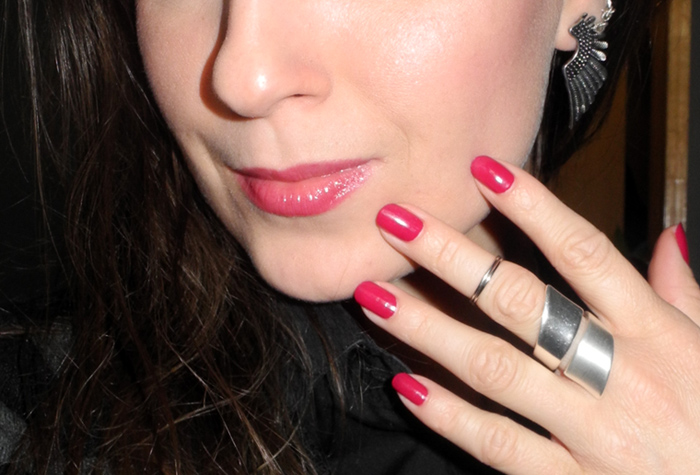 As for the nail polish, I am
Read More
Here is the swatch of one of the prettiest nail polish shades for Autumn/Winter season – Lancome Vernis in Love in 453 Infusion de Prune.
It is a beautiful glossy plum  which is a bit lighter than most vampy & gothic berry/plum shades, it is a classic colour I would say.
I am in love with Lancome's wide brushes, they are a pleasure to use, plus it is always fast and mess-free.
This nail polish goes on smoothly and is opaque with one layer. The staying power is also nice.
You get 6 ml for  £12/$15 which I personally like as I never finish big bottles of nail polish anyway.
Infusion de Prune is a limited edition shade which was released as a part of Autumn collection, so get it while it's still available.
Read More
I am a huge fan of berry and plum nail polishes, especially for Autumn/Winter period, they look very sophisticated and  chic. I have actually never tried Guerlain nail lacquers  (£18 / €23) before, so was excited to start with Lou-Ling from their Christmas collection, as it is a beautiful shade.
It is a gorgeous glossy plum with very subtle micro shimmer which is only visible under the certain light or with a certain flash.
Lou-Ling has a nice formula which goes on smoothly and  looks opaque with only one coat. But I do wear two coats on the picture above.  The brush is thinner than I personally like but since it's  not very not long, it gives you a good control.
This is a wonderful classic nail colour, and I would definitely recommend it to everyone who loves luxury brands. It would make a  great present, too.
Read More
Here is a preview of China Glaze On Safari nail polish collection for Autumn 2012.  There are two glittery nail polishes, two mustardy, several purplish, one brown, grey, teal,  blue and red.
I'm Not Lion
I Herd That
Kalahari Kiss
Desert Sun
Call Of The Wild
Jungle Queen
Prey Tell
Purr-fect
Read More