I have posted about the new Bobbi Brown's collection only recently. The thing is that the brand brought out a new festive and gorgeous release in glam golden packaging.  And of course with red and gold, along with shimmering products to make you a star during the holiday season!
Lips
Lip Gloss 
Gold Glitter
Scarlet (LE)
 High Shimmer Lip Gloss
Each gloss is $25
Scotch on the Rocks Shimmer Lip Color
Beige Gold Shimmer
Malt Shimmer
Scotch on the Rocks Lip Color
Each lipstick is
Read More
Just a quick heads up – I am posting the looks from the SS15 Fashion Weeks over at Makeup4all's Facebook page.
I do love all those "no makeup looks" with the gorgeous, glowing, flawless perfected skin and the eye catching "pierced" brows at Rodarte (just wow!)…
But, if I could choose one look I'd wear myself – it would be
Read More
I am really in love with this latest collection from ArtDeco, so sultry and hot!
Very beautiful autumnal shades that every girl needs in her makeup bag. I like everything, but those lips and nails products are  a stand out for me. If you are looking for a great red/vampy shade – I'd totally recommend ArtDeco. Amazing German quality that won't cost a fortune.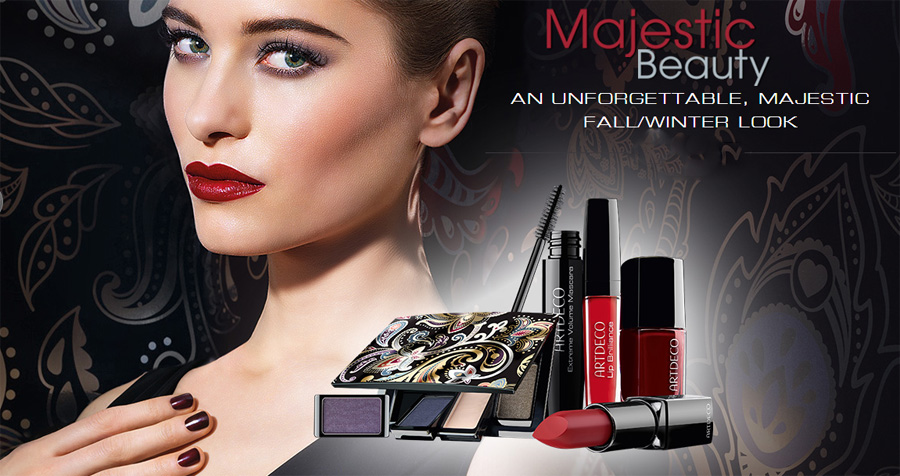 Let's take a look:
Lips
Art Couture Lipstick
204 cream crimson queen
660 velvet graceful rose
Lip Brilliance
04 brilliant crimson queen
57 brilliant purple monarch
Perfect Color Lipstick
29 black cherry queen
39 generous beige
Mineral Lip Styler
48 mineral black cherry queen
Cheeks
Read More
It seems like it's now a tradition to show you  what beauty and makeup products I take with me when I am away, just like in this post. So, since I am currently visiting my family, here is a quick update on what products I took with me.
To tell the truth, I barely wear any makeup these days but I did take quite a few products (and a lot of brushes) since people always ask me for a makeover.
I am very happy with the skincare that I've packed with me, including a lot of mini bottles which I am currently testing.  I only wish I took more than three nail polishes, as my 5-years-old-cousin loves to borrow them
Speaking of my cousin, she insisted on inspecting my "treasures" as she described my makeup bag… When she saw the red lipstick I had,  she told me that she had to put it on me, since it'd make me look gorgeous. What can I say? She does know beauty.
Read More
This month the lovely Gio from Beautiful With Brains asked me to pick my  personal favourite red and a red for the beginners. To see my picks, and to read some of my tips – click here.
I also wanted to let you know that I am going away until the 14th of July, and don't plan to be on-line very often. So don't worry if I am not answering your e-mail or comment straight away.
I am going to visit my family, and want to
Read More