I remember back in the days, tags were huge but I rarely see any these days. I recently came across the one called "Lipstick Tag", and decided to participate in it.
1.  How many lipsticks do you own?
A lot. Let's put it that way.
2.  What was your first ever lipstick?
To be honest, I don't even remember, and that is kind of sad. My first high-end lip product was Chanel, that I remember.
3.  What is your most worn lipstick?
Probably this red by Lancome.
4.  What is your favourite brand for lipsticks?
I really love how Ellis Faas lipsticks feel on. Also I am a fan of
Read More
Recently I was talking a lot about lipsticks with some girls I work with, and this inspired me to wear a different shade each day for a month. I wear the same ones over, and over again but considering how many I have it was about time to change my habit.  So here are the ones I wore last week…
NYX Soft Matte Lip Cream in Transylvania (lip swatch)
I am obsessed with it, as you may know, I have to stop myself from wearing it every single day. It is the most perfect vampy (Hey, Drac! yes, I absolutely had to do it) shade.  Whenever I wear it – I am always asked about it. The formula is not too drying and can be applied evenly.  This is the most affordable product from the selection and there are tonnes of other colours in the line.
Illamasqua Intense Lipgloss in Boost (review and lip  swatch)
Technically this is not a lipstick but, as the name suggests, it is pretty intense when layered so I've included it, too. It smells of sweets, feels moisturising on and is the most unique shade out of these all, a violet with a blue base, so beautiful.
ArtDeco Soft Lip Liner Waterproof in #8  and Stila Stay All Day Liquid Lipstick in Tesoro (review and lip  swatches). Wearing this combo on my Twitter profile photo.
This is my ultimate
Read More
Check out How to Conquer Your Fear of Red Lipstick
Read More
Sometimes it feels really weird that I love makeup. My Mum couldn't care less about it, and I did not really read glossy magazines or watch beauty shows on TV growing up.  (I did do it all but it was when I already knew that I love all things beauty).
My Mum did have quite a few lipsticks and a mascara but she was not obsessed with all those things and wore makeup only for special occasions. She did like perfume though, as long as I remember.
So I've decided to ask her what makeup products she truly loves. And since I've mentioned perfume – her most used one these days.
Before I start I have to mention that she does use  foundation and mascara occasionally but  she doesn't really have a favourite and would just use whichever [I give her]. However, the  products shown above she loves and uses on a regular basis.
As you can already guess, Mum's favourite makeup product is a lipstick. She has a fair complexion with dark eyes and very dark hair so bright reds and berries look amazing on her.
Yves Saint Laurent Volupte Sheer Candy in 06 Luscious Cherry (review and swatches).  This is her
Read More
Love it or hate it, but VDay is this weekend. For me this is a very special day, as on 14th of February I wrote my first feature for Makeup4all. And it was 7 years ago! Time flies…
But back to the beauty releases. Here are some that are worth your attention. Of course, you can always get anything from any new collection but these were created just for the Valentine's Day.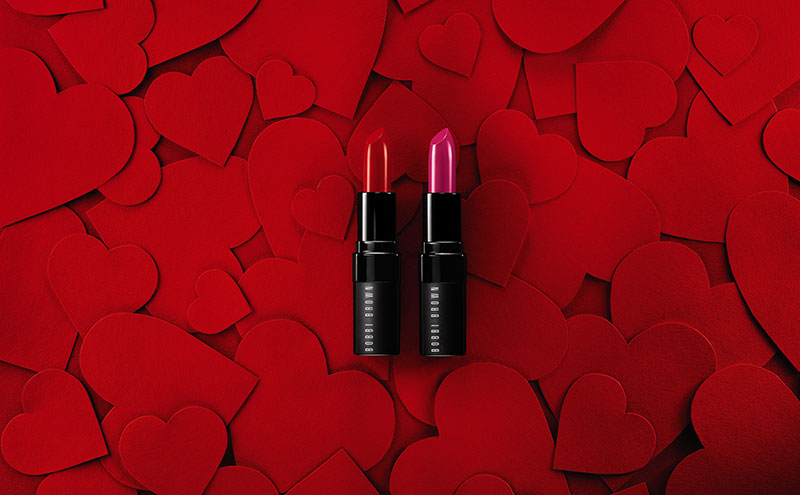 Bobbi Brown Brown Red and Pink Collection. There are lip glosses, nail polishes and lipsticks in red and pink. Above you can see Rich Lip Colors (£20) in Ibiza Pink and Blazing Red. You can get these from Selfridges and Nordstrom.
Being a rose fanatic, I wouldn't mind getting this for myself, ha! Diptyque Eau Rose Roll-On limited edition (available from Space NK for £65 and  $150 from Neiman Marcus for 100 ml). The notes are: Bergamot, Lychee, Rose, Cedar, Musk.  The print for this LE was created by Olympia Le-Tan.
Lush  always bring out a collection to celebrate love. I like the look of
Read More