Since I've just posted about the new eye brow gels, it seems like a perfect time to review the newest release from Rouge Bunny Rouge – their new eye brow products. I have actually already induced one of them in my July Monthly favourites. The brand does not bring out that many products so when they do – it is most likely something awesome. And what about these products?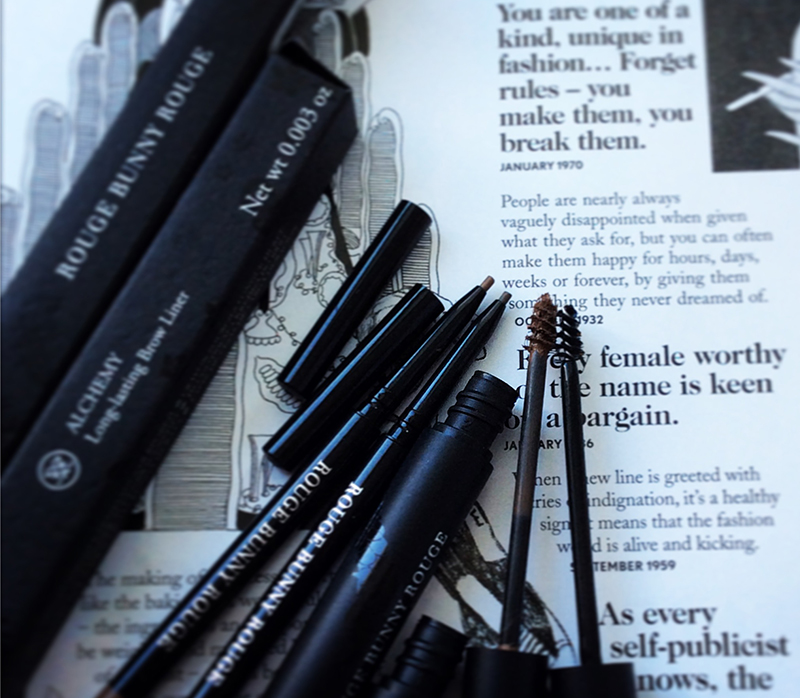 Long-lasting Brow Liner ALCHEMY, €26
Available in two shades:
 ANTIMONY, dark chestnut. Ideal neutral shade for dark brown and black natural brow colour.
TRONA, light hazelnut. Ideal neutral shade for almost any natural brow colour.
It was actually Antimony shades that was in my monthly favourites, and it is brilliant,  it is not  too cool or too warm,  it is also dark enough to add some definition but not too dark, just spot-on.
But it is the formula and the shape of the pencil that I love! As always, the design is exquisite,   this pencil comes in a slick black packaging. And the pencil itself is incredibly thin which allows a very precise application, you can draw in individual hairs and achieve really natural results. This is probably not the on-the-go product but it is
Read More
As weird, as it sounds I don't really care about dark under eye circles or bags that much. Although I understand the corrector-concealer-powder concept for the under eye area, that is something you'd almost never see me doing.  In fact YSL's Touche Elcat is the only product I have ever used up which I am using under the eyes.
All I care about is a light coverage and some light reflection.  This is obviously, my personal preference, and I do use a lot of products when I am doing someone else's makeup.
This is why I am excited to share about one of my favourite Rouge Bunny Rouge products.  Glide Concealer NAKED DISGUISE which is described as "bare skin but better". And that is exactly that!
This is my favourite under eye product, ever.  It feels really light on the skin and gives that very natural light-to-medium coverage, and you can still see the texture of the skin. It  is enough to make you look fresher and
Read More
It's not a secret that I am a huge fan of Rouge Bunny Rouge eye shadows, and I was very excited about their newest palette which I have posted on my Instagram 6 weeks ago already.
The brand's Eye Shadow Palette Raw Garden in Antigo is probably my favourite release, and here is why.
I really love the sleek and chic black compact,  with a good mirror, and a very well edited selection of shades with a wavy pattern.  You  just can tell that it is a luxury product. Moreover, it comes  in a beautiful cardboard packaging with a signature RBR design.
You get four beautiful and really versatile shades ( descriptions are from the brand):
 A very light, yellow-tinged neutral vanilla cream beige; the ideal base to even out your skin tone and add highlights
A medium, cool taupe with a hint of pink
A medium, true "café latte" brown taupe
A dark, rich, powdery chocolate brown
And it is pretty much everything you need: a
Read More
So, after I've posted a preview of  Rouge Bunny Rouge SKIN SOUL DROPS Foundation Essence, it is time for a proper review.
So here are my thoughts about it:
The packaging is gorgeous, the product comes in a black cupboard tube with the signature RBR design. Te bottle itself is  a dark matte glass, the foundation comes with a dropper.
The price is almost €60 (€59) which seems really expensive for 15ml but, as the name suggests, it is an essence which means that it is a very concentrated liquid. You need a tiny drop for your face, and it will last you for ages.
The brand describes the finish as demi-matte, and I agree. It gives that flawless coverage and evens out the skin tone perfectly. Just make sure you add some dimension back with a blush or whichever product you prefer.
Skin Soul Drop is not really an on-the go foundation. The application takes some time, and you can't just "slap it on". I like applying it with two brushes. A classic flat synthetic foundation brush (something like this one) to spread it out evenly and a kabuki brush (like Sigma) to blend it into the skin.
I personally think that
Read More
My favourite beauty product over the holidays was definitely Illamasqua's Ore pigment, a glittery bronze which is so-so gorgeous, I highly recommend. But, besides the shimmering eye shadow, I've re-discovered some of my festive-appropriate eye liners. And my top two were:
Rouge Bunny Rouge Quartz Eyeliner Devotion Ink in Tanzanite Essence (review and swatches)

Illamasqua Precision Ink in Wisdom (review and swatches)
They are just  extremely beautiful. Both are easy to control, have a gorgeous sparkling effect and nice pigmentation.  Wisdom is described as
Read More