Today I want to tell you about the lip product that I really like and it's Rouge Bunny Rouge's Long-Lasting Lip Pencil Forever Yours in Marco.

I find that the name Forever Yours is a good one for this product, as it is very long-lasting. Despite being matte, the formula is soft and glides on easily. And I love using it all over the lips. For a natural effect I then blend it in with my fingers or – for a more statement visual  I just add two layers to build up the colour.
I would suggest using a lip balm before (but not straight before the application), as your lips need to be a a good condition for such product.  Obviously, being a
Read More
Rouge Bunny Rouge make nice lip products, including glosses – Lip Gloss Gleaming Temptations and Glassy Gloss Sweet Excesses  and, although I liked them both, the newest addition to the range – SWELL BLISS XXX Lip Plump is definitely my favourite!
I love absolutely everything about this product actually:
It looks glossy and shiny when applied, the formula is hydrating, it contains Jojoba Wax, Olive Oil Extract and Vitamin E and feels lovely on the lips.  It smells  fresh and minty and tastes (don't ask) nicely, too.
But does it really volumizes/plumps the lips?  I think
Read More
I am sorry about the lack of posts, the thing is that I have been extremely busy these days but, hopefully,  things will get better next week.
Today I want to tell you about the product that I have been obsessed with lately. And it is Rouge Bunny Rouge Dramatic Lash Mascara Megaplumes in Oxblood Panache.
If you are a regular reader,  or if you follow me on Pinterest,  you probably know how much I love the oxblood shade.
I think this mascara is one of the coolest products from the brand, along with their eye gloss.
So what  is so special about it?
First of all I love the cool design, rubbery tube with an interesting prints on it.
As for the formula, I really like the results it delivers. Usually I find that it takes about two weeks for the mascara to start performing the best way it can but with this one it was different. I loved it from the first time I've used it . It makes the lashes look  full, without any clumps, and definitely creates length. Since I don't like a subtle affect, this works great for
Read More
I really wanted to try the newest Rouge Bunny Rouge Time Defying Foundation Skin Sanctuary on a more mature skin, as well as on myself  but, unfortunately,  did not get a chance to do so yet.
But since I have promised a review to several people quite a long time ago, I thought I'd share anyway…
I'd say that this foundation gives a medium coverage and evens out the skin tone pretty well, without feeling heavy. I have tried several  application methods and liked really working it into the skin with Sigma's brushes the best. That way it really blends in and gives a natural looking effect, so that people don't really see that you are wearing a foundation.
As for the finish, it is not dewy but not matte. It doesn't make my skin glow, like some light reflective foundations, but at the same time doesn't make the skin look flat and dull. It is probably the effect that most women desire for their every day look.
It is promised to work for all skin types and it does work for my very dry skin tone but I have to prep the skin properly. However, if you have normal skin – it should work really well for you! I'd assume the same for the girls with oily skin.
Skin Sanctuary (love this name a lot) should  diminish the natural signs of aging that appear with mature skin and help to prevent and protect younger complexions.
Key Ingredients:
 Detoxyl, a natural complex derived from Shea Butter,  protects, detoxifies and calms, offering skin sanctuary from ravaging free radicals and urban pollutants.
 Ceramide III & IV – works to erase fine lines, deeply moisturises and monitors the skin's dehydration process, rejuvenates the skin.
Extracts of Karitè Butter Seed  - nourishes and softens.
This time there are four shades available with one being suitable for deeper skin tone:
BARLEY CREAM, Medium honeyed beige
LINEN CREAM, Pale milky beige
QUINOA CREAM, Pale pinkish beige
WHEAT CREAM, Medium tawny beige
The price is €48.50 for 30 ml/ 1.01 fl oz
Although my personal love is Rouge Bunny Rouge's Tinted Moisturiser Sketches on Water, this is a great foundation and will suit a lot of women.
Read More
I am sure you already know that I am a huge fan of cream blushers
So today I want to tell you about a recent favourite – Rouge Bunny Rouge Blush Wand Cheeks in Bloom in Rubens.
It was actually a part of my January favourites and one of the most used blushes this winter in general.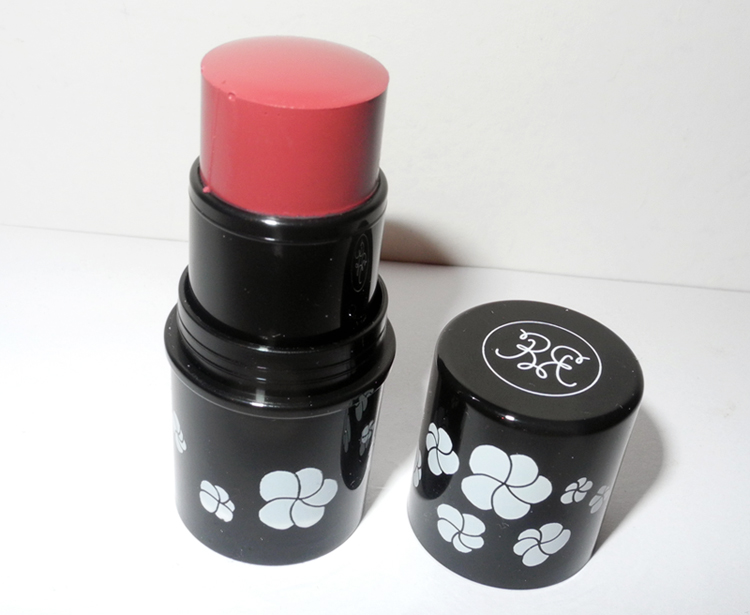 I like the cute flowery design and the small package that is easy to take with you. One more thing that I enjoy is a nice subtle  fruity scent. Moreover, I think it's cool how these were named after the great artists.
As for the product, it's really lovely, as you would expect. I know that some of you are afraid of cream blushers (I am judging from the comments), so this one is a great option to start with. It is definitely foolproof, as all you need to do is swipe it on your cheeks and blend with your fingers. You can also
Read More