If you  follow me on Instagram, you have already seen this photo of Rouge Bunny Rouge products that I was sent some time ago. And I want to start the series of reviews with the matte eye shadows, as the brand's eye shadows have a cult status already, and a lot of you often ask me about them.
I actually already have a shade in Blackpepper Jay, and here are:
SWEET DUST SERIEMA, "semi-opaque cool dusty mauve taupe"
BASHFUL FLAMINGO, "semi-opaque pale powder-pink, looking ultra natural and fresh on the eye"
Bashful Flamingo is a great under-the brow highlighter to make your eye brows more groomed and defined, it is also a great shade to be used all over the lid to even out the skin tone. It works as a perfect "base" for other shades.
Sweet Dust Seriema is a
Read More
I already reviewed one shade of Rouge Bunny Rouge Silk Aether eye shadows, and today I want to tell you about the other one, which was easily my eye shadow of the month, as I've already said it my monthly favourites.
It is called  Atlas Swallowtail which is  a "satin wash of nude taupe with pewter reflections; buildable to a darker, more opaque and metallic greyish hue." And it is the perfect taupe, it gives enough of definition but still looks subtle. I can't think of anyone who would look bad with such shade on the lids.
I agree with the brand that their eye shadows have a " semi-matte, luminous colour", the texture is silky and smooth. The eye shadows look absolutely beautiful when applied, you don't even feel them on the skin, as  the texture is so lightweight, and I find that it doesn't enhance any skin imperfections you may have, as some cream eye shadows can.
I apply
Read More
Today I want to tell you about the eye shadow which was definitely the "eye shadow of the month". I've used it almost every single week day, paired with dark brown eye liner and lots of mascara. This was my signature look in March…
And it is Solstice Halcyon by Rouge Bunny Rouge.  One of my favourite eye shadows from the brand, and from my entire collection.
Take a look at this beauty!
The brand describes it as a "semi-matte mauve beige".  I'd say that it is a very complex shade and
Read More
Great news for all the Rouge Bunny Rouge fans, especially for the fans of their fantastic eye shadows.
This month the brand launches two new shades that were featured in the latest look Utopia.  And I actually  have both shades to show you.
The shades are:
Rain Dove:  Lightest taupe with rosy gold highlights – overall satin finish. But, according to the brand, the colour is very complex and might look slightly different depending on the skin tone.
Rufous-tailed Weaver: True medium taupe with bronzy-gold highlights – overall satin finish. Again,
Read More
I have already written about a lot of Rouge Bunny Rouge eye shadows but never posted about one of my most-used and loved one (and one of the newest shades) – Eclipse Eagle. I have actually featured it in my November favourites, so  it is about time for some swatches.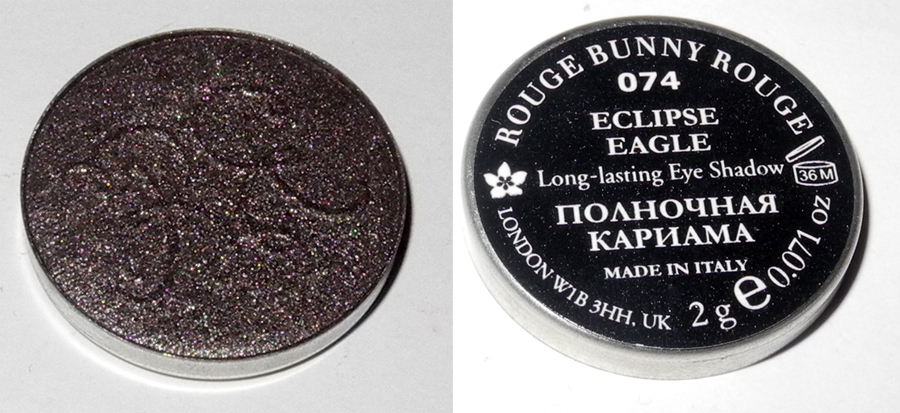 Since I have written a lot of reviews about these eye shadows, you can just click the link above for all the details… But take a look at this gorgeous shade.
You can use it on it's own, paired with some eye pencil and mascara for a smoky eye. Since it is a complex and multi-dimensional shade – it  looks beautiful and makes a statement without "any help" from the other shades. That is the kind of
Read More