Great news for all the Rouge Bunny Rouge fans, especially for the fans of their fantastic eye shadows.
This month the brand launches two new shades that were featured in the latest look Utopia.  And I actually  have both shades to show you.
The shades are:
Rain Dove:  Lightest taupe with rosy gold highlights – overall satin finish. But, according to the brand, the colour is very complex and might look slightly different depending on the skin tone.
Rufous-tailed Weaver: True medium taupe with bronzy-gold highlights – overall satin finish. Again,
Read More
I have already written about a lot of Rouge Bunny Rouge eye shadows but never posted about one of my most-used and loved one (and one of the newest shades) – Eclipse Eagle. I have actually featured it in my November favourites, so  it is about time for some swatches.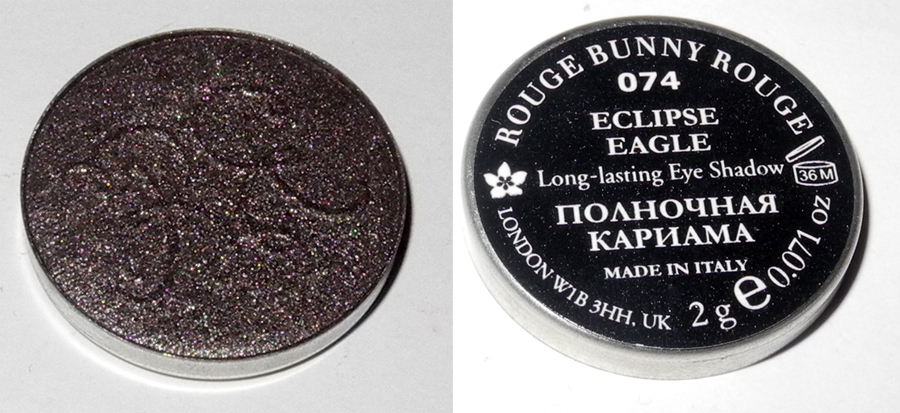 Since I have written a lot of reviews about these eye shadows, you can just click the link above for all the details… But take a look at this gorgeous shade.
You can use it on it's own, paired with some eye pencil and mascara for a smoky eye. Since it is a complex and multi-dimensional shade – it  looks beautiful and makes a statement without "any help" from the other shades. That is the kind of
Read More
Today I want to tell you about the lip product that I really like and it's Rouge Bunny Rouge's Long-Lasting Lip Pencil Forever Yours in Marco.

I find that the name Forever Yours is a good one for this product, as it is very long-lasting. Despite being matte, the formula is soft and glides on easily. And I love using it all over the lips. For a natural effect I then blend it in with my fingers or – for a more statement visual  I just add two layers to build up the colour.
I would suggest using a lip balm before (but not straight before the application), as your lips need to be a a good condition for such product.  Obviously, being a
Read More
Rouge Bunny Rouge make nice lip products, including glosses – Lip Gloss Gleaming Temptations and Glassy Gloss Sweet Excesses  and, although I liked them both, the newest addition to the range – SWELL BLISS XXX Lip Plump is definitely my favourite!
I love absolutely everything about this product actually:
It looks glossy and shiny when applied, the formula is hydrating, it contains Jojoba Wax, Olive Oil Extract and Vitamin E and feels lovely on the lips.  It smells  fresh and minty and tastes (don't ask) nicely, too.
But does it really volumizes/plumps the lips?  I think
Read More
I am sorry about the lack of posts, the thing is that I have been extremely busy these days but, hopefully,  things will get better next week.
Today I want to tell you about the product that I have been obsessed with lately. And it is Rouge Bunny Rouge Dramatic Lash Mascara Megaplumes in Oxblood Panache.
If you are a regular reader,  or if you follow me on Pinterest,  you probably know how much I love the oxblood shade.
I think this mascara is one of the coolest products from the brand, along with their eye gloss.
So what  is so special about it?
First of all I love the cool design, rubbery tube with an interesting prints on it.
As for the formula, I really like the results it delivers. Usually I find that it takes about two weeks for the mascara to start performing the best way it can but with this one it was different. I loved it from the first time I've used it . It makes the lashes look  full, without any clumps, and definitely creates length. Since I don't like a subtle affect, this works great for
Read More