My already very dry skin feels even more dry and tight after winter periods. This is why I love using oil infused beauty ranges in the shower to prevent it from drying out even more. Followed by moisturising and nourishing creams, of course.
Here are three products that I have been loving:
Before I start, I have to say that all three products have some things in common: subtle oriental'y scent which is really lovely and affordable price tag.
Garnier Oil Beauty Oil-Infused Nourishing Scrub (Review)
This scrub buffs away dead skin cells and at the same time nourishes the skin. I actually have all three products from this Garnier range (scrub, cream and body oil) and love them, and even converted some of my friends. Effective and not expensive.
Yves Rocher Oriental Shower Oil Review (review)
This gel turns into
Read More
I have been travelling quite a lot lately just for the weekends And, although you still want to get everything you may need, taking full-sized products is not the best option.
This is why I've kept a lot of mini-sized bottles and sample sized tubes/pots to re-use them. Here is an overview of what I like taking with me for a weekend-away.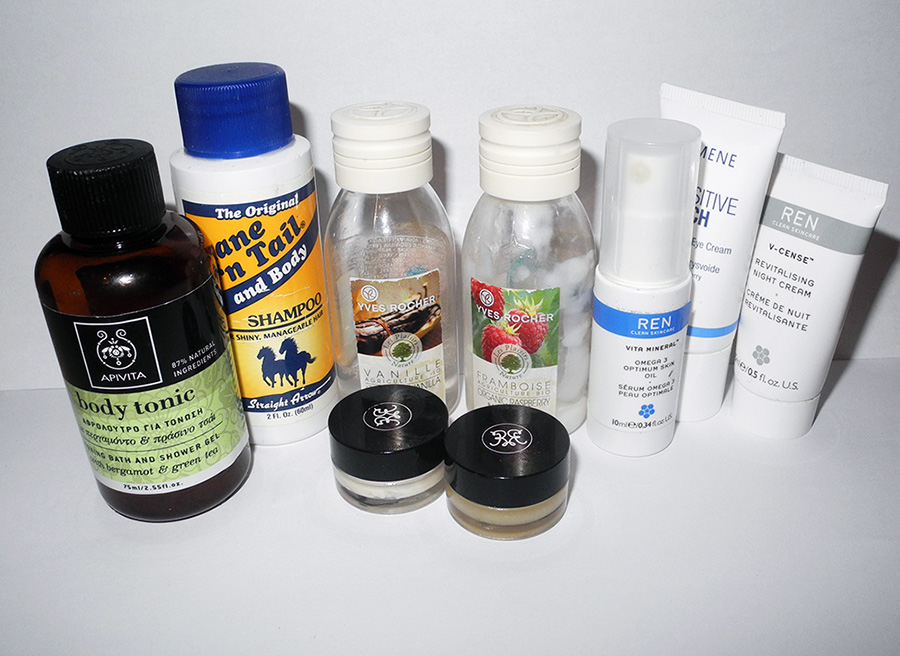 Cleansers:
1. Micellar Water (in Yves Rocher vanilla bottle) – this is Garnier's one to remove my makeup. It is gentle and effective.
2.  A good cleanser, Balance Me Cleanse and Smooth Face Balm  – my favourite one at the moment (in a small pot).
Face Creams:
3. Day cream is REN Evercalm Global Protection Day Cream which is in a small pot, next to the cleanser. I've bought it some time ago, and should definitely review it soon.
4. Eye cream is Lumene SENSITIVE Comforting Eye Cream. It is not bad but not enough for my very dry skin.
5. Of course, I had to take the mini size of  my Holy Grail oil from REN.  I have re-purchased it three times, and if I could have only one skincare product -this would be it.
6. The night cream is also from REN, and it
Read More
Last week I have published a sweet mini wish list, and I have actually already bought several products during the weekend.
I really wanted a shower oil because regular showers gels just  dry our my skin in this cold weather. I've bought Yves Rocher Oriantal Shower Oil, and so far I really like the delicate but nice scent and that my skin is definitely not so dry afterwards. By the way, I was highly recommended Ella Bache shower oil. I've never heard of the brand, to tell the truth, but I will find it on-line.
I have also bought Caudalie Overnight Recovery Oil for dry and
Read More
Here is the list of the beauty products that I plan to buy in February, and it is only beauty, but I will share my makeup wish list, too.
Rituals Fortune Oil Caring Shower Oil  (here for £8.50)
My skin is very dry and sore in this cold weather. And I do like a shower oil (this L'Occitane one is amazing), so I thought I'd give this one a try.  Plus, it is very affordable, and I like Rituals in general, so have high hopes for this product.
Ole Henriksen pure truth melting cleanser  (here for £24)
I wrote about this cleanser months ago. And now, that I have finished some of mine, I can go ahead and buy myself one. "Ultra hydrating 3 in 1 cleanser that transforms from a gel to a luxurious oil to a hydrating milk. Rich in Vitamin C, Rose Hip, and
Read More
I have already mentioned the I am very pro-toner! And, although, skincare is something that I personally don't mind investing in, I perfectly understand that not everyone wants/can.
This is why I have been on a mission to find   good toners that won't break the bank. I have already featured one of them from Yves Rocher.
And today I'd like to share about my other discovery – Lumene Soft Touch Hydrating Toner.
Being a Finnish brad,  it  made me have big hopes about this product, and I wasn't let down.
As the name suggests, this product is soft and hydrating, it is not a plain liquid, it is like a mix between toner and a lotion, in my opinion. It feels gentle on the skin, and I can tell that it definitely is not just "another" step in the routine. It does make a
Read More