I've promised to be better with my skincare reviews, so here is another one. I've just used the very last drop of Caudalie  Vinosource Overnight Recovery Oil  recently so here is my impression.
First of all, I really loved the glass packaging and the beautiful colour & design, it looks like a high-end  product with a very good price tag, compared to similar products, £26 from from Feel Unique and  $52 from Sephora for 30 ml. It also comes with a great dropper which allows you to us all the product, without any waste.
The other thing which I absolutely adore is the rose scent. Regular readers know that I am a die-hard fan. But don't worry, it is not too overpowering or overwhelming.
As for the oil itself it has a very good list of the ingredients, and I was hoping for a miracle-in-a-bottle kind of product since it is marketed for very dry skin.
Although I did like it, I found that it
Read More
I have been promising a review of Balance Me Radiance Face Oil for quite some time now. So here is is finally…
*Spoiler alert* It is one of the best oils out there (I like as much as my REN), especially for the price, and I have actually used it up to the very last drop. No wonder that it is an award-winning material.
Speaking of  the price, it retails for £30 for 30 ml which is a very good value for money, especially for the quality, it is half cheaper than some other oils that have a similar effect.
"Radiance" is a prefect name, as it really changes the way your complexion looks, it does add radiance and glow. The product does not leave an  oily or greasy residue but instead softens the skin, and works perfectly under a moisturizer. I personally
Read More
Regular readers probably noticed that now I publish only one feature per day, instead of two, as I always did. The thing is that I am very busy until the beginning of July. I have several major deadlines, and, unfortunately, can't post as much as I'd love to. There may be some days without any features at all, so please bare with me.
I did not want to disappear without explaining…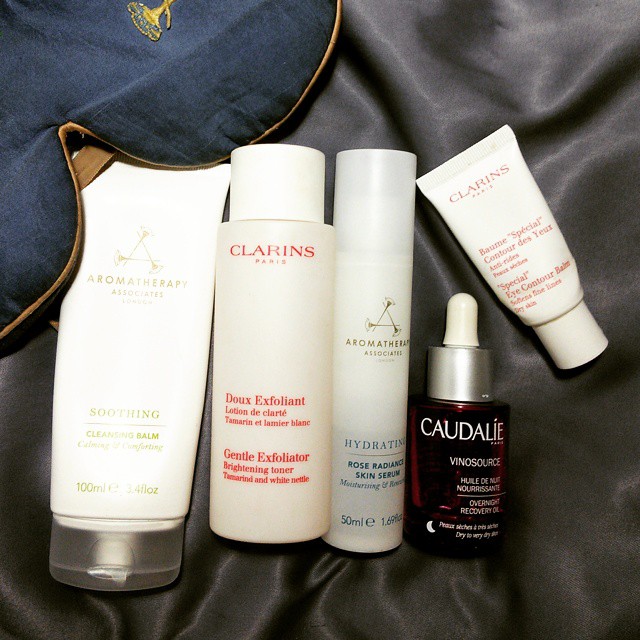 As I was getting ready for bed today, I though I'd take a quick pic of the products I used:
Read More
My already very dry skin feels even more dry and tight after winter periods. This is why I love using oil infused beauty ranges in the shower to prevent it from drying out even more. Followed by moisturising and nourishing creams, of course.
Here are three products that I have been loving:
Before I start, I have to say that all three products have some things in common: subtle oriental'y scent which is really lovely and affordable price tag.
Garnier Oil Beauty Oil-Infused Nourishing Scrub (Review)
This scrub buffs away dead skin cells and at the same time nourishes the skin. I actually have all three products from this Garnier range (scrub, cream and body oil) and love them, and even converted some of my friends. Effective and not expensive.
Yves Rocher Oriental Shower Oil Review (review)
This gel turns into
Read More
I have been travelling quite a lot lately just for the weekends And, although you still want to get everything you may need, taking full-sized products is not the best option.
This is why I've kept a lot of mini-sized bottles and sample sized tubes/pots to re-use them. Here is an overview of what I like taking with me for a weekend-away.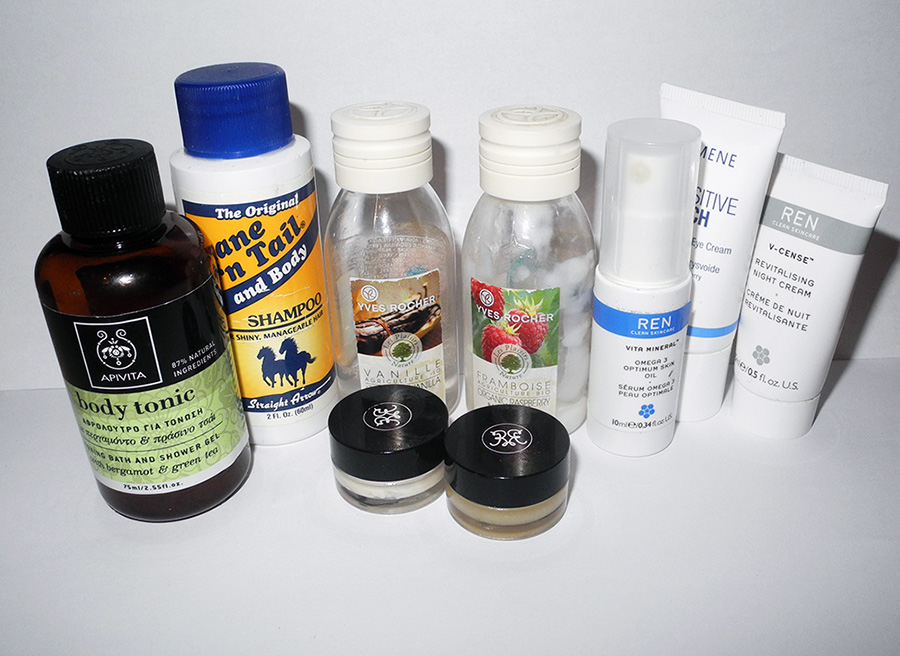 Cleansers:
1. Micellar Water (in Yves Rocher vanilla bottle) – this is Garnier's one to remove my makeup. It is gentle and effective.
2.  A good cleanser, Balance Me Cleanse and Smooth Face Balm  – my favourite one at the moment (in a small pot).
Face Creams:
3. Day cream is REN Evercalm Global Protection Day Cream which is in a small pot, next to the cleanser. I've bought it some time ago, and should definitely review it soon.
4. Eye cream is Lumene SENSITIVE Comforting Eye Cream. It is not bad but not enough for my very dry skin.
5. Of course, I had to take the mini size of  my Holy Grail oil from REN.  I have re-purchased it three times, and if I could have only one skincare product -this would be it.
6. The night cream is also from REN, and it
Read More