Here is a preview of Givenchy Spring 2012 makeup collection. This collection is all about fresh and pastel shades for eyes and juicy red lips. Very interesting combination from Nicolas Degennes.
This collection includes:
Le Prisme Yeux Quatuor Bucolic Blossoms N° 79 – £35.00
An eye shadow palette where Brown is for wood and soil. Green for tender grass. Pink for the tenderness of fruit tree blossoms. Mauve like the first blues of Nature awakening. Pearlescent for the freshness of its light.
Le Prisme Visage Bucolique in Bucolic Blossoms N°1 – £36.50
Unique Compact Powder – Spring Glow. Bucolic Blossoms compact powder illuminates all skin types with a light, energizing and glowing veil. Its micronised texture enables deep colour inlaying and an outwardly "blurred" makeup effect, in perfect harmony with the rural and pictorial world of this collection.
Le Prisme Blush Bucolique,  £31.00
Bucolic Rose N° 1
Bucolic
Read More
YSL Spring 2012 makeup collection is all about our favourite candies, pastels and girly shades.
Here is what  Lloyd Simmonds, Creative Director Yves Saint Laurent Make-up, says about it himself: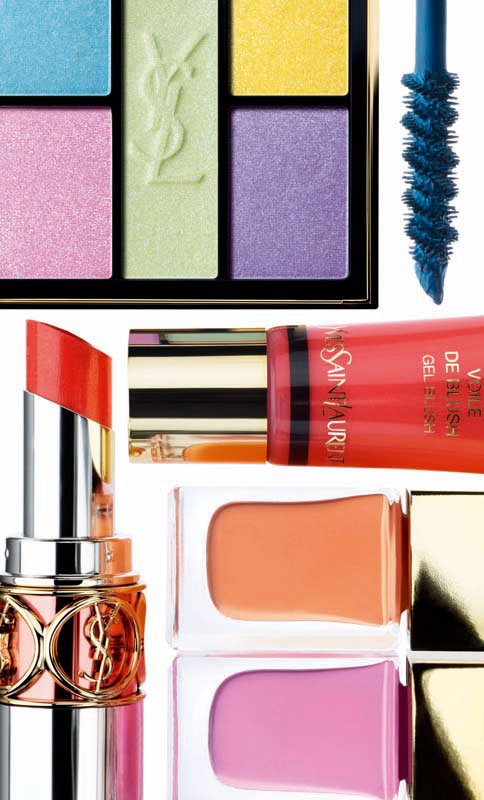 "The gleam of an infinite profusion of dazzling fruit jellies, translucent raspberry and wild strawberry, mandarin orange, melon, mango and persimmon bring a gorgeous flush to the Yves Saint Laurent woman's face. Her smile is as bright as shining sugared drops and syrups: shocking cherry, tangerine, grape and pomegranate, crystallized rose petals, mint and chocolate."
The star product of the collection is Vinyl Candy Palette, £39/ €55
It was inspired by the box of candies.  You get a beautiful pink compact with golden YSl logo with four shades inside:
2 pearly eye shadows: luminous raspberry and lilac subtly infused with pearly pigments.
2 satiny eye shadows: blackcurrant and rose petals play up the magic of chiaroscuro.
Lloyd Simmond's tip: "There are various ways to modulate the intensity of the color: with the brush, to diffuse a vaporous, smoky halo or with the foam applicator tip, to create a lustrous hue, or to mute the iridescent effect".
Ombre 5 Lumieres No13  (House of Fraser exclusive, LE), £39.50/ €57
Voile De Blush, water-based, transparent and moisturizing gel blush £28/ €38
Read More
This Spring Guerlain's makeup collection is all about the pink and the black. It is even the name of the collection actually – Les Roses Et Le Noir.
You can see that even the promo image with Natalia Vodianova is all about the pink and the black!
The star product of the  collection is the  MÉTÉORITES CRUEL GARDÉNIA which is  an Iridescent Illuminating Powder. It is a limited edition obviously, and retails for £41.00 / €55.00.
The other big release is the new  Noir G mascara which you can see on the promo photo, by the way. It comes in the similar case as the Rouge G lipstick.
Here is what Guerlain says about the mascara:" Pull: there is a click and the mirror is revealed. Twist: a sleight of hand and a brush appears. Noir G is refillable to belong to you and no-one else. Pull the top to reveal the refill. Just trigger a secret click on the top of the cap to release it… And insert another. "
This mascara should give us three-dimensional result, according to the brand, it should be volumising, lengthening and curling.
There is also a very interesting detail! Here is how the scent of the mascara is described:" The softness of flowery peach, the crispness of green vegetables, the opulence of rose and jasmine, the sensory pleasure of benzoin and white musk… "
NOIR G DE GUERLAIN £35.00 / €47.00
NOIR G DE GUERLAIN – REFILL £19.00 / €25.00
There is also a new ÉCRIN 6 COULEURS palette,  £53.50 / €73.00
 66 BOULEVARD DU MONTPARNASSE  four tones in a gentle harmony of flesh pink, pearl mauve, tea rose and tender violet to illuminate the iris, the liner frames the eyes in intense plum.
Two new variations of ÉCRIN 4 COULEURS £37.00 / €51.00
11 LES ROSES: IRIDESCENT frosted pink with
Read More
Christian Dior once said: "After women, flowers are the most lovely things God has given the world."
Mr. Dior used to have amazing parties which were called  "Grand Balls of the Century" at his rose garden in Normandy.
And this Spring Tyen, isnpired by the beautiful flowers from the garden,  created the Garden Party collection full of pastel lilac, rose and lime shades decorated with stunning floral prints.
This collection inludes:
Dior Garden Clutch (Limited Edition), £55.00
001 Milly Garden, pays tribute to the couturier's country house, and presents a contrast of pink and silvery blue with a violet-tinged grey for the eyes and fresh pinks to enhance the lips.
002 Granville Garden, leads you down to the cliff-top rose garden, revealing precious pink and pale green shades accentuated by a deep brown, to emphasise eyes and complement the apricot-tinged, "pink kiss" lip shades.
5 Couleurs Garden Edition (Limited Edition) £41.00
441 Garden Pastels, harmony, which floats between flowers and foliage with its pale pink, buttercup yellow and luminous greens.
841 Garden Roses, harmony, which is a vision of romantic pinks, Parma violet and silver, accentuated by a dramatic purple.
3 Couleurs Smoky Eyeshadow £32.00
461 Smoky Garden (Limited Edition)
961 Smoky Violet
Rouge Dior Haute Couleur £22.50
363 Corolle Pink (Limited Edition)
448 Tulip Pink
Dior Addict Ultra Gloss £20.00
152 Socialite Pink (Limited Edition)
369 Party Lilac (Limited Edition)
452 Pretty Rose
Rouge Dior Serum de Rouge £25.00
Read More
We continue  our preview of the Spring 2012 collections. And today we will take a look at Giorgio Armani's  Luce makeup collection.
The face of the collection is Megan Fox and I really love the makeup she is wearing, so fresh and pretty!
Linda Cantello on the  collection: "The darkness of winter becomes the glowing light at spring."
This collection is about the pastels, as well. It is inspired by Mr. Armani's love of light.
This collection includes:
Eye Palette 1 Pearl Violet Jade Green Sheer Gold Greige, £49.50
Eye Palette 2 Grey Metal Fibre Copper Pigment Crystal Brown, £49.50
Sheer Blush in
Read More