Here is a weekly update of the new products for face, lips and eyes that caught my attention, and are worth the purchase, in my opinion.
theBalm Meet Matt Trimony Matte Eyeshadow Palette, $42 Nordstrom and ASOS.
theBalm eye shadows are brilliant (my reviews here and here), and I am loving the look of the new matte palette which is the third  in the  Meet Matt line. There are nine new shades: Matt Lin, Thomas, Rossi, Lopez, Kumar, Moskowitz, Evans, Reed and Ahmed.
Benefit Benefit Cosmetics Dew the Hoola Soft Matte Liquid Bronzer, $28 from Sephora
As I've already said,  it will be all about
Read More
Here is a preview of the newest beauty launches that caught my attention this week for: Face, Eyes and Lips.
Bite Beauty Amuse Bouche Lipstick, $26 from Sephora
Wow, look at all those shades!  Black Truffle (Black Violet) and Liquorice (Oxblood) look killer, I need.
"Swipe on bold, creamy lip color  created and crafted by hand, Bite's small batch, low-heat process preserves a balanced blend of lip-quenching nutrients, vitamins, and omega oils that are essential for achieving healthy-looking lips. Made with 12 edible oils and triple milled pigments, this lipstick provides saturated lip color with weightless coverage and a citrus flavor made from fresh pressed fruit."
theBalm Batter Up Eye Shadow Stick, $17/£15/€18.50 from Nordstrom and ASOS.
"Long-wearing cream
Read More
There are a lot of new eye shadow launches, and I have picked four that caught my attention.
Let's take a look:
Dior Eye Reviver Illuminating Neutrals Palette, Backstage Pros Collection ( $62 from Bloomingdales or Nordstrom)
As seen at the Dior's SS15 Couture Show.This is a palette which contains shadows base, four illuminating eye shadows and a gel liner. Everything you need for a complete eye look.
Too Faced Natural Matte Neutral Eye  Shadow Collection, $36 (will be available from Sephora)
According to the brand, this is a matte version of their
Read More
When I first heard that theBalm were about to launch a palette called Nude Dude, I actually thought it was a joke.  I highly recommend that you do not google "nude dude",  as I did, trust me on this one. Now, I am hoping that I won't get wrong kind of audience with such title…
But actually it is true!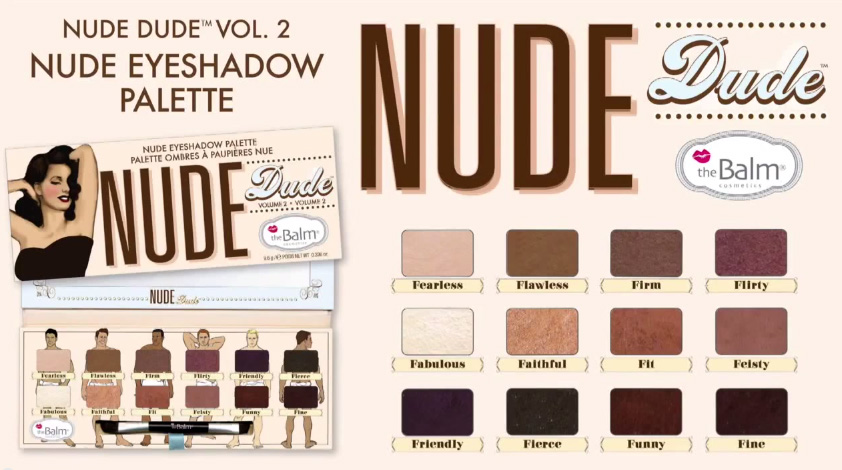 Here is a close up. You get twelve neutral eye shadow shades. I really love the look of
Read More
Remember the original Meet Matt(e) palette by theBalm? Well, guess what? The brand just released the new version which is called Meet Matt(e) Nude.
And I think I need it. You get nine nude matte eye shadows.  I can already see that I don't have several shades in my collection. Plus it's not that easy to find good quality matte eye shadows, and theBalm's definitely are!
The actual photo of the palette is from theBalm's Facebook page
So far you can only pre-order this palette at their official website for $42 (they'll ship on the 18th). But I do hope that the lovely Matt(e) will make it to Feel Unique, as most of theBalm's palettes do.
Read More