I have already mentioned the I am very pro-toner! And, although, skincare is something that I personally don't mind investing in, I perfectly understand that not everyone wants/can.
This is why I have been on a mission to find   good toners that won't break the bank. I have already featured one of them from Yves Rocher.
And today I'd like to share about my other discovery – Lumene Soft Touch Hydrating Toner.
Being a Finnish brad,  it  made me have big hopes about this product, and I wasn't let down.
As the name suggests, this product is soft and hydrating, it is not a plain liquid, it is like a mix between toner and a lotion, in my opinion. It feels gentle on the skin, and I can tell that it definitely is not just "another" step in the routine. It does make a
Read More
I've picked up  the Yves Rocher's Nutritive Vegetal Velvety Toner for Dry and Very Dry Skin  several weeks ago because I've heard some amazing things about it, and wanted to try a new toner anyway.
And it did not disappoint.
It is a great transitional product from cleanser to serum/oil/moisturizer/whatever you use next.  I like how it calms, soothes my skin, and leaves it soft. Plus it doesn't irritate or dry it out, even when it's very cold outside.
I don't really know what else is there to say about a toner, besides that it smells nice and I like the cheerful orange colour of the bottle.
If you have
Read More
I have already tried two Clarins toners, their famous Toning Lotion with Camomile for Dry and Normal and Daily Energizer Wake-Up Booster and today I want to tell you about their  Extra-Comfort Toning Lotion for Dry and Sensitive Skin which I've picked up several weeks ago.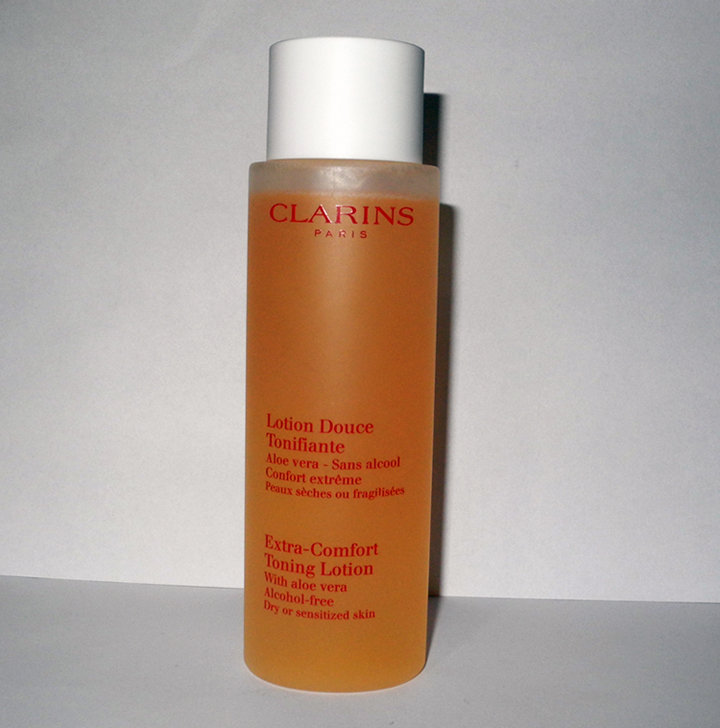 And, oh my goodness, this is the best toner I have ever used! It is not even a toner but  a toning lotion, as the brand describes it.
It is very gentle, soothing and refreshing at the same time. I use it after  my Extra-Comfort Cleansing Cream (review later) and love how my skin feels afterwards.  This tonic lotion is also calming and
Read More
If you can't decide if you should or should not use a toner I suggest this post at BeautyMouth.
I personally use a toner and right now I am using two: Elemis Soothing Apricot Toner  and Clarins Toning Lotion with Camomile for Dry and Normal Skin.
I know that this Clarins toner is a favourite of many people and I can understand why. It is gentle, doesn't dry out the skin and leaves it fresh, clean (when used after a cleanser obviously) and ready for the moisturizer.
I also love the camomile scent and the yellow bottle.
 The key ingredients are: Bio-Ecolia:
Read More