Today is a very special day! First of all, it's Valentine's Day, and, for the first time ever, I am very excited about it! The reason? Makeup4all turns 5 today, and I am very happy and proud.
So, I thought today I'd share some random facts about the website.
Roses from Pinterest  and the lip print shirt is a lill' something I've bought for myself, as a present.
How And Why It All Started
 I often get asked why did I even start this all.  It is hard to believe but… it was my boyfriend's idea! Yes, really. I was always a bit obsessed with all things beauty, in fact, I am a trained Make-Up Artist, and would always go on, and on about it all. That's why he suggested that I'd start writing my thoughts on-line.
I did not read any beauty websites or blogs, and did not even know that  they existed or were a thing.   At first I did not really know how or what I should do, but I kind of enjoyed it, and decided to keep on going. Well, I am so happy I did.
By the way, the first two blogs that I discovered and  still follow are Jane's British Beauty Blogger and Karen's Makeup and beauty Blog.  You can read their interviews here.
 Most Exciting Moments
I remember I would spend almost all of
Read More
Today is a huge day for me, as Makeup4all turns FOUR!!!!
It's hard for me to believe it, as I usually don't think I ever had a hobby for such a long time. If fact, this hobby is now a huge part of my life.
I really wanted to have a little thank you giveaway but things were a little hectic for me both work wise and I had to solve some other things, so I am very sorry about that. But I promise to treat you to something nice soon 😉
Oh and by the way, Happy Vday. Although I am not the one who celebrates it, the fact that "my baby" is four today makes me LOVE 14th of February!
I hope you have planned something lovely for this evening . And thank you very much for all the support, it means a lot.
Love, Marina
Read More
Like it or not, but Valentine's Day is almost here and it seems that almost every girl I know is obsessed with finding a nice red lipsticks. I can't even tell you how many times during the last several weeks I've been asked about the best red lipstick, and how to wear it…
Plus so many brands have  realised  mini collections with red lipsticks and nail polishes. It seems that red is everywhere. Have you seen this cover of Vogue UK for March?I love red but I wish they used the other colour for the background as it is a bit too red even for me…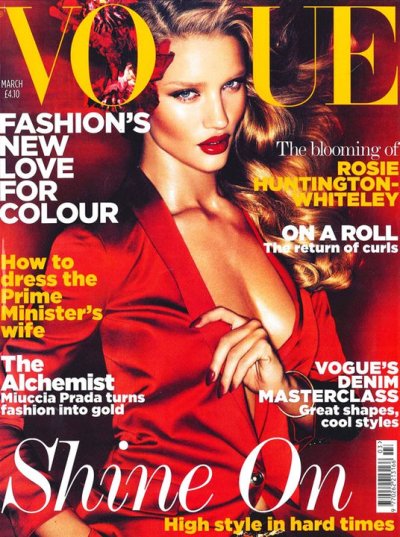 My friends are obsessing about the red lipstick because they actually want their husbands/boyfriends to like it. But do men like red lips? I was really curious to find it out so was asking everyone I could  and asked you on Twitter and Facebook to help me out. So here are some of the responses that I've got:
Read More
Yesterday Illamasqua showed us their Valentine's collection on their blog which will be available soon but you can already join the waiting list on the website.
The collection is called Throb and it has a stunning promo image (as usual I'd say) and some gorgeous reds! Mmmm… reds!
I also like how the collection is described:
"Feel your pulse quicken, your heart throbbing in your chest. The Throb Collection is Illamasqua's latest offering at the altar of beauty, guaranteed to make you gasp with pleasure."
And here is the list of products that were used on the model:
Cream Foundation 100
Rich Liquid Foundation 115
Powder Foundation 105
Powder Blusher in 'Disobey'
Powder Blusher in 'Intrigue'
Pure Pigment in 'Furore'
Powder Eye Shadow in 'Heroine' on cheeks and eyes
Powder Eye Shadow in 'Sex'
Cream Pigment in 'Emerge' ** NEW for SS11 collection! ** (Can't wait to see it!)
Eye Liner Cake in 'Mislead'
Sealing Gel for eyebrows
PI in 'Abyss'
False Eye Lashes '021'
The products are:
Lipstick £15.50
Enjoy the power of being an unashamedly brazen femme fatale with blood red Sangers Lipstick.
Read More
Every time when I think that I can't love Illamasqua even more I understand that I am wrong! Look at this set! OMG!  No pink flowers, hearts, roses and bears only sexy black with the hot red!  Do I have to say that this MUST be mine!  I can't see it on-line yet but it should be any day now!
Check out the photo of the products
Read More