I am very sorry that there were no posts last week. There were some major problems with the server and I was away for several days so could not deal with that.
I actually did schedule the posts for the whole week but they all were erased. I will try to re-write them at some point…
There is so much I want to tell you about but I will  start with showing you what makeup I took with me when I was away. I personally really love such posts so hope you will enjoy it, too.
I am actually VERY impressed with myself as I did not take a lot of unnecessary products and packed only the essentials. I wanted to have at least some variety but without taking too much.
Here is what I took with me:
Face
1. Yves Saint Laurent Touche Eclat. I always have it with me!
2. Mini High Beam from Benefit. I really love miniatures for travelling.
3. I always try to take foundations in small pots and the bottle usually takes a lot of space.  This is Daniel Sandler's Invisible Radiance Foundation.
4.BECCA Compact Concealer in Latte. I actually can't believe that  haven't writtena bout it yet. Will have to do it soon.
5. Daniel Sandler Watercolour Creme -Rouge Blusher in Hot Pink. My must-have, adore it!
6. Jouer Cheek & Lip Tint in Petal.
7. Clarins Bronzing Duo SPF 15 Mineral Powder Compact in Light. It is from the summer 2012 collection. Will write about it later.
8. Clarins Beauty Flash Balm. One of my favourite products ever.
Eyes
1. Benefit Stay Don't Spray  primer. Great product, will write about it later.
2. Inglot  AMC Eyeliner Gel Matte in 90 (dark brown). This one is awesome, review to come!
3. Colour Quartet & Liner Palette. This is a part of summer 2012.
4. Shiseido Eye liner Pencil Duo in  Moonscape. I don't think this one is available any more which is a shame as it is brilliant.
5. Lancome Le Crayon Khol in Brun Noir. Another must-have for me.
6. Clarins Kohl Kajal in 01 Black. Part of the summer 2012 collection.
8. Anastasia Lash Genius waterproof mascara top coat. I can't imagine my life without this product now!
9. 17 Clear Definition mascara. I use it for my eye brows.
10. Benefit Instant Brow Eye Brow Pencil. A staple in my makeup bag.
11.  shu uemura eye lash curlers. Cult product!
Lips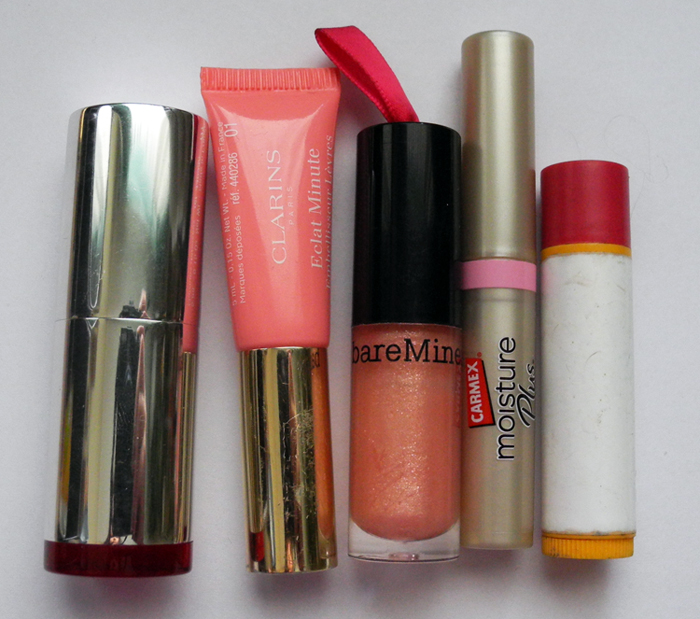 1.Clarins Instant Smooth Crystal Lip Balm in Crystal Red. Part of the summer 2012 collection.
2.Clarins Clarins Instant Light Natural Lip Perfector 01 Rose Shimmer (mini). I love it.
3. Bare Minerals  natural lip gloss in Pink Prosecco (mini). This is one of my favourite glosses so I have no idea why there is no review about it yet. Will try to fix it soon.
4. Carmex Moisture Plus in Pink.
5. Burt's Bees Lip Balm in Pomegranate. It lives in my bag as you can see.
Brushes
1. Sigma Round Kabuki F82. I really love Sigma Kabuki brushes and will definitely write about them soon.
2. Daniel Sandler blush brush. One of my favourite brushes. I use it a lot.
3. MAC 217 brushes. The best blending brush ever.
4. MAC 239 also a great brush from MAC.
5. BM Beauty  123 brush.  Brilliant eye brush!
6.  Sigma Eyeliner E11. Will write about the Sigma eye brushes later.
7. Sigma Waterline Liner E17
8. Sigma Smudge E21
9. Japonesque Retractable Lip Brush. Great brush for the makeup bag.
I hope you have enjoyed this post and it's nice to be back 🙂