Here is a preview of Armani's Easy Chic makeup collection for Autumn 2012.
"This autumn, Giorgio Armani reinvents texture with his unique vision of color, contrasting fabrics and shapes to play off a masculine aesthetic against elegant femininity. Perfectly harmonized shades are revisited in a neo- classic way to add a sultry decadence to eyes". Linda Cantello, International Make Up Artist for Giorgio Armani Cosmetics.
The star of the collection is the new Aramni palette (£60/$ 88), featured in a black lacquered double- tiered case with a magnetic closure inspired by Rouge d'Armani lipstick.
On the first tier – a feather light face powder with micronized particles of Micro-Fil technology which illuminates the skin. On the second tier – two matte eye shadows in intense hues and a satinized illuminator formulated with new Color-Fil Technology.
There are two variations:
The Neo Black palette: an ultra- fine transparent face powder in Sheer Beige is teamed with Soft Beige, Taupe and Jet Black eye shadows.
The Neo Brown palette: a Sheer Rose blush partners with Greige, Brown and Earth Brown.
Besides the palettes, there are three new shades of Rouge D'Armani (£25 /$30): 111 Vintage Pine,  526 Rosewood Red and  408 Purpleheart.
And two new shades of Waterproof Eye Pencils in (£19 /$28) in Granite Black and Earthen Brown.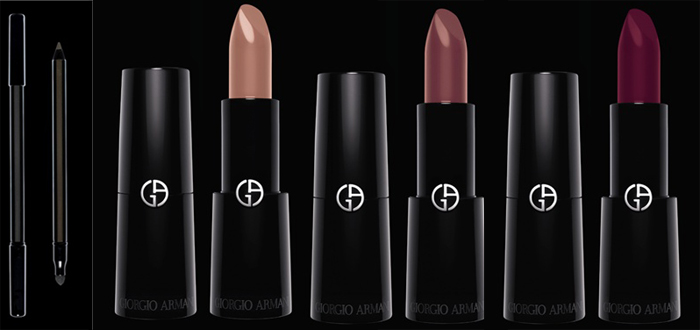 The collection is already out in the US, in the UK it will be available nationwide at all Giorgio Armani counters from 1st September 2012.