I love me a relaxing/anti-stress/calming/you-get-the-deal roller balls which I can carry in my bag.  And today I want to share about three which I am currently using.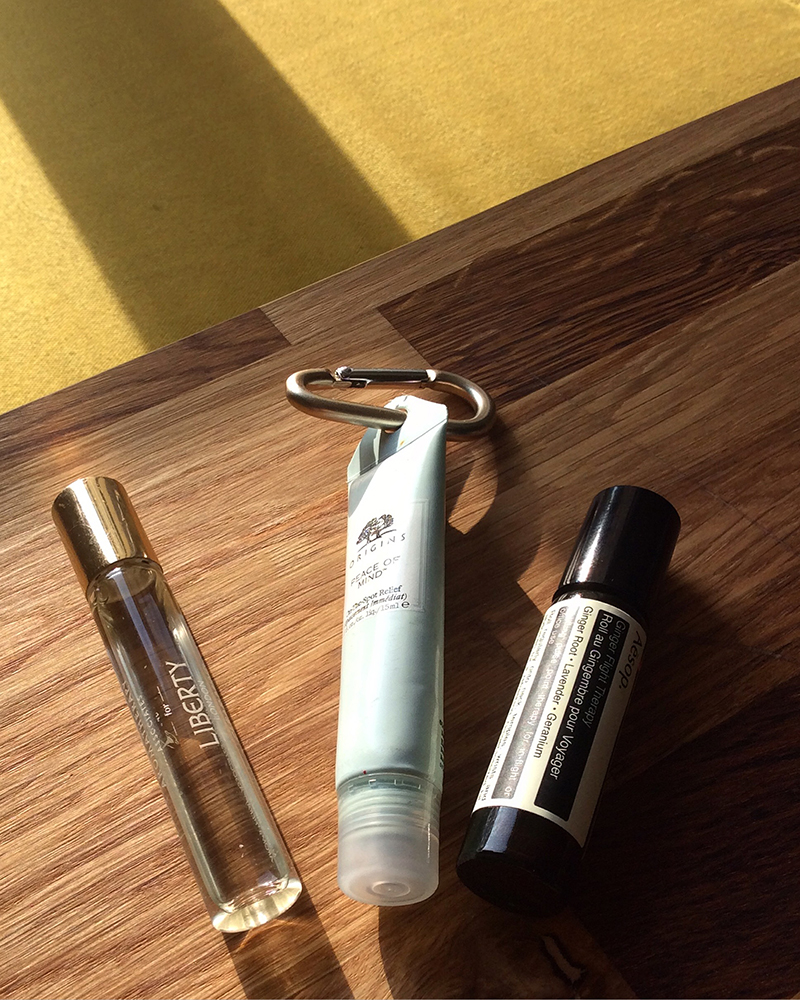 Origins Peace Of Mind On-The-Spot Relief,  ($14 on the website) 15 ml  from Amazon UK and Amazon.
This is the most affordable one out of three, and it is my second tube of this gem. I also find that this is the strongest  one out of them all. Origins suggest dabbing some on the back of your neck, temples and earlobes.  And it has that instant calming and cooling effect thanks to the eucalyptus and peppermint. Some of my friends who were skeptical about it tried and were converted.  Unfortunately, the roller ball was a LE and it comes in a little bottle which is not as convenient (I had it before).
Aesop Ginger Flight Therapy, £23 from Cult Beauty, Selfridges,  Nordstrom and Saks
While I did get it for the flights I have to confess that I've almost used it up as got addicted to using it before bed. It smells of ginger root, lavender and geranium and I find it both relaxing and invigorating. While it is great before bed, it is also a great scent to awaken your senses during the day.  Just be careful not to stain your clothes as it is very oily.  Besides the effect, I love the cool Aesop aesthetic. This is the most expensive roller ball out of three.
AROMATHERAPY ASSOCIATES Clear Mind Rollerball 10ml £18 from Liberty
Clear Mind smells of Chamomile, Lavender, Frankincense and Bergamot essential oils.  I am a huge fan of AA in general but I think I would love the deep relax roller ball more. However, I do enjoy using it and I love the chic and simple glass bottle with the golden lid.
Also I have to mention that, although these are only 10-15 ml, they last for a while since you only just need a tiny bit.
Since I have almost finished Origins and Aesop, I have my eye on   NEOM
Perfect Night's Sleep Pulse Point (which is only £8  for 5 ml) and ANATOMĒ
Recovery & Sleep Rollerball – Classic Essential Elixir (  £22 for 10ml ).
I also like This Works and Cowshed sleep ranges, they are worth checking out. I had the pillow sprays which were great but there are also roller balls.  And if you want to splash that cash, there is de Mamiel Soothe one (and other scents) – you can get it for  £40 from here. I actually heard very good feedback about the brand, so maybe one day…