I absolutely love this ArtDeco collection and would like to get quite a few products for myself (if not all of them). I love the turquoise, cobalt, green, gold and borze shades. Perfection!
Collection includes:
Bronzing Powder Compact ART DESIGN 11
Water-repellant bronzing powder with SPF 15
Sun Glow Bronzing
Sunset Bronzing
Travel Kabuki
Kabuki brush for Bronzing Powder Compact SPF 15 as a travel size
Beauty Box Trio "Aqua Glow Bronzing"
Magnetic box for eyeshadows/blusher in limited design
Beauty Box Duo "Aqua Glow Bronzing"
Magnetic box for eyeshadows in limited design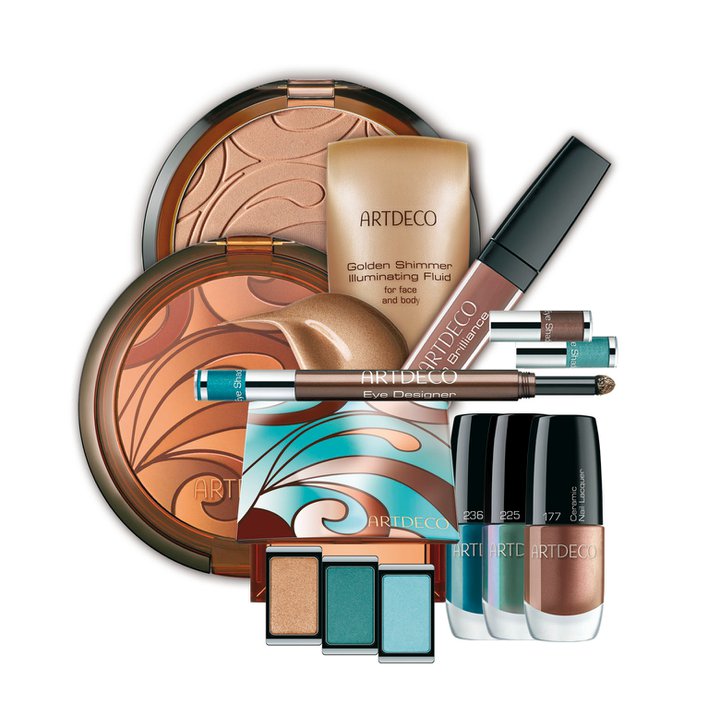 Eyeshadows – duocrome (powder eye shadows in iridescent duocrome colours) and pearl(powder eyeshadows in shimmery pearl shades)
12 Chocolate Cake
25 Beach
57 Tropical Green
59 Caribbean Green
257 Clear Water
263 Venetian Blue
Eye Designer Applicator "Aqua Glow Bronzing"
Double-sided applicator pencil for the Eye Designer Refills in limited design
Eye Designer Refill
Refillable powder eye shadow cartridge
20 Hot Espresso
34 Shimmering Gold Mine
54 Cobalt Turquoise
60 Green Lagoon
62 Moons Reflection
68 Deep Atlantic
Ceramic Nail Lacquer
Nail lacquer with patented ceramic nano particles
177 Pure Bronze
179 Shimmering Ivory
225 Rainbow Green
229 Reflecting Algae
236 Deep Aqua
242 Juniper Blue
Lip Brilliance
Long-lasting lip gloss
23 Brilliant Sweet Candy
61 Brilliant Sweet Raspberry
Golden Shimmer – Illuminating Fluid
Fluid with gently simmering gold particles
High Protection Lip Stylo
Lip protection with SPF 30
Spray on Leg Foundation
Tanning spray for the legs
This is a gorgeous collection with affordable prices from €4.80 for eye shadows to €19.50 for the bronzing powder
Do you like this collection as much as I do? What would you like to get?