After playing with my new ChaCha Tint for some time I can finally write my thoughts about the product.
It should be available here very soon now, but it's already available in the US for $29 (for 12.5 ml). I've asked my friend to get me this set which was an amazing deal in May.
To tell the truth, I didn't even plan to get the ChaCha Tint, as I  want to get try the Posie Tint finally but I couldn't miss such a great deal since I was getting some products from the US back then anyway.
I have to say that I really regret that I never ordered this set, I have no idea what I was thinking about.
But back to the ChaCha Tint… I really like the  design and the package, it is so Benefit and looks great for summer.
It is described as a mango-tinted stain for lips and cheeks and  I agree with the description. It's just a shame that it doesn't smell like mango, too.
I know that that the formula is compared to the Posie Tint and according to swatches I can also see some similarities. But, as I have only Benetint, I can say that ChaCha has a thicker and more gel-like consistency.
The colour looks really intense in the bottle and it really is, so you have to blend it out really well, especially if you have a fair skin like I do. I assume that it would look great on the  dark skin tones and I can't wait to try it on tanned and dark skin tones.
As it is a stain, I would recommend blending it with a brush as it will stain you fingers. I like using Waterbrush by Dabiel Sandler or Foundation brush by N07 but you can just use any brush you want or your fingers but make sure that you wash your hands afterwards. You can also use it on your lips but I like it on my cheeks much better.
Here is the swatch and it looks kind of orange, right? But wait till you see it compared with real orange!
The shimmer you may see on the skin is from this Ilamasqua powder.

Here is just a quick comparison with the some shades from my collection.
Illamsqua Cream Blusher in Rude, YSL Creme de Blush in N° 4 Audacious Orange (review and swatches coming later but I have to say that I LOVE it), Benefit ChaCha Tint, BECCA Beach Tint in Apricot and BECCA Beach Tint in Grapefruit.
Grapefruit Beach Tint in Grapefruit is the closest shade that I have, they look similar but not dupes. On the photo you can't really tell that because Beach Tint has a lighter texture and ChaCha is opaque compared to Beach Tint.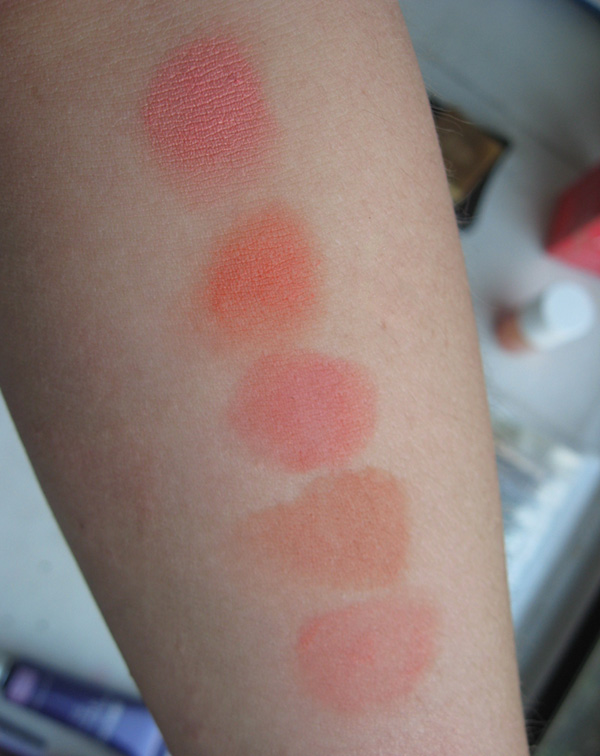 Can you see that the "real orange" is the YSL one?
As for the ChaCha Tint set, I already  reviewed the High Beam which I really love.  I also tried the eye brow pencil and will write about it later. I am also happy that I will finally try the famous BADGal mascara. I've actually bought a brown one last summer but I've managed to loose it somewhere, so hopefully this time I won't.
So what do I think of ChaCha?
I think Benefit fans are going to love it as it's a great product and an amazing addition to Posietint and Benetint.
I can't wait to use it on different skin tones this summer! Just be careful when applying if you have a fair skin tone.
And, yes, I can't want to try Posietint!