I have several products from a cruelty free BUAV approved  cosmetics line called BM Beauty to show you. You can read all the details about the brand, products and ideas behind them on the brand's website.
On the photo below you can see: Mineral Lip Gloss  in Nude, Mineral Eye Shadows in Marble Sparkle  and Wolf Howl, Eyeshadow Brush 123 and Mineral Foundation in Naked.
I was actually surprised at how much I loved the line.  I like the affordable prices and the fact that there are not that many products so that you don't get overwhelmed.
Out of the  five products that I have I loved the eye brush and the lip gloss the best so I will start my review with those products.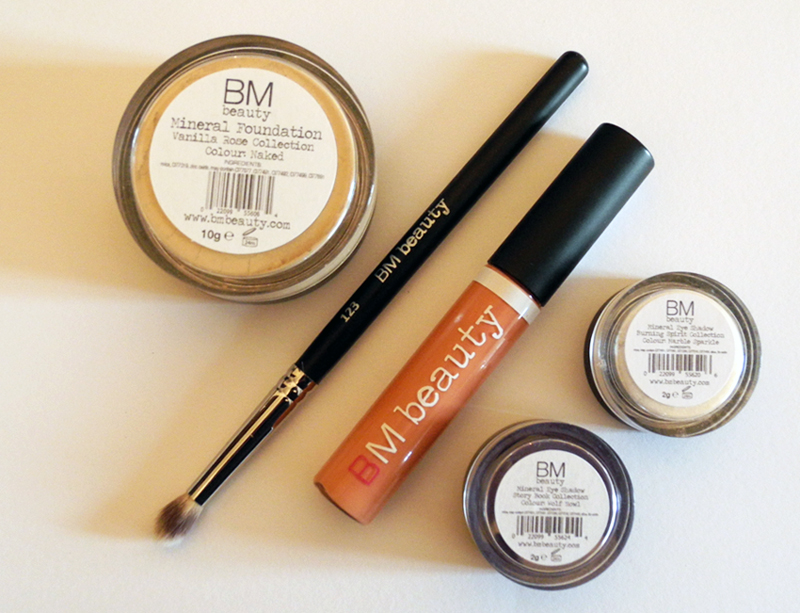 Eyeshadow Brush 123 (£8)
This is just a brilliant brush. I've actually added it to my personal brush collection and I use it a lot.
It  is an 'oval shaped brush with densely packed, super soft fibres'. I love using it for the crease and for the blending the eye shadows on the lower lash line. I like it more that MAC Pencil Brush (219) for a more precise work but would not compare it to MAC Blending Brush (217) as 217 is bigger and fluffier so is better for blending.
MAC 217, BM Beauty, MAC 219
BM Beauty 123 Brush is pretty firm so it gives you a lot of control. And it is only £8!  Brush length in total 150mm. Handle length 135mm. Bristle length 15mm. I am very impressed.
 Mineral Lip Gloss in Nude (£12)
I have never tried a mineral lip gloss before so I have nothing to compare it with. However, I am really impressed with the BM Beauty one as I don't own anything similar.
The formula is non sticky and  moisturizing, the colour is beautiful – it is a perfect nude which  gives a nice coverage. It's the finish that I find interesting, it is glossy and smooth but is kind of 'velvet' at the same time. I don't even know how to describe it but all I know is that it is fantastic. I hardly ever wear nude lip products but this one rocks my world!
 Mineral Eye shadows (£7) in  Marble Sparkle  and Wolf Howl
I have two eye shadows: Marble Sparkle which is a glittery greyish white and Wolf Howl which is a blueish purple.
You get 2g in a 9ml sifter jar. It is written that BM Beauty mineral eye shadows are free from parabens, synthetic dyes and fragrances, fillers, bismuth oxychloride, nano particles and animal products.
I find these eye shadows pigmented and easy to work with. The go on smoothly and blend easily. You can use them all over the lid, built up the colour by layering or mix with water for a darker and more intense effect.
There are sixteen eye shadows in BM Beauty line and I really like the look of Aquatic Galaxy, I should probably get it at some point later.
Above you can see the swatches with the flash and below in natural light.
 Mineral Foundation in Naked (£ 14)
I don't use Mineral Powders/Foundations as they don't work for me so I can't tell you anything about this one. But I did find a review over at Visionary Beauty. Sounds like a great product!
You get 10 gr of foundation in a jar.
BM Beauty also provides samples which are 0.75g for £1.25. They also ship Worldwide; the prices are: UK £2.50, Europe £3.50, Rest of the World £4.50.