Every year I say that holiday beauty launches are the best. Why?  You can get  value sets from your favourite brands, and save some money; or you can get a kit from a brand that you've always wanted to try, and that will give you an idea about the quality and the performance.
What else? You can buy a set of glosses/liners/nail polishes, leave some shades for yourself, and give others to your girlfriends.
You just can't go wrong! And here is a preview of the Bobbi Brown's beauty offerings for this Christmas.
 Deluxe Lip & Eye Palette ($80). Comes in a  tortoise shell palette and includes different shades of Creamy Lip Colors and Eye Shadows. You also get a mini Eye Shadow and Lip Brush.
 Lip Gloss Trio ($48). Lip Glosses in Pink Sunset and Pink Pop, Midnight Violet High Shimmer Lip Gloss.
Copper Diamond Shimmer Brick ($45), warm golden hue, comes in a tortoise shell case.
 Warm Eye Palette ($48.50). Matte shades in Bone, Malted, Sable and Espresso; Metallic Eye Shadow in Champagne Quartz; Sparkle Eye Shadow in Gold
 Cool Eye Palette ($48.50). Matte shades in Ivory, Stormy Grey, Almond and Smoke; Metallic Eye Shadow in Pink Quartz and Marble.
 Mini Lip & Eye Palette ($30).Two shades of Lip Color, High Shimmer Lip Gloss, three shades of Eye Shadows in Ivory, Cement and Black Chocolate.
 Bobbi's Chocolates Long-Wear Eye Trio ($65). Long-Wear Cream Shadow in Bronze Sugar and Praline; Long-Wear Gel Eyeliner in Dark Chocolate.  Mini Dual-Ended Cream Shadow/Ultra Fine Eyeliner Brush.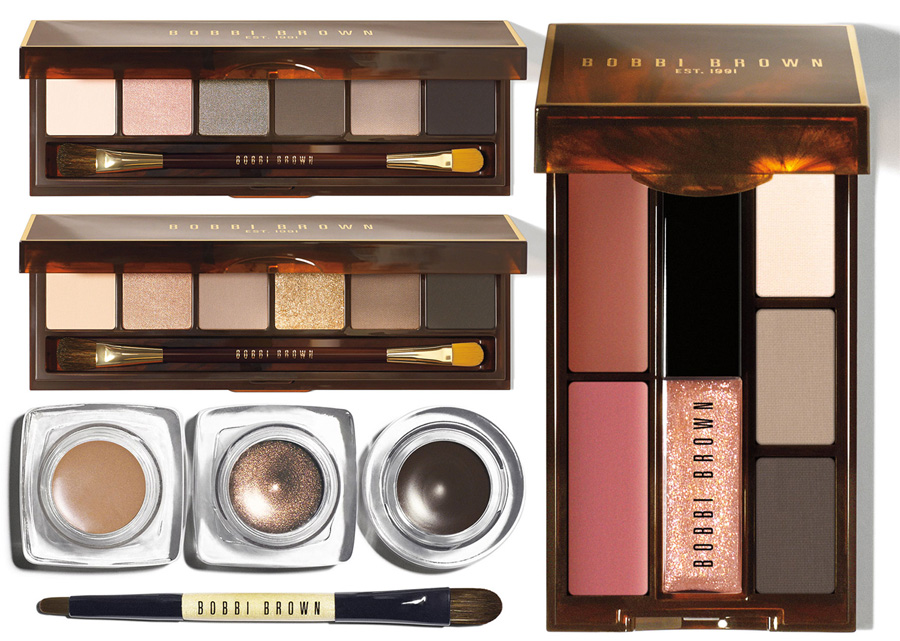 Besides the shades that are shown above there will be a Brush Set,  Lipstick Trio and  a Trio of Long-Wear Cream Shadow Sticks.
All the products are are already available from Neiman Marcus and later will be available from Selfridges, Nordstorm. and other retailers.