Bobbi Brown  released quite a few new products and collections, let's take a look at some of them.
There is a new Nectar & Nude collection, which, as the name suggests, is all about the peach, coral and nude shades.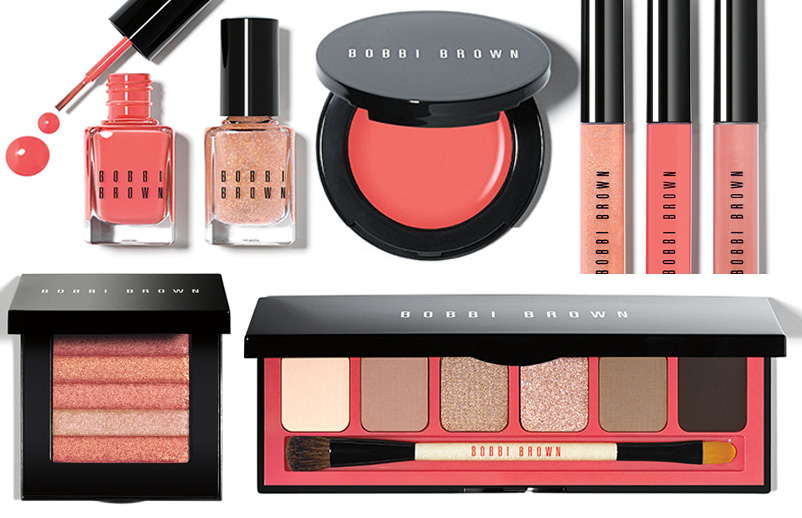 This collection includes: Nail Polish in Nectar, Glitter Nail Polish in Bare Peach, High Shimmer Lip Gloss in Bare Peach  and Lip Glosses in  Nectar and Nude Pink, Pit Rouge For Lip & Cheeks in Hibiscus and  Nectar and Nude eye palette. All the products are limited edition.
There is also a best seller – shimmer brick in Nectar.
The other collection, and it is gorgeous, in my opinion is  called – Amnesia Rose, which is Bobbi Brown's and L'Wrenn Scott's collaboration.
It icncludes: Amnesia Rose palette (£50):Amnesia Rose Eye Shadow, Silver Lilac Sparkle Eye Shadow, Pink Lilac Sparkle Eye Shadow, Iron Eye Shadow, Ultra Violet Shimmer Wash Eye Shadow, Mulberry Eye Shadow, Desert Rose Pot Rouge, Sand Pink Blush
Four LE Lip Colors(£22) in: Cosmic Lily, Wine, Vintage Red and Heather Mauve.
Long Wear eye pencil in Smoke and Smokey Eye mascara are also presented as a part of this collection.