A true revolution!
The combination of a modern day rock look and an opulent past, polished with time. The style combines poetry and elegance with the edginess of a rock chick look. Bourjois creates a new look based on 3 new products and 11 complementary shades.
Collection includes:
Blush, £6.99/€9.99
Tomette d'or Blush redefines and subtly highlights the cheekbones. Its pinky-brown shade enhanced with golden pigments produces a healthy glow. The complexion is natural but radiant.
Smoky Eyes Eyeshadow Trio, £7.49/€10.99
White gold illuminator with subtle shimmer, a grey-brown and a dark brown shade.
Tips from Bourjois' make-up artist Cassie Lomas.
"For an intense look, use the light shade of Smoky Eyes Trio along the bottom lash line and in the corner of the eye. Apply the medium shade on the entire eyelid and blend to the outer corner of the eye, towards the eyebrow. Use the darkest shade on the centre lashline and blend towards the outer corner, depending on the shape of your eyes".
Liner pinceau, £5.99/€8.99
Noir beaux-arts (32)
Brun impressionniste (33)
Or néo-classique (34)
Its soft brush, fluid formula and 16-hour long-lasting hold makes it a must have. Its fluid texturedefines curves and lines.
1 Seconde Nail Enamel, £5.49/€7.99
1 Seconde Nail Enamel in gris cashmere is grey with a "vintage" finish, once applied to the nails, this pure shade reveals a deep and distinguishing colour. For a more classic but just as refined look, use 1 Seconde Nail Enamel in rouge profound for a striking red.
Khôl & Contour, £4.29/€6.49
Gris ingénieux (73)
Bronze raffiné (79)
Volume Glamour Ultra Black Mascara , £7.99/€1o.99
Sweet Kiss Lipstick, £7.99/€11.99
Brun orné (52)
Brique chic (53)
Rouge intemporel (78)
The satin texture of SWEET KISS lipsticks dresses the lips in elegant and "soft" shades: rosewood, brick red and garnet red. The make-up result is both discreet and sophisticated thanks to the special formula of these lipsticks which reconcile light texture with colour intensity.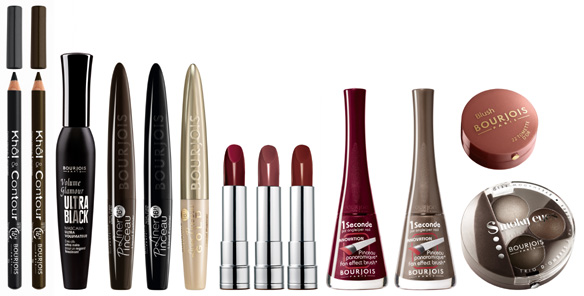 I personally would like to try the new Smoky Eyes Eyeshadow Trio, both Nail Enamels and Or néo-classique liner.