It doesn't really matter if you celebrate  Valentine's Day or not, any reason to get a lill' treat for yourself or someone else would work, right?
So here are just a few ideas of what you could get! By the way, I plan to make my own beauty wish list this weekend, so will definitely share next week.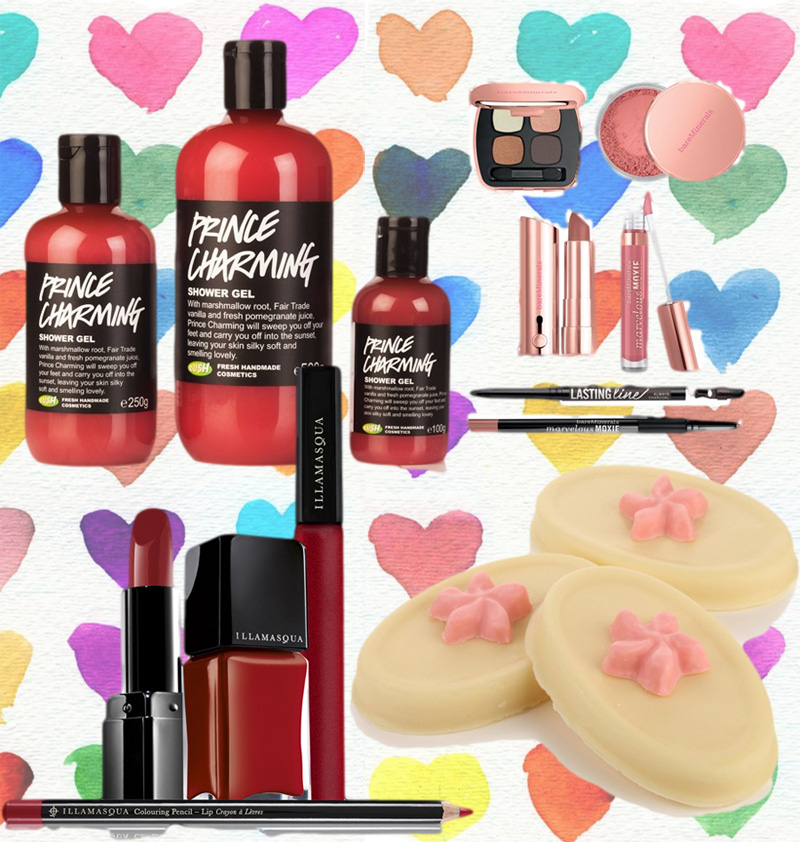 Illamasqua brought out a set with wicked reds called I am the One which retails for £50 and includes four products: two of them are new actually – Intense Lip Gloss in Touch, Lip Colouring in Feisty,  and two best-sellers  – Nail Varnish in  Throb and Lipstick in Maneater.
I personally love myself some Lush for VDay, in fact,
If you are not a fan of reddish eye shadows, here is a list of neutral palettes which will be perfect for both every day and nights out looks.
Laura Mercier Exotics Redefined Eye Colour Collection, $58  from Nordstrom
Matte Eye Colour (Bone, Dune, Earth, Wind, Allspice, Noir): 1 g / 0.03 oz
Sateen Eye Colour (Goldrush, Choco Glace, Spirit, Auberge, Carbon) : 1 g / 0.03 oz
Shimmer Eye Colour (Dust): 0.8 g / 0.028 oz
BOBBI BROWN Nude Drama Eyeshadow Palette, $59 from Sephora, Harvey Nichols and  from Barneys
 12 x 0.64 oz/ 18.15 g Eyeshadows in Ivory, Antique Rose, Earth, Saddle, Halo, Sunkissed, Terracota, Black Sand, Bonfire, Pink Bellini, Velvet Plum, Espresso
CLINIQUE Sweet As Honey Eyeshadow Palette, $32.50 from Sephora