This time makeup collection by Chanel was inspired by pearls and we all know how much Mademoiselle Chanel loved pearls. Peter Philips wanted to create a beautiful collection which would reflect the iridescent refections of pearls.
Beautiful pearls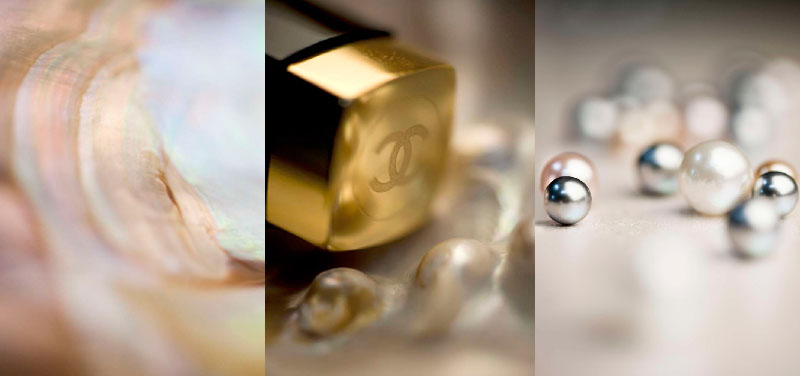 Collection includes new format of eye shadows – quints Ombres Perlees De Chanel
"CHANEL has created a tailor-made case to hold all of this magic. The classic black case becomes rectangular to contain five iridescent shades captured in a rich cream texture that glides smoothly over the skin. Blanc perlé, Rose porcelaine, Violine clair, Gris vert and Gris noir scintillant offer a bewitching odyssey with each sumptuous and capricious colour. The exquisitely fresh eye shadows are applied easily with the double-tipped foam applicator or fingertips. They can even stray from the eyelids to enliven cheekbones with a touch of shine."
Poudre Universelle Compacte
Rose Merveille, a pale pink with subtle sparkles for a halo of light.
Joues Contraste
Espiegle, a silken rosy peach blush.
Rouge Coco
Jersey Rose, a pink that flatters all skin tones, to wear to your heart's desire.
Peregrina, a delicate coral for the great outdoors.
Rouge Allure
Flamboyante, a  rosy red that shimmers like a promise of happiness.
Coquette, a vivid, energising pink, steeped in radiance.
Le  Crayon Levres
Levres Scintillantes
Nakkar, an intrepid soda pink warmed by
How pretty are these new 17 Vintage Love palettes (£5.49 each) which will be available this week (28th) at Boots? They are called Metallic Nude and Pretty Pastel. I really hope that these have a good pigmentation because if they do, I would love to get both.
And what do you think? Aren't they beautiful?!
There will be a lot of other products in the collection, obviously, but these are the items that caught my attention.