Givenchy give most other beauty companies a run for their money when it comes to packaging lately.
I am a huge fan of the Noir Couture mascara and I also loved their felt tip eye liner, and that makes me very excited for the new Disturbia collection, I have my eyes on the black mascara, besides these three,  and the eye liner in the red packaging. I am being that specific because there is also a red mascara (which looks burgundy on the promos; LE), and an eye liner in a black packaging.
I've bought a mini NARS mascara just because it was in red, and good thing I've got a small one, it smudges like crazy, and I prefer the Givenchy design anyway. Basically, you can put anything in a red tube and I already want it, simple as that.
What about the products?
The liner is promised to be intense, smudge-proof and  waterproof while delivering an intense black colour.
The mascara is described as the one to give  "excessive volume and dramatic curve. A volume and curve effect, so excessive, they are almost disturbing!" The brush is silicone.
I have noticed that  both products are sold out already, and why am I not surprised, so we'll have to wait for the restocks. Givenchy is available online from Saks  Neiman Marcus, Barneys, Harrods, Sephora, Escentual and Nordstrom so keep an eye on those magical red packaging.
The price for both is €29.
Spring/Summer season beauty wise means new lip releases, so I've chosen the ones that caught my attention.  It is insane how the textures and the formulas improve all the time and we get more sophisticated lip products all the time. Just take a look at these innovative gems.
Laura Mercier Velour Lip Powder in Paris (shown) and New York £25 from Cult Beauty $28 from the Website, Nordstrom
A limited edition creamy matte lip powder trio with a metallic sheen. Comes with a moisturizing Base Balm to prep the lips. These look really cool, and I love the concept.
Lisa Eldridge lipsticks. The red ones sold out within a day(s) so I did not even have time to get any. But she promised a restock, and new nude and fuchsia shades (see below a pic of Eva wearing one of the new shades; pic is from Lisa's Insta)!  I don't know the date yet.
BITE BEAUTY Outburst Longwear Lip Stain, $24 from Sephora
Bite beauty lip products are incredible, and it looks like it's another great one
Do you prefer lovegasm or orgasm, that is the question. And, yes, we are talking makeup. Here are two new palettes which, I am sure, will  be a huge hit this summer. The colours are gorgeous and sex sells, after all.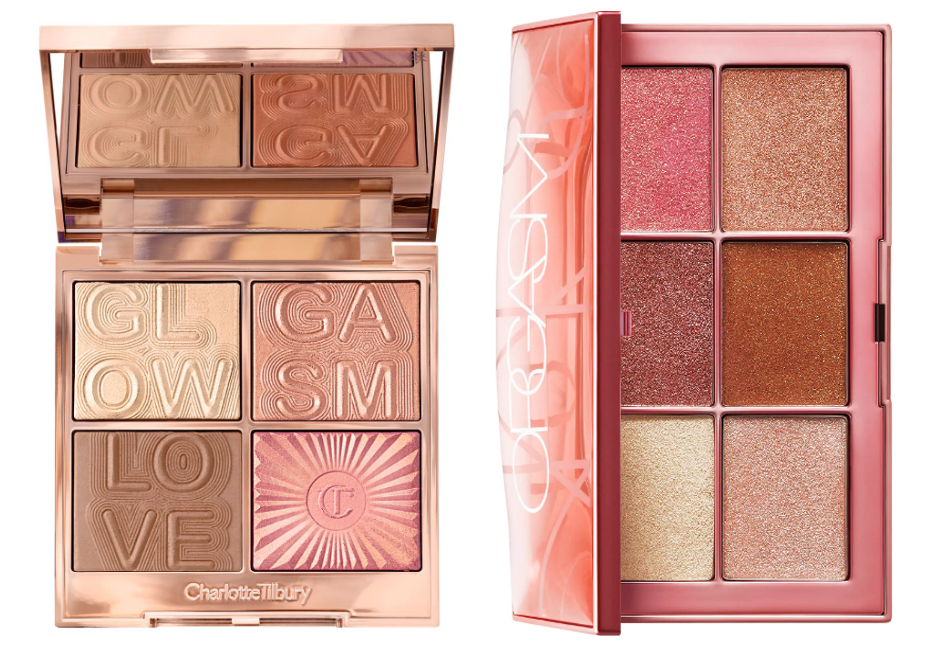 Charlotte Tilbury's Glowgasm Face Palettes come in two shades:  Lightgazm and Lovegazm  £60 from Cult Beauty. Later on from Sephora, and Net A Porter.
A compact with four products is everything you'd need to re-create that Tilbury's trademark glow. Here are the promo images which show how the products suit all skin tones.
NARS Endless Orgasm Palette, $49 from Sephora. Later on from Nordstorm, Selfridges,  Bloomingdales, Neiman Marcus  and Barneys.
Features