Givenchy give most other beauty companies a run for their money when it comes to packaging lately.
I am a huge fan of the Noir Couture mascara and I also loved their felt tip eye liner, and that makes me very excited for the new Disturbia collection, I have my eyes on the black mascara, besides these three,  and the eye liner in the red packaging. I am being that specific because there is also a red mascara (which looks burgundy on the promos; LE), and an eye liner in a black packaging.
I've bought a mini NARS mascara just because it was in red, and good thing I've got a small one, it smudges like crazy, and I prefer the Givenchy design anyway. Basically, you can put anything in a red tube and I already want it, simple as that.
What about the products?
The liner is promised to be intense, smudge-proof and  waterproof while delivering an intense black colour.
The mascara is described as the one to give  "excessive volume and dramatic curve. A volume and curve effect, so excessive, they are almost disturbing!" The brush is silicone.
I have noticed that  both products are sold out already, and why am I not surprised, so we'll have to wait for the restocks. Givenchy is available online from Saks  Neiman Marcus, Barneys, Harrods, Sephora, Escentual and Nordstrom so keep an eye on those magical red packaging.
The price for both is €29.
A England is one of a kind brand, not only their nail polishes are ridiculously gorgeous but the stories behind them are fascinating.  It was a pleasure to interview the founder Adina (read it here) a while ago, and I am always looking forward to the new releases.
And this time the brand outdone itself, in my opinion, the new British Subcultures collection makes my heart beat faster. I found it mind blowing how Adina managed to  visualise a certain subculture with a colour, this is pure art, I am telling you.
Above you can see Goth shade, and here is what is posted on the brand's Facebook about it: "GOTH  one of my best-loved among the British Subcultures. The goth subculture began in England during the early 1980s. This mostly aesthetic subculture includes dark attire (often black) and is marked by an antiquated style that is
I have noticed that a few really cool brands launched lip and cheek products, so here is a preview. And while I have only tried one product from Milk so far, I am a big fan of Trish and RBR, as regular readers will know.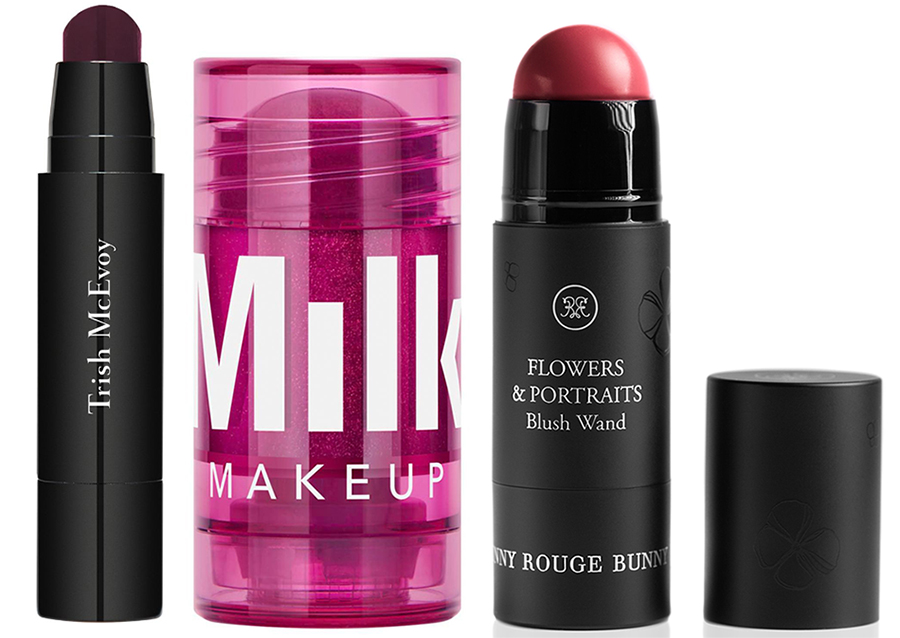 Trish McEvoy Lip & Cheek Booster  $33 from Saks and Nordstrom
"A radiant, dual-feature wash of colour perfectly tinted and texturised for lips and cheeks. Instantly nourishes and cushions lips and gives cheeks a sheer, dewy glow" Available in:  Blackberry (shown), Goji and Peach
MILK MAKEUP Glow Oil Lip & Cheek,  £12 from Cult Beauty and $14 from Sephora
"Antioxidant-rich rice bran oil provides skin with