Besides the Les Tentations de Chanel holiday collection there will be also several gift sets which I highly recommend if you are a fan of Chanel. Last holiday I got only 1 set and I regret that I didn't get more. So here are the sets:
GLOSSIMER DUO SET, $51
The signature LÈVRES SCINTILLANTES Glossimer set returns with the season's perfect lipgloss pairing: full sizes of ultra-flattering rose-toned shades in exclusive Muscat and best-selling Wild Rose are combined with a mini Precision Lip Definer in Nude. A chic makeup bag makes these must-haves travel-friendly.
I got the same set but with different Glossimers last year so if you want to see how the liner and the makeup bag look like click here.
NAIL COLOUR SET, $66
An irresistible nail colour trio brings together classic and fashion-forward hues in a gift-ready presentation. Three exclusive runway-inspired shades — Rouge Noir, a black red; Gold-Lamé, a satiny gold; and Coromandel, a fiery red. All are housed in a signature carrying case.
THE INGÉNUE COLLECTION: CHEEKS – LIPS – LASHES, $95
Create the soft, youthful glow of an ingénue… with a subtle flush of colour on cheeks and lips, and long, fluttery lashes. This coquettish collection features two CHANEL best-sellers in universally flattering shades: JOUES CONTRASTE Powder Blush in In-Love, and LÈVRES SCINTILLANTES Glossimer in Coral Love, and INIMITABLE INTENSE Mascara Multi-Dimmensionnel Sophistiqué in Noir – all, nestled in a signature makeup bag.
COLLECTION OF SIX ESSENTIAL MINI BRUSHES, $125
This collection of six professional artistry brushes is specially sized for travel and exclusive to this set. Includes: foundation brush, powder/blush contour brush, eyeliner brush, eyeshadow brush, slanted eyebrow brush and lip brush. Encased in a CHANEL signature makeup bag, with room for essentials, this set becomes the ultimate travel companion. Price $125 Last year was a similar brush set which I wanted to get but I got Lancome's brush set in the end.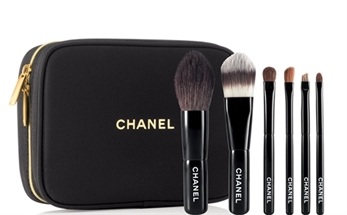 The sets are already available.