You just can't get wrong with a lip set or a palette when it comes to Christmas beauty presents.  And here are only some that caught my attention, there are a lot of other sets. In fact, you can see some of them here.
Here is a selection with a different price point, too.


Bobbi Brown University Lip Palette, $60 from Sephora
12 x 0.45 oz Lip color in Salmon, Beige, Raisin, Brown, Rose, Pink, Orange, Blackberry, Burnt Red, Red, Beige Gold, Berry Shimmer.
Handy compact palettes are a great addition to any make-up artist's kit or any makeup lover's collection.
Clinique Days of the Week Lipstick Gift Pack, £31.50 from Look Fantastic
This is such a cool idea – a lipstick shade for every day. The price is also amazing, you'd pay that for one high-end lippie.
Sweet Sunday , Monday Mojo, Take-On Tuesdays, Welcome Wednesday, Throwback Thursday, Finally Friday and Sassy Saturday.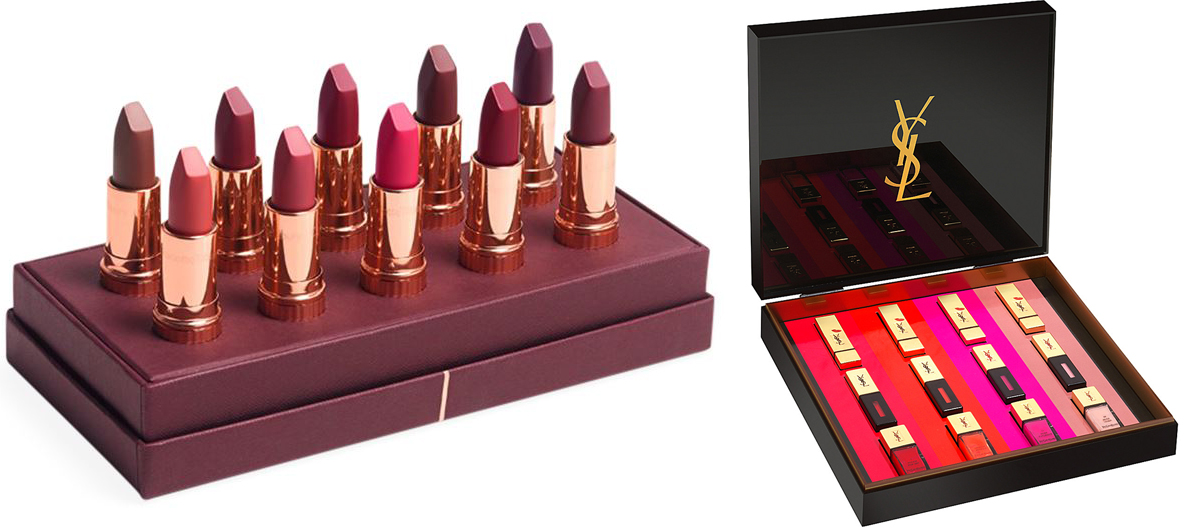 Charlotte Tilbury Luxury Lipstick Wardrobe Matte Revolution, £220 from Harrods  or from Nordstorm. There is also her KISSING range is the same festive packaging.
MATTE REVOLUTION  in Amazing Grace,  Lost Cherry,  Love Liberty, Red Carpet Red, Sexy Sienna, Walk of Shame, Birkin Brown, Bond Girl and Glastonberry
YVES SAINT LAURENT Kiss and love colour collection, £284 from Selfridges
Rouge Pur Couture 01 – Le Rouge, 13 – Le Orange, 19 – Fuschia Pink, 70 – Le Nu
Vernis à Lèvres Glossy Stain 09 – Rogue Laque, 08 – Prange de Chine, 14 – Fuschia Dore, 19 – Beige Aquarelle
La Laque Couture 01 – Rouge Pop Art, 03 – Orange Afrique, 11 – Rose Futuriste, 22 – Beige Leger
I personally would love that YSL gift the best…It is a work of art.
There are also a lot of various Tom Ford lipstick sets, three, four ten shades etc. But if you have extra $2000 to spend on lipsticks ;), you can get the whole range, all 50 shades for $1950 from the brand's website.
Tom Ford is available from Bergdorf Goodman, Bloomingdales, Neiman Marcus, Nordstrom, Harrods and Selfridges.