Let's take a look at Clarins Fall 2011 makeup collecction.
Collection includes:
Color Definition 3D Radiance Face Powder, $35
"An exceptionally soft lightweight powder that melts into the skin for a naturally radiant complexion. The colour combination of beige, pink and peach gives the face a radiant boost."
Eye Quartet Mineral Palettes, $40
Nudes: A must-have mix of sophisticated cream and woods paired with shimmering coral.
Rosewoods: Glamorous pairings of sheer chocolates and pinks for a casual kind of chic.
Pastels: A painterly palette of delicate neutrals, with a hint of cool mint, for a flirty eye.
Indigo: A rich palette of cool, smoky blues keep eyes in perfect fashion focus.
Violet: A jewel-tone palette of shimmering lilac, plum and amethyst with a touch of pearly white.
Graphite: A modern merger of soft pink, silver, grey and charcoal create the perfect smoky eye.
I am a bit surprised they don't have green eye shadows palette.
Instant Definition Mascara , $24
I really like how this mascara is described so I thought I'd include it
"Three innovative ingredients from seaweeds protect, repair and strengthen lashes. Glycoproteins thicken lashes and lend long wear. Brush fibers instantly thicken and coat lashes. Revolutionary patented brush with elastomer bristles reaches even the shortest lashes."
Instant Liquid Eyeliner, $26
Clarins Joli Rouge Color Definition Lipstick, $24
Rouge Prodige Color Definition Lipstick, $24
Tender Rose
Subtle Rose
Natural Rose
Paradise Pink
Miami Pink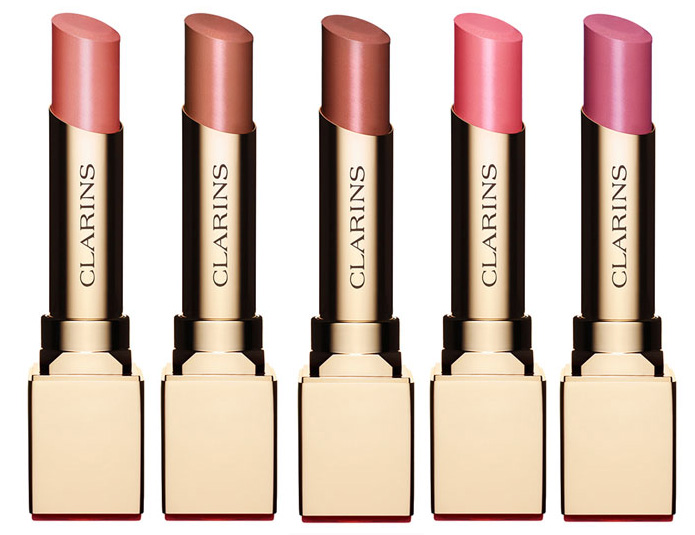 Looks like a pretty collection, don't you agree?