I have promised a review of Clarins Extra-Comfort Cleansing Cream for Dry and Sensitive Skin for some time already, so here it is finally.
I have dry and sensitive skin, so I want my cleanser to be gentle, yet effective, and this one is exactly that!
This is a cream that you massage in with  lifting motions into the skin and then wash off with warm water. So not only you cleanse your face but also massage it, and it's a huge benefit for the skin, obviously. There is  video on  a Clarins website, by the way, on how to do it!
This cleanser with   Shea Butter, Jojoba Oil and Palm Oil leaves my skin properly clean, smooth and soft. It does not feel dried out, irritated or tight at all! Unfortunately, a lot of cleansers do that…
It is  a brilliant product, in my opinion, and I would definitely recommend it, if you have a similar skin type to mine.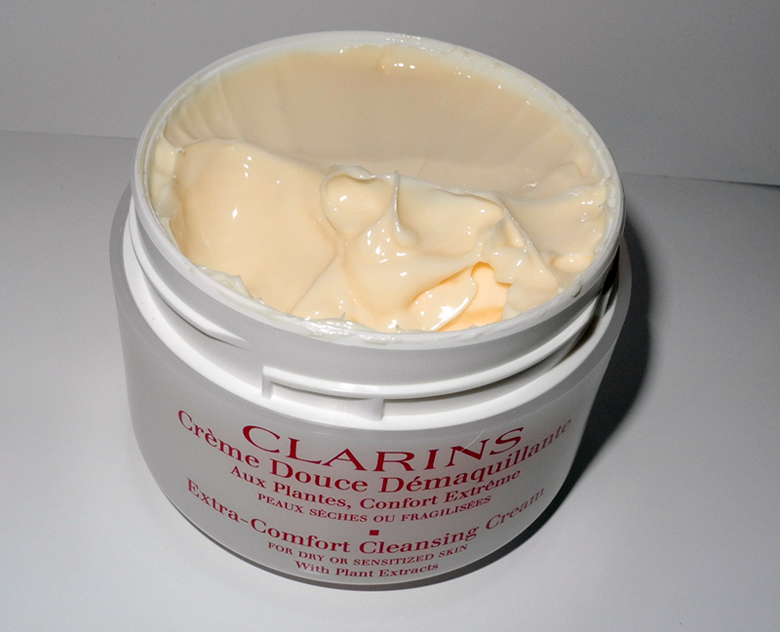 Above you can see the texture of the product, it is basically a cream but with cleansing properties.
The price is £19 for 125 ml and £25 for 200 ml (which is cheaper than some other cleansers that  like actually) and I am definitely re-purchasing.
I have been using mine for about a month twice a day and I still have a lot of product left, more than a half.
Here is the list of  the ingredients:

I also really love this cleanser from Clarins.  If you are looking for an affordable version – you can try this one. I have bought my third tube recently and  would say that it is good for what it is, but definitely not as good as the other two.
You can buy it from Escentual.com.